Friday, 11 May 2012 13:06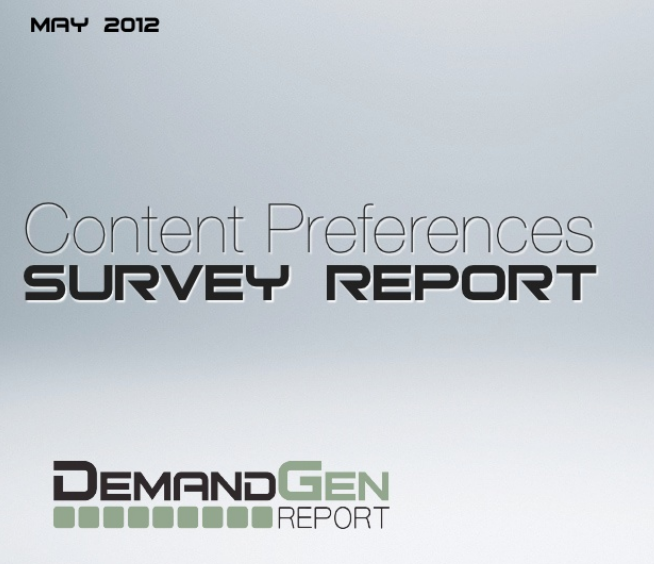 Content is often the first point of engagement between a solution provider and a potential buyer. Given the important role content is playing for companies, DemandGen Report recently conducted a survey to examine the shifting preferences of business executives. Published this week, The Content Preferences Survey report aims to guide B2B organizations looking to kick off a new content marketing strategy or improve upon an existing strategy.
"This survey illuminated interesting trends in the world of content marketing," says Amanda Batista, author of the survey report and managing editor of DemandGen Report. "Solution providers, now more than ever, need to demonstrate a clear understanding of their prospects' challenges, market trends and objectives. They also need to cultivate a greater role in content sharing by providing trustworthy content that establishes relationships with prospects."
Read more...
Tuesday, 19 June 2012 08:19

Inefficient is no longer acceptable! Marketers have focused their efforts on optimize prospect and customer engagement to enhance conversions, but still fail to leverage a variety of opportunities to connect the dots of their marketing initiatives. This Adobe infographic highlights the greatest opportunities for digital marketers to realize ROI, as well as where they are spending their marketing budgets. The infographic shares tips for improving conversion, including where to place personalized content on relevant pages (hit: it's early in the funnel!) 

Read more...

Tuesday, 16 September 2014 08:05

Oktopost, a B2B social media marketing platform, announced it has joined the Act-On Developer Network. The partnership includes full integration into the Act-On marketing automation platform, designed to help boost social lead conversions.

The integration is positioned as a way for marketers to bridge the gap between social media and the bottom line, allowing users to credit specific social media campaigns for generating or nurturing prospective buyers and measure ROI.

Read more...

Tuesday, 22 July 2014 11:57

InsideView announced the launch of InsideView Data Diagnostic, a tool designed to provide database health and profile assessments for CRM and marketing databases. The free, self-service application analyzes data and generates a quality assessment as well as provides industry, firmographic and geographic segmentation.

In less than five minutes users can gain an understanding of the condition of their database. Data Diagnostic emphasizes the importance of data hygiene in order to optimize sales and marketing productivity.

Read more...

Written by Brian Anderson, Associate Editor

Wednesday, 17 September 2014 08:28

While the role of content continues to mature, many marketers are just beginning to discover its true value — primarily in the data they can obtain through prospects' interactions with content and its ability to enhance engagement through multiple channels.

At Marketo's Marketers First virtual event, roughly 20,000 marketing professionals attended sessions throughout the day, highlighting best practices for content marketing, data analytics and social media. A recurring theme was that content needs to build trust and should not be used primarily as a sales tool.

Read more...
<< Start < Prev 1 2 3

4

5 6 7 8 9 10 Next > End >>


Page 4 of 280