Tuesday, 19 June 2012 08:19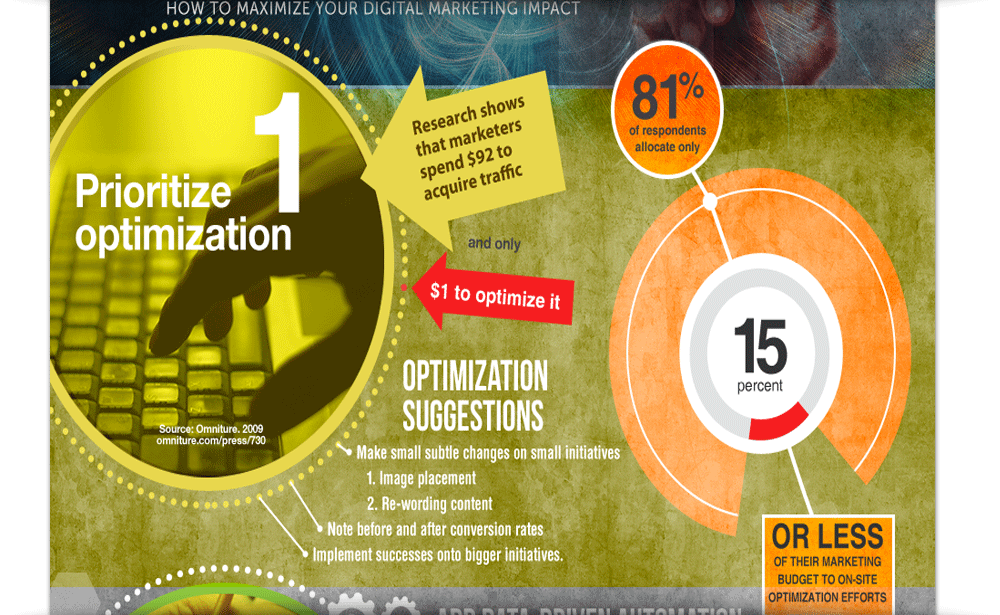 Inefficient is no longer acceptable! Marketers have focused their efforts on optimize prospect and customer engagement to enhance conversions, but still fail to leverage a variety of opportunities to connect the dots of their marketing initiatives. This Adobe infographic highlights the greatest opportunities for digital marketers to realize ROI, as well as where they are spending their marketing budgets. The infographic shares tips for improving conversion, including where to place personalized content on relevant pages (hit: it's early in the funnel!) 
Read more...
Tuesday, 22 July 2014 11:57

InsideView announced the launch of InsideView Data Diagnostic, a tool designed to provide database health and profile assessments for CRM and marketing databases. The free, self-service application analyzes data and generates a quality assessment as well as provides industry, firmographic and geographic segmentation.

In less than five minutes users can gain an understanding of the condition of their database. Data Diagnostic emphasizes the importance of data hygiene in order to optimize sales and marketing productivity.

Read more...

Friday, 22 August 2014 08:57

Oracle announced the launch of Social Station, a workspace within the Oracle Social Cloud platform that is designed to help users increase productivity and performance of their social business practices.

The drag-and-drop capabilities of Social Station are intended to enable easier personalization with various modules. Users can also customize their view of social data, providing real-time updates on social targets.

Read more...

Wednesday, 06 August 2014 11:11

Better analytics are at the top of the agenda for marketing automation vendors, according to latest research report by Raab Associates.

The July 2014 B2B Marketing Automation Vendor Selection Tool (VEST) report shows that nearly half of features upgraded by marketing automation vendors in the past year relate to analytics, including customer analysis, content analysis, and lead scoring. By contrast, content marketing, social media and mobile platforms each accounted for fewer than 10% of the upgrades.

Read more...

Tuesday, 09 September 2014 08:30

While 81% of marketers says they use context-based facts specific to a prospect to shape their marketing messages and sales conversations, a new survey from Corporate Visions reveals that they may be focusing on the wrong types of insights. Marketers ranked forward-looking content as the most effective, but reported that their assets focused primarily on common challenges.

"What's surprising about the survey results is that the insights marketers and salespeople feel are the most effective are exactly the opposite of the insights they believe their companies produce," said Tim Riesterer, chief strategy and marketing officer for Corporate Visions.

Read more...
<< Start < Prev 1 2 3

4

5 6 7 8 9 10 Next > End >>


Page 4 of 276