Tuesday, 19 June 2012 08:19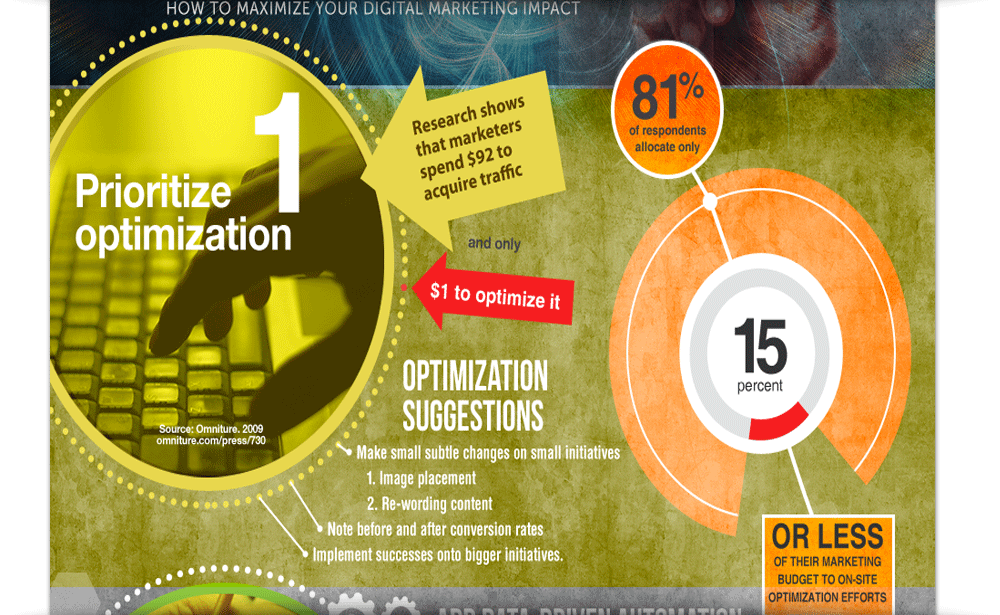 Inefficient is no longer acceptable! Marketers have focused their efforts on optimize prospect and customer engagement to enhance conversions, but still fail to leverage a variety of opportunities to connect the dots of their marketing initiatives. This Adobe infographic highlights the greatest opportunities for digital marketers to realize ROI, as well as where they are spending their marketing budgets. The infographic shares tips for improving conversion, including where to place personalized content on relevant pages (hit: it's early in the funnel!) 
Read more...
Monday, 20 January 2014 10:37

IDG Connect's survey of more than 400 enterprise respondents involved in IT purchase decisions shows that social networking is popular among B2B IT buyers in making technology purchase decisions. According to the report, titled Connecting Conversations To Content, 86% of B2B IT buyers are currently using social media networks in their purchase decision process.

Search is used by 58% of respondents, followed by social networking (57%); professional networks (51%); video sharing (38%); and reviews and recommendations from peers (38%).

Read more...

Monday, 09 June 2014 08:59

TreeHouse Interactive, a SaaS-based marketing automation platform provider, has upgraded its TreeHouse Interactive Marketing View to provide marketers with a clearer view of campaign results. This will help marketers optimize campaigns in real-time and replicate campaigns that lead to higher levels of revenue.

The enhancements are designed to give marketing professionals the improved ability to group, compare and drill down into campaign performance data to more effectively evaluate campaign outcomes. Users are now able to dive deeper into customer data, such as email client statistics by OS (Gmail/Outlook/etc.) and the types of devices recipients used to engage with the company in any given campaign.

Read more...

Friday, 23 May 2014 10:14

TIE Kinetix, a SaaS provider of channel demand generation and sales conversion solutions, has launched The Sales Resource Center. Designed for channel partner sales representatives, The Sales Resource Center delivers customized and co-branded content to sales reps' smartphones, tablets, desktops and company intranets in real time.


Read more...

Written by Kim Ann Zimmermann, Managing Editor

Monday, 14 July 2014 08:17

Demand Gen Report will be holding the inaugural Lead Lifecycle Series #LLCSeries, a week-long series of webinars offering case study examples and best practices covering each stage the buying cycle.

DGR caught up with Justin Gray, CEO of LeadMD, as he prepared for his presentation, titled: Benchmarking The Buyer's Journey. Check out the agenda and register once for the entire series.

Read more...
<< Start < Prev 1 2 3

4

5 6 7 8 9 10 Next > End >>


Page 4 of 263