Friday, 11 May 2012 13:06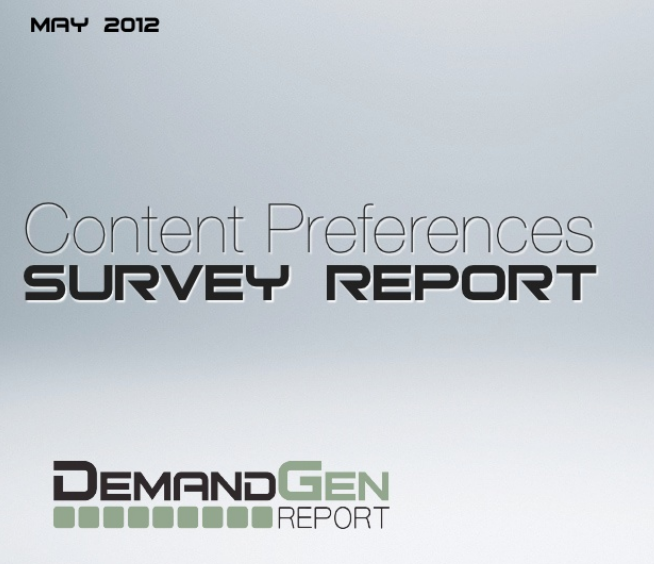 Content is often the first point of engagement between a solution provider and a potential buyer. Given the important role content is playing for companies, DemandGen Report recently conducted a survey to examine the shifting preferences of business executives. Published this week, The Content Preferences Survey report aims to guide B2B organizations looking to kick off a new content marketing strategy or improve upon an existing strategy.
"This survey illuminated interesting trends in the world of content marketing," says Amanda Batista, author of the survey report and managing editor of DemandGen Report. "Solution providers, now more than ever, need to demonstrate a clear understanding of their prospects' challenges, market trends and objectives. They also need to cultivate a greater role in content sharing by providing trustworthy content that establishes relationships with prospects."
Read more...
Tuesday, 19 June 2012 08:19

Inefficient is no longer acceptable! Marketers have focused their efforts on optimize prospect and customer engagement to enhance conversions, but still fail to leverage a variety of opportunities to connect the dots of their marketing initiatives. This Adobe infographic highlights the greatest opportunities for digital marketers to realize ROI, as well as where they are spending their marketing budgets. The infographic shares tips for improving conversion, including where to place personalized content on relevant pages (hit: it's early in the funnel!) 

Read more...

Wednesday, 31 December 2014 10:14

Alinean, a provider of marketing and sales tools for B2B companies, announced the launch of a new online portal with tools and assessments designed to help marketing and sales teams measure ROI.

The free portal, named I Want My ROI, is positioned to help benchmark spending and performance, while also helping boost business development. Assessment, performance and spending benchmarks will be aggregated and constantly refreshed from the community of users to provide accurate insights.

Read more...

Wednesday, 22 October 2014 09:19

Oracle announced new features and enhancements to the Oracle Marketing Cloud at its Oracle Modern Marketing Experience event in London, including updates positioned to enable CMOs and global marketing teams to deliver more personalized and contextual customer experiences, simplifying marketing campaign management and extending the industry's most comprehensive marketing technology ecosystem.

The new features and enhancements are supported by further integrations across Oracle's range of marketing solutions, which include Oracle Cross-Channel Marketing (Oracle Eloqua Marketing Cloud Service and Oracle Responsys Marketing Platform Cloud Service), Oracle Data Management Platform, Oracle Content Marketing and Oracle Social Marketing.

Read more...

Written by Kim Ann Zimmermann, Managing Editor

Wednesday, 07 January 2015 12:21

As we start 2015, many of the themes from 2014 — data-driven marketing, advanced lead scoring capabilities, predictive analytics and tracking campaign effectiveness — will continue to influence the marketing automation landscape.

Overall, there continues to be a major push to build more meaningful relationships with prospects. B2B marketers are increasingly turning to predictive marketing strategies to help identify the next customer. This year, personalization and customization will become the norm, according to many marketing automation experts we spoke to for this 2015 Outlook Guide.

Read more...
<< Start < Prev 1 2 3

4

5 6 7 8 9 10 Next > End >>


Page 4 of 313