Tuesday, 19 June 2012 08:19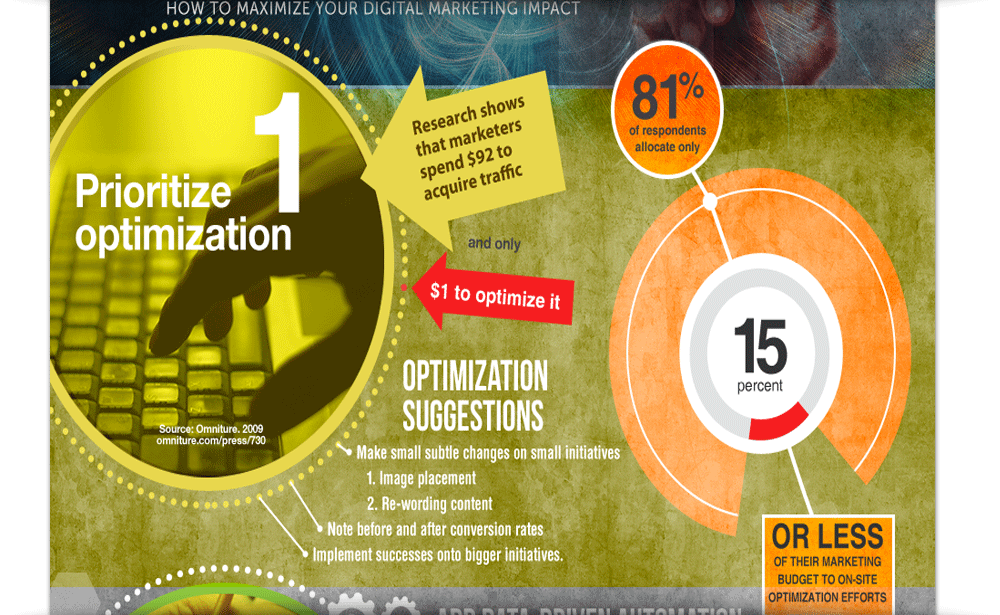 Inefficient is no longer acceptable! Marketers have focused their efforts on optimize prospect and customer engagement to enhance conversions, but still fail to leverage a variety of opportunities to connect the dots of their marketing initiatives. This Adobe infographic highlights the greatest opportunities for digital marketers to realize ROI, as well as where they are spending their marketing budgets. The infographic shares tips for improving conversion, including where to place personalized content on relevant pages (hit: it's early in the funnel!) 
Read more...
Written by Kim Ann Zimmermann, Managing Editor

Thursday, 24 July 2014 08:43

Oracle announced it is combining its BlueKai Audience Data Marketplace and other Oracle data services to create the Oracle Data Cloud, a platform designed to provide marketers with access to anonymous user-level data through a data-as-a-service (DaaS) model. With more than one billion profiles globally, Oracle Data Cloud gives organizations the ability to prospect at scale and deliver relevant ads and content across online, mobile, search, social and video.

"Oracle's launch of the Data Cloud is going to turn the idea of Big Data into a big deal for marketing," said David Lewis, CEO and Founder of DemandGen International, in an interview with Demand Gen Report. "Oracle DaaS will turn aspirations into applications."

Read more...

Friday, 05 December 2014 09:51

IBM announced that Watson Analytics, the company's language-based service that offers predictive and visual analytics tools, is available now in beta.

A marketing or sales rep can use familiar business terms to source, cleanse and refine data, discover insights, predict outcomes, visualize results, and generate reports.

Read more...

Wednesday, 08 October 2014 06:15

In Demand Gen Report's inaugural Lead Nurturing Benchmarking Study, many B2B marketers report they are leveraging several years of experience in developing lead nurturing campaigns. 71% state that they leverage lead nurturing in their demand generation initiatives, while 19% plan to implement it within the next year.

Those who have already began using lead nurturing have seen improved campaign response and the ability to deliver more qualified leads to the sales team, among other benefits. Lead nurturing veterans are now implementing more sophisticated campaigns for even more positive results.

Read more...

Monday, 15 December 2014 09:07

Brainshark, a sales enablement solution provider, announced that its SlideShark app now supports PDF files. The company expects this added support will offer users a more flexible and convenient experience with its sales presentation solution.

With SlideShark 4.0, reps and other users are positioned to now leverage PDF datasheets, case studies, follow-up materials and more. Detailed analytics can be measured to show when and how much of a PDF document has been viewed, helping to pinpoint topics of interest. Organizations also can get detailed insight into how its sales teams and other employees are using and presenting PDF content.

Read more...
<< Start < Prev 1 2 3

4

5 6 7 8 9 10 Next > End >>


Page 4 of 297