Tuesday, 19 June 2012 08:19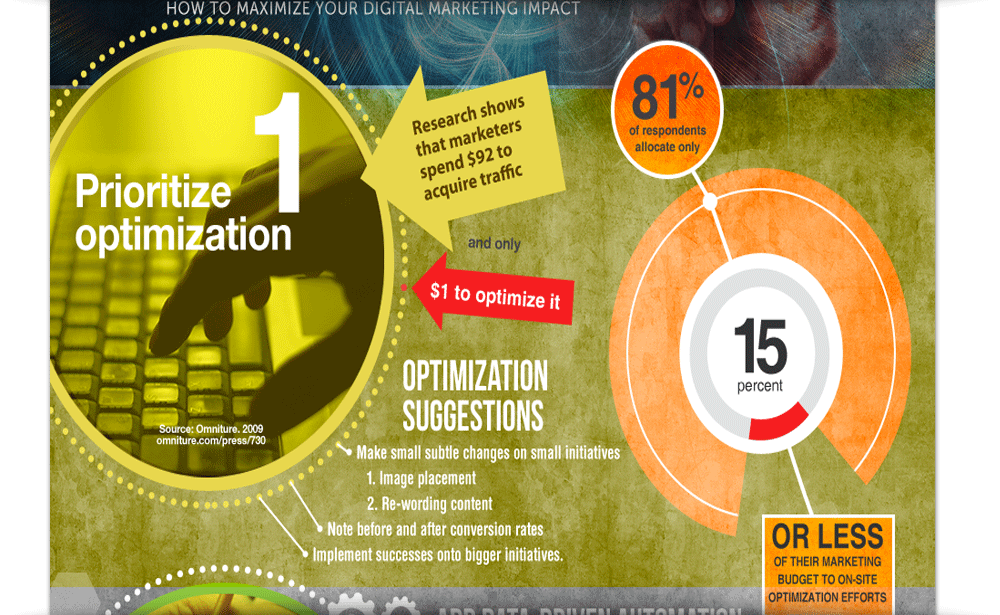 Inefficient is no longer acceptable! Marketers have focused their efforts on optimize prospect and customer engagement to enhance conversions, but still fail to leverage a variety of opportunities to connect the dots of their marketing initiatives. This Adobe infographic highlights the greatest opportunities for digital marketers to realize ROI, as well as where they are spending their marketing budgets. The infographic shares tips for improving conversion, including where to place personalized content on relevant pages (hit: it's early in the funnel!) 
Read more...
Written by Kim Ann Zimmermann, Managing Editor

Thursday, 24 July 2014 08:43

Oracle announced it is combining its BlueKai Audience Data Marketplace and other Oracle data services to create the Oracle Data Cloud, a platform designed to provide marketers with access to anonymous user-level data through a data-as-a-service (DaaS) model. With more than one billion profiles globally, Oracle Data Cloud gives organizations the ability to prospect at scale and deliver relevant ads and content across online, mobile, search, social and video.

"Oracle's launch of the Data Cloud is going to turn the idea of Big Data into a big deal for marketing," said David Lewis, CEO and Founder of DemandGen International, in an interview with Demand Gen Report. "Oracle DaaS will turn aspirations into applications."

Read more...

Wednesday, 26 November 2014 09:00

IBM announced the launch of IBM B2B Commerce, which is positioned to help B2B organizations deploy digital storefronts with no technical skills or expertise.

IBM B2B Commerce is designed to help B2B companies create buying experiences similar to those found on B2C e-Commerce sites.

Read more...

Written by Brian Anderson

Wednesday, 19 November 2014 11:23

It is clear that lead scoring continues to grow as a pivotal piece of the B2B marketing puzzle. Research from SiriusDecisions states that 68% of B2B tech organizations have implemented a lead scoring program implemented. However, fewer than half (40%) of those sales teams deem their lead scoring initiatives effective, and progressive marketers are looking for opportunities to refine and expand their lead scoring models to boost sales effectiveness.

Read more...

Monday, 01 December 2014 10:55

Swrve, a mobile marketing automation provider, reported a 250% increase in revenue 250% over the first half of last year. The company also announced that it has over 750 million unique users.

The company states that more than three billion transactions take place every day through the Swrve platform, a solution designed to help automate mobile-focused campaigns and provide real-time data sharing between the platform and other marketing technology solutions.

Read more...
<< Start < Prev 1 2 3

4

5 6 7 8 9 10 Next > End >>


Page 4 of 291