Friday, 11 May 2012 13:06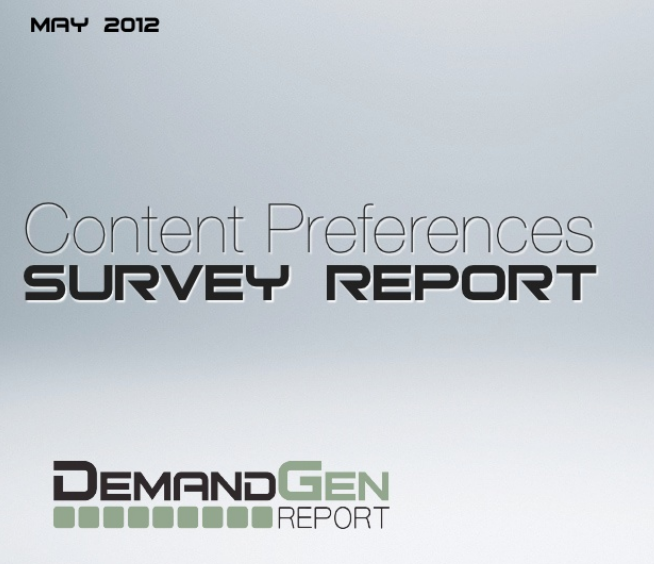 Content is often the first point of engagement between a solution provider and a potential buyer. Given the important role content is playing for companies, DemandGen Report recently conducted a survey to examine the shifting preferences of business executives. Published this week, The Content Preferences Survey report aims to guide B2B organizations looking to kick off a new content marketing strategy or improve upon an existing strategy.
"This survey illuminated interesting trends in the world of content marketing," says Amanda Batista, author of the survey report and managing editor of DemandGen Report. "Solution providers, now more than ever, need to demonstrate a clear understanding of their prospects' challenges, market trends and objectives. They also need to cultivate a greater role in content sharing by providing trustworthy content that establishes relationships with prospects."
Read more...
Tuesday, 19 June 2012 08:19

Inefficient is no longer acceptable! Marketers have focused their efforts on optimize prospect and customer engagement to enhance conversions, but still fail to leverage a variety of opportunities to connect the dots of their marketing initiatives. This Adobe infographic highlights the greatest opportunities for digital marketers to realize ROI, as well as where they are spending their marketing budgets. The infographic shares tips for improving conversion, including where to place personalized content on relevant pages (hit: it's early in the funnel!) 

Read more...

Monday, 27 October 2014 08:42


Hootsuite has launched the Global Agency Partner Program, which is designed to provide education and resources to agency account teams regarding the latest social media trends and strategies.

Announced at the company's Connect via Hootsuite event in New York City, the program will provide members with training workshops, networking opportunities with industry leaders and support for specific business needs and client delivery models.

Read more...

Written by Kim Ann Zimmermann, Managing Editor

Thursday, 24 July 2014 08:43

Oracle announced it is combining its BlueKai Audience Data Marketplace and other Oracle data services to create the Oracle Data Cloud, a platform designed to provide marketers with access to anonymous user-level data through a data-as-a-service (DaaS) model. With more than one billion profiles globally, Oracle Data Cloud gives organizations the ability to prospect at scale and deliver relevant ads and content across online, mobile, search, social and video.

"Oracle's launch of the Data Cloud is going to turn the idea of Big Data into a big deal for marketing," said David Lewis, CEO and Founder of DemandGen International, in an interview with Demand Gen Report. "Oracle DaaS will turn aspirations into applications."

Read more...

Wednesday, 29 October 2014 10:56

Webinars have become a mainstay of the demand generation strategies of many B2B marketers, as they remain an effective tool to engage prospects. Demand Gen Report's 2014 B2B Content Preferences Survey shows that 67% of B2B buyers have used webinars in the past year to research B2B purchasing decisions.

However, many B2B marketers have focused on webinars as a top-of-the-funnel lead generation tool. Experts advise B2B marketers to develop webinars for multiple stages of the sales cycle to improve their conversion rates. In addition, the messaging needs to be short and highly focused.

Read more...
<< Start < Prev 1 2 3

4

5 6 7 8 9 10 Next > End >>


Page 4 of 287