DemandGen Reports
Written by Industry Analyst
Tuesday, 10 March 2009 15:09
As powerhouse brands from financial services to manufacturing look to pare their operations, small to midsized firms are emerging as a big opportunity during the economic downturn. According to industry data, small businesses have created 60% to 80% of the net new jobs added since the mid-1990s.
To address this sector, ZoomInfo recently unveiled enhancements to the SMB and midmarket company portion of the Waltham, MA-based company's database of more than 45 million people and 5 million companies. The additional breadth of coverage and depth of insight is designed to provide sales and marketing departments with detailed profiles on 2.4 million companies with 500 or less employees, including descriptions, revenues, number of employees, locations and other information on public, private and non-commercial entities alike.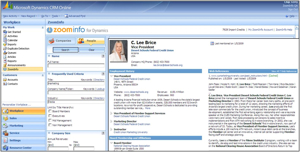 Using ZoomInfo's enhanced company data, marketers and salespeople are provided with profiles on SMBs with a web presence and the millions of employees who own and work at them. The tool allows users to develop targeted campaigns based on the size and/or revenue, location or industry of companies they need to reach. This targeting is aimed to allow marketers to create messages and promotions which are tailored to address the specific needs of small, medium and large enterprises. 
Tim Clark of Tom James Company, a leading custom clothier, pointed out that the expansion of tools like ZoomInfo's are essential in this climate.  "As large enterprises continue to tighten their belts, our sales and marketing operation has shifted its focus to driving smaller but more numerous business opportunities with executives in small and medium sized businesses," said Clark. "Using the information provided by ZoomInfo Power Sell we have been able to expand our pipeline and service a greater market base by effectively being able to refocus on this often untapped area of the market."
ZoomInfo's semantic search engine gathers publicly-available information from the Web – through company websites, news feeds and other online sources – and then automatically compiles it into easy-to-search and easy-to-read profiles. More than 6 million people search www.zoominfo.com every month. And over 3,000 customers, including Yahoo!, Microsoft, Oracle, PepsiCo, and 20% of the Fortune 500, subscribe to ZoomInfo's premium service products.
blog comments powered by
Demanding Views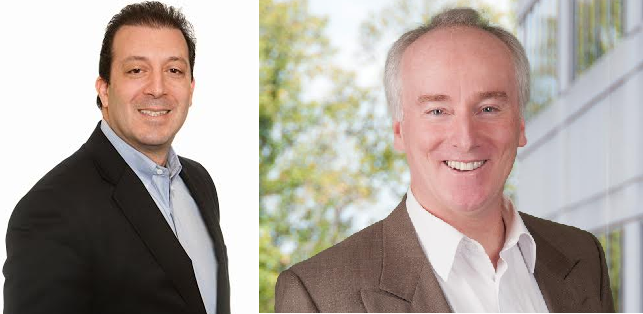 By Jeff Pedowitz and Kevin Joyce, The Pedowitz Group
In the latter part of the 19th century John Wanamaker, the father of modern advertising, is reputed to have said "Half the money I spend on advertising is wasted; the trouble is I don't know which half." Imagine you could demonstrate and manage the impact of marketing on revenue? Imagine you knew which half of your budget was well spent?
For a B2B company with sales cycles of more than six months this may still not be easy. Notice we are not talking about a labor of Sisyphus, pursuing marketing ROI on a single marketing initiative.
Read more...
Bulletin Board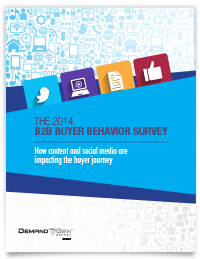 Demand Gen Report's 2014 B2B Buyer Behavior Survey provides insights into how B2B buyers make their decisions. Buyers are waiting longer to engage with sales, but they are more satisfied with the process than in years past. For an in-depth look at this research, download the report now!
Solution Spotlight

The Infusionsoft Small Business Sales and Marketing Scorecard analyzes a business's current sales and marketing processes and provides customized recommendations to improve effectiveness and boost sales.
Read more...
Follow Us
Industry Events
When: April 7 – 9, 2014
Where: San Francisco, CA
Join the Marketing Nation as over 3,500 of your peers, colleagues and thought leaders gather to celebrate Innovation in the Nation. Summit 2014 will provide an engaging experience to grow your expertise and network over two and a half days. Connect with ideas, marketers, and resources to help YOU achieve success faster!
Read more...
When: April 23 – 25, 2014
Where: Phoenix, AZ
#ICON14 is the eighth annual conference for small business, hosted by Infusionsoft. This 3-day event brings together the brightest minds in small business from around the world to learn, network and share best practices for success. The event provides everything from inspiring keynote speakers to hands-on Infusionsoft training, plus tips on lead generation, conversion and customer delight. Breakout sessions cover a range of topics like Infusionsoft product training, marketing strategy, social media, business management, automation, branding, copywriting, affiliate marketing and more.
Read more...
When: May 21 – 23, 2014
Where: Orlando, FL
The SiriusDecisions' annual Summit is a unique three-day conference where SiriusDecisions analysts and top sales and marketing leaders from Fortune 500 companies and major SMBs share how b-to-b organizations are solving critical issues that hinder predictable growth. Each year, the theme focuses on aspects of how sales and marketing can, and should, intersect.
Read more...