Feature Articles
Written by Amanda F. Batista
Monday, 16 March 2009 12:52
With efficiency the rule of the day in the current climate, marketers are increasingly looking for the best response rates possible from all of their outreach. A new Direct Marketing Association (DMA) study sheds new light into the strategies and media driving the best return for marketers. While the DMA 2009 Response Rate Report showed decline in click-through rates over the past several years, the survey still found the majority of marketers continue to shift money to email—57.1% increasing email budgets vs. 8.0% decreasing. They study also found email now represents 12.6% of marketers' budgets, third only to direct mail and internet marketing.
In terms of performance, the report found email statistics are stabilizing, with open rates for house lists at 14.92%, click through rates in the high single digits (9.36%) and conversion rates in the mid single digits (5.26%), according to the report. Prospect lists performed faintly worse than house lists, with open rates at 8.56%, click through rates at 5.57%, and conversion rates at 3.15%.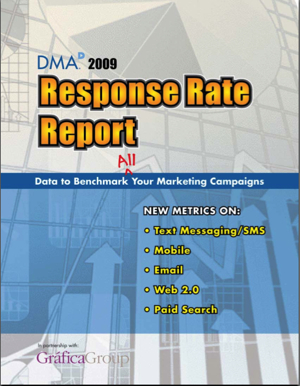 In the direct order sector, outbound telephone had the highest average response rate among all media (4.41% for house lists and 2.92% for prospect lists), followed closely by catalogs (3.95% for house lists and 1.85% for prospect lists) and direct mail (3.65% house lists and 1.65%-prospect list), all increases over the previous editions of the Response Rate Report.

Looking specifically at lead generation campaigns, the research indicated nearly-identical conversion values between direct order and lead generation, for both house lists (5.26% direct order, 5.28% lead generation) and prospect lists (3.15% to 3.52%). At this point in the sales funnel, the definition of "conversion" diverges, the DMA noted.

SPENDING PATTERNS
The overall budgets trends of respondents indicate that 35% of direct marketing budgets remain allocated to direct mail, the largest single portion. The trend is away from print media (catalog, direct mail, and insert media) and towards digital media (email, mobile marketing, internet marketing, and paid search).

57.1% of respondents expect increasing their email budgets, while just 8.0% expect decreasing them. In Internet Marketing, the numbers are similar: 64.3% expect to increase the budget for this medium and only 8.8% to decrease it. However, fewer respondents expect to increase direct mail spending (27.2%) than decrease it (33. %).

Paid search was added to the study for the first time this year. It counts for less than 10% of overall marketing budgets (8.2%), but combined with search engine optimization, search is nearly a third of marketers' online budgets. Both are growing at close to 50%, and over 42% of respondents are either not doing search or in their first year, which indicates room for growth.

The cost-per-click model of paid search is appealing, especially in these times when all departments are tasked to be more accountable for their budgets. For direct order campaigns the cost-per-click average was $1.56. For lead generation the average was $1.98. The values varied greatly by industry, a reflection of the relative immaturity of the channel and its competitive bidding-style pricing model, according to the DMA.

Large groups of marketers are holding steady with their budgets – 61.8% of catalog, 60% of insert media, 46% of direct mail, and 37.5% of email. When compared across industries, budget allocation by channel closely resembles the overall audience, the only notable difference being paid search, 12.2% for education vs. 8.2% overall. 51.1% increased paid search budgets in 2008 and 51.2% planning to increase budgets in 2009. Cost-per click is lower than average for direct order campaigns ($1.32 vs. $1.56) and higher than average for lead generation ($2.86 vs. $1.98).

Overall, the digital shift in education marketing is pronounced, with 45.6% of marketing budgets allocated towards online and mobile channels. This is one of the highest figures in this report. Education marketers are particularly strong adopters of podcasts, RSS Feeds, and online videos. For example, over 60% are either using podcasts or considering using it within the next 12 months.

To purchase the full DMA 2009 DMA Response Rate Report, visit the DMA Bookstore.
blog comments powered by
Demanding Views
By Israel Martinez, Product Manager, DNN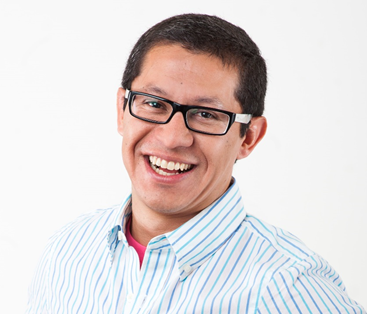 You want a shorter sales cycle and your customers want a shorter buying cycle. No one benefits from prolonging the process. But if your goals are aligned, why is it that things seem to be going in the opposite direction?
According to the International Data Corporation (IDC), 56% of the buying process is spent searching for educational content. IDG reported that 86% of B2B buyers say that the content created by marketing departments is not useful, relevant or aligned with their needs. A study from Forrester says that 76% of buyers choose vendors that can have intelligent conversations and deliver effective value messages, and Sirius Decisions reported that the number one sales inhibitor is an organization's inability to communicate the value of their products.
Read more...
Bulletin Board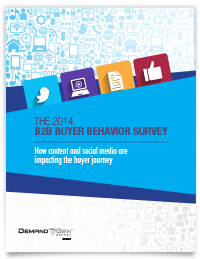 Demand Gen Report's 2014 B2B Buyer Behavior Survey provides insights into how B2B buyers make their decisions. Buyers are waiting longer to engage with sales, but they are more satisfied with the process than in years past. For an in-depth look at this research, download the report now!
Solution Spotlight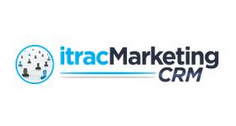 ItracMarketing CRM (formerly itracEMS) provides marketing automation, email marketing, social marketing, lead scoring and lead management from a single platform.
Read more...
Follow Us
Industry Events
When: October 8 – 10, 2014
Where: Boston, MA
Are you armed and ready to meet the marketing challenges of today, tomorrow, and beyond? With technology and the way we live changing rapidly, B2B marketers have so many options and tools that it can be overwhelming. At the 2014 B2B Marketing Forum we will have inspirational speakers presenting on the hottest, smartest topics—giving you the knowledge you need to thrive in 2014, 2015 and beyond. Get ready to bullet-proof your marketing for the future and come out a modern marketing rock star!
Read more...
When: October 13 – 16, 2014
Where: San Francisco, CA
Whether you're a company of five or a Fortune 500, you're going to learn a lot of innovative ways to improve your business at Dreamforce. With over 1,400 sessions and thousands of live solutions from the world's largest cloud ecosystem, Dreamforce has tailored content specific to your business size and type, for any role in your company.
Read more...