Feature Articles
Written by Andrew Gaffney
Wednesday, 03 June 2009 09:00
Considering the current business climate, it is hard to fathom that less than 10% of marketers are capitalizing on one of their biggest opportunities to drive new business, but that is the unfortunate reality. We conducted a survey of marketing executives back in December of 2008 and found that only 8% of respondents currently had automated lead nurturing strategies and processes in place.
While it can be argued that the small percentage of organizations using lead nurturing is consistent with the low adoption rate of marketing automation systems, another stat which was even more eye-opening was that only 15% of respondents planned to deploy or expand their automated lead nurturing efforts in 2009. This represents a huge missed opportunity for BtoB organizations as lead nurturing has really become a required part of the selling process in today's business landscape.
The notion that any prospect that clicks through an email campaign or downloads a white paper is ready for immediate sales follow-up is out of date. For those companies still practicing this uninformed, unresponsive type of outreach, they are hindering their revenue generation and also making a bad first impression on prospects.
Sophisticated BtoB organizations have realized that the buying process has changed dramatically over the past five years.  Instances where a single executive will respond to a campaign and then own the vendor selection process all the way through the buying cycle are extremely rare. It is now more common that there are several different areas of an organization involved in the buying cycle—from finance to IT to operations as so on—and smart marketers will have touch points and content that speak to all of their pain points and concerns.

This growing "sphere of influence" over the BtoB buying cycle makes lead nurturing strategies and processes an absolute necessity. Leading research consultancy SiriusDecisions has divided the BtoB buying cycle into six distinct phases and recommends organizations apply marketing resources "across the entire opportunity lifecycle."

In a presentation at the recent SiriusDecision Summit titled "The Care and Feeding of Leads," VP of Research Tony Jaros pointed out that lead nurturing "is not a single concept," but rather a "rollup of three management approaches." Citing recent data which shows 96% of an average organization's Marketing Qualified Leads fail to make it closure, Jaros added that "sales participation is vital" if nurturing programs are going to have success.

For organizations that are in the early phases of establishing lead nurturing practices and processes, it is important to keep in mind that there are several different types and forms of nurturing. In fact, SiriusDecisions has defined three flavors of nurturing depending on where a prospect is in the funnel.

For example, a new inquiry will likely require further nurturing in order to qualify that they meet the appropriate criteria to be passed over to sales. Often leads that are passed over to sales are later disqualified because their purchase plans have been delayed. Although they are not immediately ready to buy, these prospects should be kept warm by the marketing department and once their activity reaches a certain level, they may be ready for re-engagement with the sales organization.

Unfortunately, many organizations have abandoned leads that were disqualified, allowing these prospects to leak out of the funnel. SiriusDecisions' Jaros pointed out that "re-watering" aging leads in a company's database could represent the most fertile ground for lead nurturing. "In CRM systems around the world, poor, tired, huddled masses of leads are yearning to be free," Jaros joked.

blog comments powered by
Demanding Views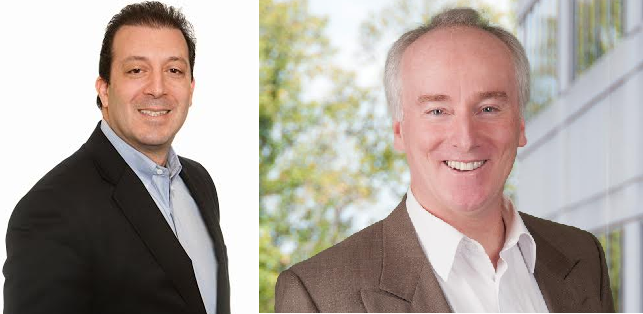 By Jeff Pedowitz and Kevin Joyce, The Pedowitz Group
In the latter part of the 19th century John Wanamaker, the father of modern advertising, is reputed to have said "Half the money I spend on advertising is wasted; the trouble is I don't know which half." Imagine you could demonstrate and manage the impact of marketing on revenue? Imagine you knew which half of your budget was well spent?
For a B2B company with sales cycles of more than six months this may still not be easy. Notice we are not talking about a labor of Sisyphus, pursuing marketing ROI on a single marketing initiative.
Read more...
Bulletin Board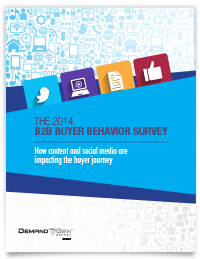 Demand Gen Report's 2014 B2B Buyer Behavior Survey provides insights into how B2B buyers make their decisions. Buyers are waiting longer to engage with sales, but they are more satisfied with the process than in years past. For an in-depth look at this research, download the report now!
Solution Spotlight

The Infusionsoft Small Business Sales and Marketing Scorecard analyzes a business's current sales and marketing processes and provides customized recommendations to improve effectiveness and boost sales.
Read more...
Follow Us
Industry Events
When: April 7 – 9, 2014
Where: San Francisco, CA
Join the Marketing Nation as over 3,500 of your peers, colleagues and thought leaders gather to celebrate Innovation in the Nation. Summit 2014 will provide an engaging experience to grow your expertise and network over two and a half days. Connect with ideas, marketers, and resources to help YOU achieve success faster!
Read more...
When: April 23 – 25, 2014
Where: Phoenix, AZ
#ICON14 is the eighth annual conference for small business, hosted by Infusionsoft. This 3-day event brings together the brightest minds in small business from around the world to learn, network and share best practices for success. The event provides everything from inspiring keynote speakers to hands-on Infusionsoft training, plus tips on lead generation, conversion and customer delight. Breakout sessions cover a range of topics like Infusionsoft product training, marketing strategy, social media, business management, automation, branding, copywriting, affiliate marketing and more.
Read more...
When: May 21 – 23, 2014
Where: Orlando, FL
The SiriusDecisions' annual Summit is a unique three-day conference where SiriusDecisions analysts and top sales and marketing leaders from Fortune 500 companies and major SMBs share how b-to-b organizations are solving critical issues that hinder predictable growth. Each year, the theme focuses on aspects of how sales and marketing can, and should, intersect.
Read more...