With the growth of smartphones and mobile Web usage exploding, email marketers are tasked with the challenge of delivering relevant, rich content to customers that can be read and interpreted over the mobile phone. Industry experts say the design of emails is critical, as the mobile phone offers a different experience that may not be cohesive to the intended message.

The market for smartphones is expected to reach one billion units and grow 1,600% in the next three years, according to research from The Yankee Group. 52% of smartphone users access the same email account through mobile and computer, while 48% maintain a unique mobile email address. "When talking about mobile email, it is important to keep in mind that 96% of consumers access the same accounts on their mobile devices as they are already accessing at work or home on a regular computer," says Morgan Stewart, Director of Research & Strategy, ExactTarget.

"A few short years ago, email to mobile devices was very clunky and in most cases a hit and miss or panic situation for marketers. The reason being is that many devices did not have the capability like what we see with the iPhone today to display HTML or images on the screen. Today [the email] game has changed," says Dennis Dayman, Chief Privacy Officer, Eloqua. "We are seeing a tremendous growth in the mobile arena and the expectations by consumers of mobile devices to read their email while on the road."

Dayman says this shift requires marketers to ensure their email is recognized by either the from or subject lines. The design of emails can be as important as the content, as marketers should have several important factors for mobile email in mind.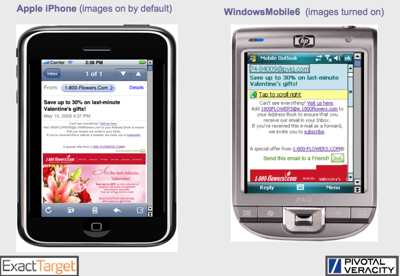 "One of the larger concerns today is we just don't know who's reading emails on the mobile device," says Michele Eichner, COO & Vice President of Client Development, Pivotal Veracity, a leading independent email delivery auditing and optimization company for large enterprises. "Even if you were to design emails specifically for mobile customers, you actually don't really know who today is reading on a mobile phone. And part two of that is which mobile phone…That's probably our number one challenge at this point."

Stewart says a big concern is how what gets delivered to the inbox appears to the user due to a lack of recognized standards for how email design. "Email has become a feature benefit for smartphone manufacturers, each attempting to create an experience better than the competition, developing and adhering to standards are not a priority," he says. "Worse still, consumers (and business users alike) use a variety of smartphones, they change or upgrade their phones frequently, and it is difficult to predict if the user will first view your email on their mobile phone or their traditional computer."
Eichner says there are several best practices that can help email marketers to optimize emails and make sure they render well on various devices.
Pivotal Veracity's Tips for Improving Cross Platform Email Performance:

     1.    Rendering differs by email client:
        •    Use short, concise URLs that work across all operating systems
        •    Test what your email will look like and render to see what the customer experience might be.
     2.    Images off is the new norm:
        •    Emails heavy with images are not likely to be seen. Expect images to be off and pitch your message by clearly identifying who it is from.
        •    Maximize your subject line and have your call to action in the top lines of the email to draw immediate attention.
     3.    Size does matter:
        •    There are different ways of looking at an email message on various operating systems and devices. This is why it's important to test your message to take into consideration how the message will be received.

     4.    URLs- quick mobile makeovers:
        •    How you code URLs matters, to ensure that they click through across various mobile operating systems
        •    Add a very short link (TinyURL) to the top of the email message to offer a mobile version of the message on a Web page.
"Too many marketers use the same URL generation systems for other links, images, etc. to develop their mobile version links which causes issues," says Eloqua's Dayman. "Make your landing pages smart! If you can get really fancy with your content and web designers, they can code the web systems to understand what version of a mobile device browsing software the device is using to visit the landing page and serve up an optimized webpage for viewing for that particular device."
Pivotal Veracity's Eichner says more operating systems and mobile devices are now supporting HTML and images, which is a positive trend for marketers. "It's going to make it easier for consumers to want to read an email on the mobile device, which is nice," she says. "It's going to take some times for the population to buy these smartphones that have these capabilities, but it's a trend we're seeing. It's going to be more user-friendly to do so, which is the biggest advantage from a marketer's perspective."
Eloqua's Dayman says one of the most important things for marketers is to make sure the entire email is NOT an image. "Similar to regular email clients that tend to suppress images, you should ensure the mobile version doesn't lead or take up most of the message restate space with an image," he says. "You should use ALT tagging which will place useful identity text where images and logos are blocked or not rendered. Again, ensure the important message/words are at the top of the subject line and body of the message in HTML/text. This is typically the call to action or offer line."

If the message is primarily a marketing message, ExactTarget's Stewart advise marketers to continue to focus on optimizing the message for reading in traditional email clients, while making a few simple adjustments that benefit the mobile reader while improving the traditional experience at the same time:
Use a pre-header to communicate the key value or call to action in the message. This should go above "View as a webpage" or "View as mobile" links in order to ensure the key benefit is shown on the mobile screen.
Keep messages short, sweet, and too the point. This is especially important in mobile environments, but it's a good practice in email anyway.
Use ALT tags for any and all images.
Continue to send emails as multi-part messages, paying attention to the text version.
Create a separate mobile email version that is the destination page behind your "View as mobile" link.
Think through the call to action. If consumers must go to your website to take action on your message, then consider if the landing pages have been optimized for the mobile environment or not. Your audience will dictate if it makes sense to create a separate mobile experience.
blog comments powered by