White Papers
Wednesday, 24 September 2014 09:16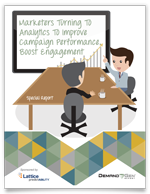 Several years ago when marketers began to dive deeper into the data that they were collecting about prospects, lead scoring was a natural place to begin. Armed with greater knowledge about which leads were more likely to convert, salespeople could improve their performance and focus their efforts on the prospects that had the greatest chance of becoming customers.
Read more...
Industry News
Wednesday, 24 September 2014 09:35

Most companies are practicing inbound marketing, and that is true of companies of all sizes. The concentration of inbound marketers peaks (93%) at companies with a marketing budget between $1 million and $5 million annually, according to the 3,570 marketers surveyed for HubSpot's State Of Inbound 2014 report.
"Marketers are twice as likely to cite inbound as their primary source of leads as opposed to outbound," said Joe Chernov, VP of Content for HubSpot, during a session outlining the study at INBOUND 2014. "Salespeople prioritize inbound leads because they know inbound works."
Read more...
Rich Media
Wednesday, 24 September 2014 00:00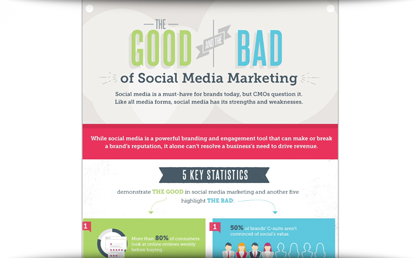 This infographic from Outmarket explores the strengths and weaknesses of social media marketing. Among the positives: People use social media to broadcast their buying signals.
Read more...
Industry News
Tuesday, 23 September 2014 08:53

SharpSpring, a provider of CRM and marketing automation solutions, announced new features for its marketing automation solution intended to provide users with call tracking capabilities. The feature is designed to give sales teams insights that include data from both web and phone touch points.
The first product enhancement since being acquired by SMTP in August, the call tracking feature aims to provide a unified look at prospective buyers by combining call tracking and web tracking data all in a single platform.
Read more...
Industry News
Monday, 22 September 2014 12:44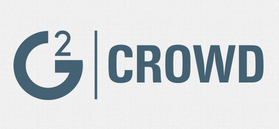 A recent study from the crowdsourced software review service G2 Crowd revealed Nimble and Workbooks.com topped the customer satisfaction rankings, with both receiving 98%.
The Grid for CRM analyzed roughly 1,700 ratings and reviews of more than 150 CRM systems. Of the 27 products qualified. G2 Crowd rated CRM systems based on data sourced from product reviews shared by G2 Crowd users and data aggregated from online sources and social networks.
Read more...
<< Start < Prev 1 2 3 4 5

6

7 8 9 10 Next > End >>


Page 6 of 280
Demanding Views
By Lisa Lakata, Senior Data Analyst, 6Sense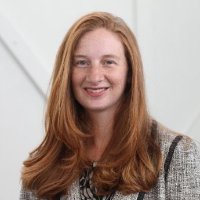 When it comes to size, we hear a lot about "Super Size,""Upsize," "Go big or go home." So when your company hops on the Big Data bandwagon, is bigger better? Is more data more helpful?
Not necessarily. The fact is more data does not automatically equal more information. The quality of data is just as, if not more, important.
Read more...
Bulletin Board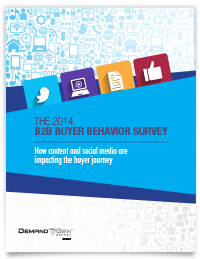 Demand Gen Report's 2014 B2B Buyer Behavior Survey provides insights into how B2B buyers make their decisions. Buyers are waiting longer to engage with sales, but they are more satisfied with the process than in years past. For an in-depth look at this research, download the report now!
Solution Spotlight

Ambition is the self-proclaimed "fantasy football for sales teams," designed to use gamification to benchmark sales reps within an organization, boost productivity and close more deals.
Read more...
Follow Us
Industry Events
When: November 11 – 13, 2014
Where: Raleigh, NC
Internet Summit is a premier digital strategies forum with a goal of educating and promoting forward thinking and thought leadership on topics related to internet business and marketing. Attendees come from a broad range of organizations including National Brands, Agencies, Technology Companies, Media, B2B Providers, Associations & Nonprofits and Startups.
Read more...
When: February 16 - 18, 2015
Where: Scottsdale, AZ
The B2B Content2Conversion Conference brings together the top thought leaders and practitioners in both content and demand generation. The combined agenda provides real-world case study examples, as well as actionable takeaways on how marketers can better target, engage and convert prospects into customers. Taking place in Scottsdale, Arizona, the B2B Content2Conversion Conference provides you with a playbook to optimize your 2015 marketing plans.
Read more...
When: February 23 – 26, 2015
Where: Las Vegas, NV
Discover how-to details and strategies for fast, measurable digital marketing success. All of it is real-world experience grounded in rigorous research and taught by successful marketers who face your same challenges. Learn how to make your email campaigns — and your career — more successful than ever and do it within a world-class venue. It's no wonder leading organizations consider Email Summit a priority investment year after year.
Read more...