Data Management
Written by Brian Anderson, Associate Editor
Wednesday, 19 February 2014 11:37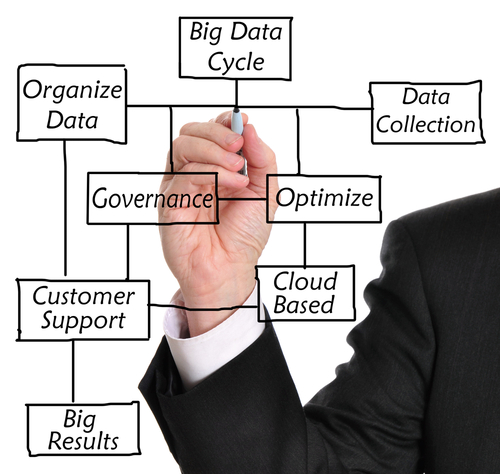 The growth of Big Data has not gone unnoticed by B2B marketers. In an annual study from Infogroup Targeting Solutions, 54% of marketers said they have already invested in Big Data. Up to 30% of marketers said they plan to invest in Big Data for the first time in the next two years.
Although Big Data has been a part of the lead generation and nurturing process for quite some time, many B2B marketers are still developing strategies for managing and leveraging the influx of information they are collecting on prospects.
Read more...
Rich Media
Wednesday, 19 February 2014 00:00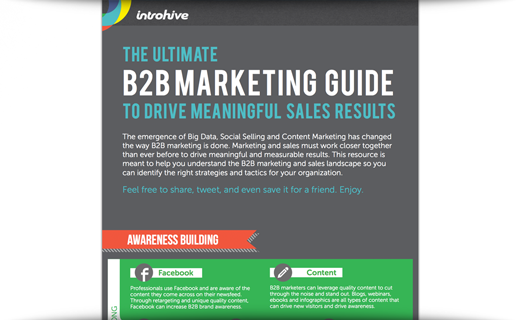 The emergence of Big Data, social selling and content marketing has changed the way B2B marketing is done. This infographic from Introhive examines the various social media channels and their effectiveness for building brand awareness, lead nurturing and generating sales.

Read more...
Industry News
Tuesday, 18 February 2014 15:21

Madison Logic, a provider of intent data solutions for B2B marketers and publishers, has entered a partnership with BNZSA, a direct marketing agency, which will help deliver Madison Logic's Content Consumption Monitoring Program (CCM) and Email Segment Builder B2B solutions in France. Madison Logic's expansion into France follows a recent partnership to expand B2B solution delivery into Germany with ITCorporate.de, a local site published by Huson Media International.
Madison Logic's CCM aggregates rich intent data that provides segments that will produce less opt-outs, higher performance and a better user experience, according to company officials. When the CCM is used in conjunction with the company's Email Segment Builder, marketers can identify specific segments of their target audience who have displayed interest and deliver the assets that match their interests.
Read more...
Industry News
Tuesday, 18 February 2014 15:11

In an effort to drive channel engagement and loyalty, DataGravity, a start-up created to help "turn data into information," has launched a new program that will offer partners insider access into the company's solution.
DataGravity is in the process of recruiting a select group of channel partners for the early-access program based on their expertise in storage, server and virtualization technology. The program will be unveiled during the 2014 VMware Partner Exchange event.
Read more...
Content Strategies
Written by Brian Anderson, Associate Editor
Tuesday, 18 February 2014 11:03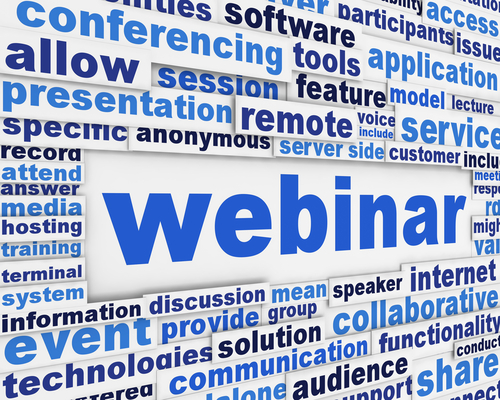 To rise above the growing content noise, marketers are searching for ways to engage potential customers in a highly personalized manner.
In a recent webinar — titled Real-Time Personalization: How To Optimize Your Website And Boost Conversions — Insightera discussed the benefits of real-time web site personalization and strategies for implementation.
Read more...
<< Start < Prev 1 2 3 4 5

6

7 8 9 10 Next > End >>


Page 6 of 233
Demanding Views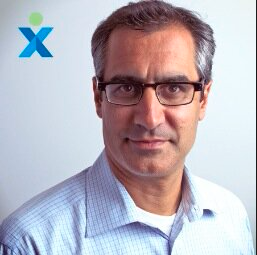 By Michael Idinopulos, CMO, PeopleLinx
We've seen social disrupt a lot of professions: Journalism, retail, telephony, encyclopedias, art photography, recorded music, classified advertising, transportation, real estate and hospitality.
Is professional marketing next?
Read more...
Bulletin Board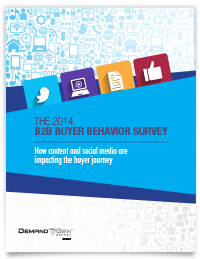 Demand Gen Report's 2014 B2B Buyer Behavior Survey provides insights into how B2B buyers make their decisions. Buyers are waiting longer to engage with sales, but they are more satisfied with the process than in years past. For an in-depth look at this research, download the report now!
Solution Spotlight

Bulldog Gameplan enables B2B enterprise marketing organizations to predict, optimize and model program outcomes and make data-driven planning decisions from a central location.
Read more...
Follow Us
Industry Events
When: March 18 – 20, 2014
Where: New Orleans, LA
Pubcon, the premier social media and optimization conference and expo, will hold its multi-track New Orleans event at the New Orleans Convention Center in the city they call The Big Easy. Pubcon New Orleans 2014, supported by the industry's leading businesses, speakers, exhibitors, and sponsors involved in social media, Internet marketing, search engines, and online advertising, will offer a week-long look at the future of technology presented by many of the world's top speakers.
Read more...
When: March 24 – 28, 2014
Where: Salt Lake City, UT
At Summit 2014, you'll learn how to find and make the most of every marketing opportunity. Hear from leading innovators, explore the latest tools and trends, and see how companies are using Adobe Marketing Cloud to give them the insights they need, faster and smarter than ever. Join us at Summit to discover how Adobe can help you get quantifiable marketing results to maximize your impact and revenue.
Read more...
When: March 25 & 26, 2014
Where: Mirage Hotel & Casino, Las Vegas, NV
LeadsCon showcases the best people and companies in vertical media and direct-response marketing. 5000+ people rely each year on LeadsCon for unparalleled insights and access to marketing leaders. Attend to understand the ever evolving landscape of vertical media and marketing and to get more business done.
Read more...