Demand Generation Strategies
Written by Brian Anderson, Associate Editor
Wednesday, 01 October 2014 11:43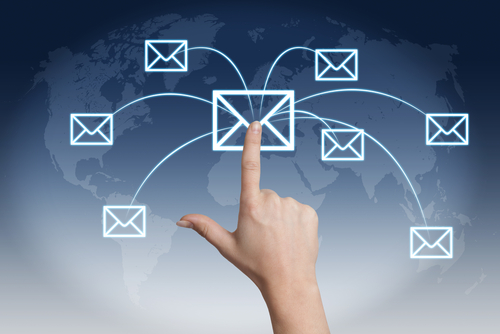 Email continues to play a pivotal role in the B2B marketing landscape.Marketing Sherpa states that 60% of marketers say that email marketing is producing ROI for their organization, demonstrating the continued value of the channel to B2B marketers.
With the average person projected to send and receive close to 200 emails per day — according to a report from the Radicati Group — email management services such as Mailstrom and Unroll.me have grown more appealing, causing many B2B email marketers to revisit their best practices for timing and frequency of emails. These services are designed to give users control of when, how often and in what format they receive emails from specific senders.
Read more...
Rich Media
Wednesday, 01 October 2014 00:00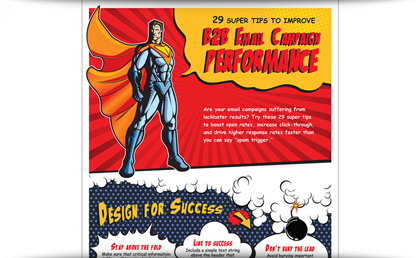 An email campaigns fail for a number of reasons. The offer could be uninspiring, or buried deep in the email, or both. Or the campaign could be suffering from design, copy structure or deliverability issues. This superhero-inspired infographic from Spear Marketing Group could help rescue your campaign.
Read more...
Marketing Analytics
Tuesday, 30 September 2014 09:02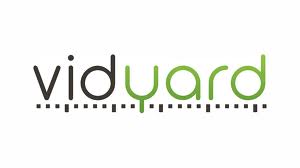 In a recent survey by marketing research firm Demand Metric, more than 70% of marketers reported that video performs better than other content at producing conversions, yet less than 10% are using video to identify, score and qualify their leads. B2B marketers such as Honeywell, Fiberlink, Intralinks and SevOne are among those using Vidyard's Video Marketing Platform to track and convert their online viewers.
"The innovative organizations that put more stock in their online video presence are being rewarded for their choice," said Vidyard CEO Michael Litt. "Whether they are using advanced video analytics to make smarter decisions, using video viewing data to better qualify leads, or making videos actionable for viewers, these companies realize there are huge benefits to taking a more strategic approach to video marketing."
Read more...
Industry News
Monday, 29 September 2014 08:36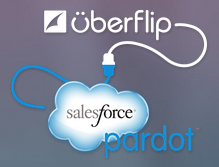 Uberflip announced that it has integrated with Salesforce Pardot, intending to share contact information collected through the Uberflip Hub to track a prospect's content consumption.
The integration is designed to enable users of both Uberflip and Pardot to create calls to action and capture contacts directly from the Uberflip Hub and sync to Pardot. The integration will also allow users to measure and analyze how prospects are engaging with their content.
Read more...
Industry News
Friday, 26 September 2014 08:42

ON24 announced that the company's recently released solution — Webcast Elite Marketing Edition —grew 95% in the first half of 2014, while event volume increased approximately 125%. The company estimates that it will deliver approximately 33,000 live webinars throughout 2014.
Roughly 250 new contracts were signed for Webcast Elite during the first half of 2014, adding to a total of more than 600 Elite contracts to date — primarily to SMBs. The news comes shortly after ON24 announced integration services with automation companies like Marketo and Eloqua.
Read more...
<< Start < Prev 1 2 3 4 5 6

7

8 9 10 Next > End >>


Page 7 of 282
Demanding Views
By Eric Vidal, Director of Product Marketing, InterCall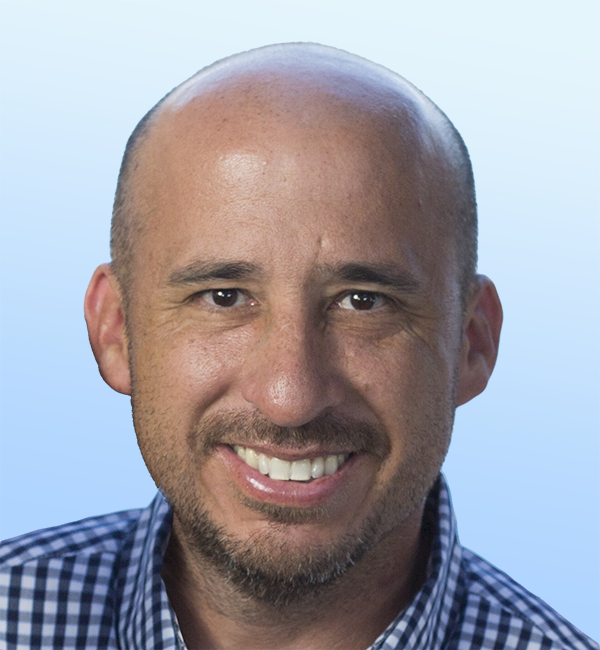 Many companies have turned to content marketing as an effective way to boost their search engine rankings, promote their products or services and connect with customers. But when producing original content, marketers should be mindful of a few practices that will discredit their web site and scare readers away. In the spirit of Halloween, here are three spooky content marketing practices to avoid.
Read more...
Bulletin Board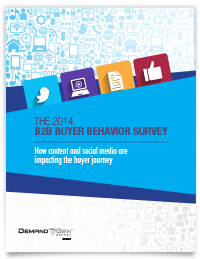 Demand Gen Report's 2014 B2B Buyer Behavior Survey provides insights into how B2B buyers make their decisions. Buyers are waiting longer to engage with sales, but they are more satisfied with the process than in years past. For an in-depth look at this research, download the report now!
Solution Spotlight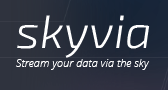 Skyvia is a cloud data integration service that is positioned to integrate a company's cloud-based CRM system with roughly 15 data sources.
Read more...
Follow Us
Industry Events
When: November 11 – 13, 2014
Where: Raleigh, NC
Internet Summit is a premier digital strategies forum with a goal of educating and promoting forward thinking and thought leadership on topics related to internet business and marketing. Attendees come from a broad range of organizations including National Brands, Agencies, Technology Companies, Media, B2B Providers, Associations & Nonprofits and Startups.
Read more...
When: February 16 - 18, 2015
Where: Scottsdale, AZ
The B2B Content2Conversion Conference brings together the top thought leaders and practitioners in both content and demand generation. The combined agenda provides real-world case study examples, as well as actionable takeaways on how marketers can better target, engage and convert prospects into customers. Taking place in Scottsdale, Arizona, the B2B Content2Conversion Conference provides you with a playbook to optimize your 2015 marketing plans.
Read more...
When: February 23 – 26, 2015
Where: Las Vegas, NV
Discover how-to details and strategies for fast, measurable digital marketing success. All of it is real-world experience grounded in rigorous research and taught by successful marketers who face your same challenges. Learn how to make your email campaigns — and your career — more successful than ever and do it within a world-class venue. It's no wonder leading organizations consider Email Summit a priority investment year after year.
Read more...