Industry News
Tuesday, 23 October 2012 09:46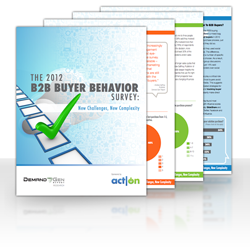 Demand Gen Report, a leading digital publication covering the sales and marketing automation space, has released the findings of its third annual Bt2B Buying Survey. The report, underwritten by Act-On Software, and titled "Inside The Mind Of The B2B Buyer," found the buying cycle is increasing in duration, buyers are conducting extensive research before reaching out to sales reps and are increasingly dissatisfied with the buying experience.
More than 170 B2B buyers polled were involved in the purchase of a solution in the past year, unveiling several noteworthy trends:
Read more...
Rich Media
Tuesday, 23 October 2012 09:15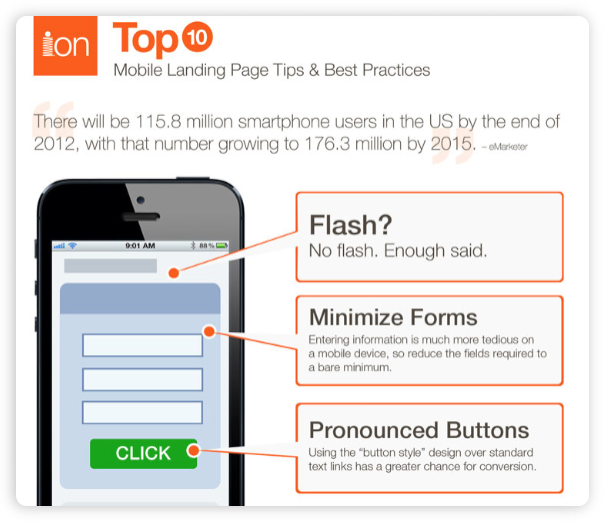 According to eMarketer, there are now more than 115 million smartphone users in the United States alone. That includes tens of millions of businesspeople who research their B2B buying decisions using phones, tablets and other mobile devices.
This week's infographic, provided courtesy of ION Interactive, offers 10 best practices for crafting practical and effective mobile landing pages. Learn what it takes to build a mobile B2B presence that engages and converts your prospects.
Read more...
Marketing Analytics
Written by Matthew S. McKenzie
Tuesday, 23 October 2012 09:27

At a DemandCon event session earlier this month, Jon Russo, Founder and CEO of B2B Fusion Group, asked a room full of marketers how many were still using Excel spreadsheets to track their performance. About 90% of them raised their hands.
Russo said he wasn't surprised at the show of hands. But he is definitely concerned about it.
"This is risky business for a marketing organization," he said. "Executives are now accustomed to seeing metrics integrated with tools like Salesforce. When they see these reports dumped onto spreadsheets, they're going to question the validity of the data."
Read more...
Industry News
Monday, 22 October 2012 10:52

Aprimo, a provider of B2B and B2C marketing automation solutions, today released an update to its Aprimo Relationship Manager, part of the company's suite of cloud-based Integrated Marketing Management (IMM) applications.
According to a company news release, version 6.6 of Aprimo Relationship Manager includes a number of user interface and technology integration enhancements. The update comes a week after the company announced its Digital Messaging Center, which will integrate with the latest update.
Read more...
Industry News
Friday, 19 October 2012 13:32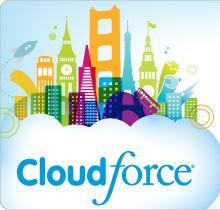 Salesforce.com today announced a major new set of social analytics partnerships for its Marketing Cloud, bringing together 20 social analytics vendors to help companies "accelerate the shift from passive social listening to driving real business results, turning insights into action."
The Salesforce Marketing Cloud, announced during the company's Dreamforce event in September, aggregates technology acquired through its purchases of Buddy Media and Radian6 with its core CRM platform. The new partnerships, according to the company, will give customers access to analytics tools for identifying sales leads, discovering advocates, detecting trends for any topic or keyword, uncovering social influence and analyzing content in 17 languages.
Read more...
<< Start < Prev 101 102 103 104 105 106 107

108

109 110 Next > End >>


Page 108 of 243
Demanding Views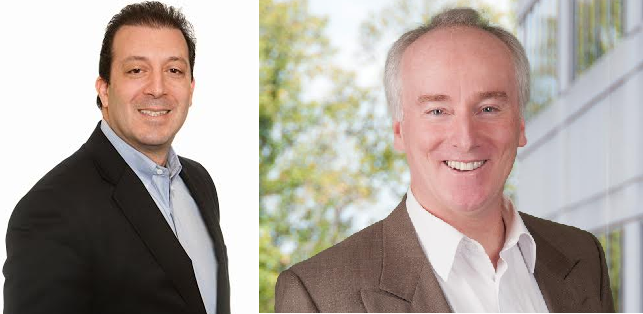 By Jeff Pedowitz and Kevin Joyce, The Pedowitz Group
In the latter part of the 19th century John Wanamaker, the father of modern advertising, is reputed to have said "Half the money I spend on advertising is wasted; the trouble is I don't know which half." Imagine you could demonstrate and manage the impact of marketing on revenue? Imagine you knew which half of your budget was well spent?
For a B2B company with sales cycles of more than six months this may still not be easy. Notice we are not talking about a labor of Sisyphus, pursuing marketing ROI on a single marketing initiative.
Read more...
Bulletin Board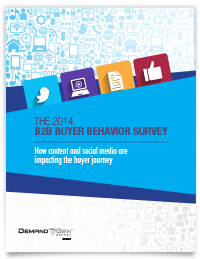 Demand Gen Report's 2014 B2B Buyer Behavior Survey provides insights into how B2B buyers make their decisions. Buyers are waiting longer to engage with sales, but they are more satisfied with the process than in years past. For an in-depth look at this research, download the report now!
Solution Spotlight

The Infusionsoft Small Business Sales and Marketing Scorecard analyzes a business's current sales and marketing processes and provides customized recommendations to improve effectiveness and boost sales.
Read more...
Follow Us
Industry Events
When: April 7 – 9, 2014
Where: San Francisco, CA
Join the Marketing Nation as over 3,500 of your peers, colleagues and thought leaders gather to celebrate Innovation in the Nation. Summit 2014 will provide an engaging experience to grow your expertise and network over two and a half days. Connect with ideas, marketers, and resources to help YOU achieve success faster!
Read more...
When: April 23 – 25, 2014
Where: Phoenix, AZ
#ICON14 is the eighth annual conference for small business, hosted by Infusionsoft. This 3-day event brings together the brightest minds in small business from around the world to learn, network and share best practices for success. The event provides everything from inspiring keynote speakers to hands-on Infusionsoft training, plus tips on lead generation, conversion and customer delight. Breakout sessions cover a range of topics like Infusionsoft product training, marketing strategy, social media, business management, automation, branding, copywriting, affiliate marketing and more.
Read more...
When: May 21 – 23, 2014
Where: Orlando, FL
The SiriusDecisions' annual Summit is a unique three-day conference where SiriusDecisions analysts and top sales and marketing leaders from Fortune 500 companies and major SMBs share how b-to-b organizations are solving critical issues that hinder predictable growth. Each year, the theme focuses on aspects of how sales and marketing can, and should, intersect.
Read more...