Industry News
Wednesday, 31 October 2012 07:34

Return Path, a provider of email delivery and intelligence services, announced last week that it had acquired Montreal-based firm Context.IO.  Financial terms of the deal were not disclosed.
Context.IO develops API interfaces between email data stores and business applications. Return Path will use the acquisition to give enterprise developers better access to email for data-mining and marketing intelligence activities.
Read more...
Industry News
Friday, 26 October 2012 09:50

InfoArmy announced this week that it had raised $17.3 million in Series B funding to finance the company's data-as-a-service competitive intelligence service. The funding was announced at the CrowdConf 2012 event.
InfoArmy describes itself as "crowdsourced competitive intelligence" aimed primarily at sales and marketing organizations. The company recruits independent researchers to assemble competitive intelligence reports on companies; researchers are compensated using a revenue-sharing model.
Read more...
Demand Generation Strategies
Thursday, 25 October 2012 12:24

SalesFUSION, a provider of integrated marketing and sales solutions, has announced a partnership with WebAttract, a webinar demand creation and management consultancy. In addition, SalesFUSION has released FUSIONcast, a web campaign management platform within the SalesFUSION event management platform.
FUSIONcast connects to the GoToWebinar and Webex webinar platforms. It enables users to build, track and manage webinar lead generation campaigns, while connecting webinar metrics to their CRM systems. 
Read more...
Industry News
Thursday, 25 October 2012 11:52

Marketing automation vendor Eloqua, fresh off its recent IPO, announced its third quarter 2012 results Wednesday afternoon, including 30% year-over-year revenue growth.
According to the company, total revenue for Q3 of 2012 was a record $23.8 million, compared to $18.3 million in the third quarter of 2011. This includes $21.6 million in subscription and support revenue, reflecting an increase of 32% from Q3 2011. The company also reported $2.2 million in professional services revenue, up 12% from Q3 2011.
Read more...
Content Strategies
Wednesday, 24 October 2012 09:42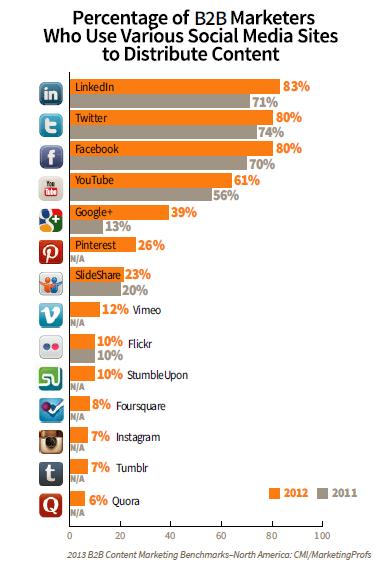 Virtually all B2B marketers now engage in content marketing, and the use of various content formats is up across the board, according to a new study.
The 2013 B2B Content Marketing study, conducted by the Content Marketing Institute and MarketingProfs, and sponsored by Brightcove, surveyed more than 1,400 marketing professionals. More than 90% of the respondents say they use content marketing, and they spend an average of 33% of their budgets on the practice compared to 26% last year.
Read more...
<< Start < Prev 141 142 143

144

145 146 147 148 149 150 Next > End >>


Page 144 of 280
Demanding Views
By Lisa Lakata, Senior Data Analyst, 6Sense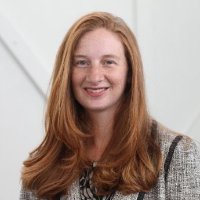 When it comes to size, we hear a lot about "Super Size,""Upsize," "Go big or go home." So when your company hops on the Big Data bandwagon, is bigger better? Is more data more helpful?
Not necessarily. The fact is more data does not automatically equal more information. The quality of data is just as, if not more, important.
Read more...
Bulletin Board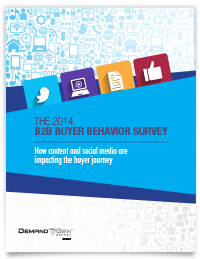 Demand Gen Report's 2014 B2B Buyer Behavior Survey provides insights into how B2B buyers make their decisions. Buyers are waiting longer to engage with sales, but they are more satisfied with the process than in years past. For an in-depth look at this research, download the report now!
Solution Spotlight

Ambition is the self-proclaimed "fantasy football for sales teams," designed to use gamification to benchmark sales reps within an organization, boost productivity and close more deals.
Read more...
Follow Us
Industry Events
When: November 11 – 13, 2014
Where: Raleigh, NC
Internet Summit is a premier digital strategies forum with a goal of educating and promoting forward thinking and thought leadership on topics related to internet business and marketing. Attendees come from a broad range of organizations including National Brands, Agencies, Technology Companies, Media, B2B Providers, Associations & Nonprofits and Startups.
Read more...
When: February 16 - 18, 2015
Where: Scottsdale, AZ
The B2B Content2Conversion Conference brings together the top thought leaders and practitioners in both content and demand generation. The combined agenda provides real-world case study examples, as well as actionable takeaways on how marketers can better target, engage and convert prospects into customers. Taking place in Scottsdale, Arizona, the B2B Content2Conversion Conference provides you with a playbook to optimize your 2015 marketing plans.
Read more...
When: February 23 – 26, 2015
Where: Las Vegas, NV
Discover how-to details and strategies for fast, measurable digital marketing success. All of it is real-world experience grounded in rigorous research and taught by successful marketers who face your same challenges. Learn how to make your email campaigns — and your career — more successful than ever and do it within a world-class venue. It's no wonder leading organizations consider Email Summit a priority investment year after year.
Read more...