Industry News
Friday, 24 August 2012 09:46

Brainshark, a provider of online and mobile video presentations, recently announced a partnership with enterprise software vendor Blackboard Inc. The deal will integrate the Brainshark content creation tools with Blackboard Learn for Sales, the company's cloud-based learning management solution.
The Brainshark integration will allow Blackboard Learn for Sales users to add voiceovers, along with video clips, survey and test questions, and document attachments to PowerPoint decks and other attachments. Blackboard Learn for Sales users can use the integrated offering to create interactive online and mobile video presentations for corporate e-learning courses.
Read more...
Industry News
Thursday, 23 August 2012 11:14

Marketing automation vendor Act-On Software, yesterday announced a new partner program titled Act-On Partner Exchange (APEX). The APEX program is designed to bring together Act-On customers and partners. The new offering provides is a new resource for its customers from diverse vertical marketing that can help enhance their online marketing, while offering its partners access to innovative companies.
"We've already seen an exponential increase in customers working with APEX partners," said Shawn Naggiar, Chief Revenue Officer, Act-On Software. "APEX has been designed to be a simple and effective program that encourages partners to easily join the Act-On ecosystem, and for customers to find products and services to optimize their marketing investment."
Read more...
Data Management
Wednesday, 22 August 2012 00:00
According to a recent Corporate Education Board (CEB) report, marketers still struggle to use data effectively when making business decisions. In fact, most marketers heavily rely on gut instinct, intuition and past experiences, which causes disconnects between what the data tells marketers and what they assume to be true based on their own intuition and experiences.
The result, according to the report, is a tendency towards "bad decision making and wasted resources."
Read more...
Rich Media
Monday, 20 August 2012 00:00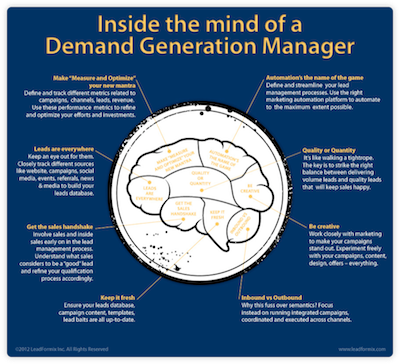 We know (or at least we hope!) that most B2B marketers are pretty sharp cookies – and they'd better be, because they have a lot to think about. This infographic, which comes courtesy of LeadFormix, reveals the eight issues that every demand generation manager is thinking about these days – and why they matter.
Read more...
Demand Generation Strategies
Monday, 20 August 2012 17:20

It's no secret that marketing automation is a high-growth industry. Yet it's also clear that many B2B marketers struggle to achieve the ROI they expected to get from their marketing automation investments: According to an often-cited 2011 Focus Research study, half of all companies say they haven't realized the full value of their marketing automation investments.
What separates the successful marketing automation users from the pack? According to many experts, it often boils down to a matter of timing – or, rather, of cadence.
"Cadence is commonly confused with frequency" in marketing campaigns, said Jessica Meher, Head of Enterprise Marketing at HubSpot. "Frequency is simply how many times emails are sent, whereas cadence is the 'pattern' of email – it includes the number of emails sent, the spacing between emails, the content sent, and the audience receiving the email."
Read more...
<< Start < Prev 141 142 143

144

145 146 147 148 149 150 Next > End >>


Page 144 of 268
Demanding Views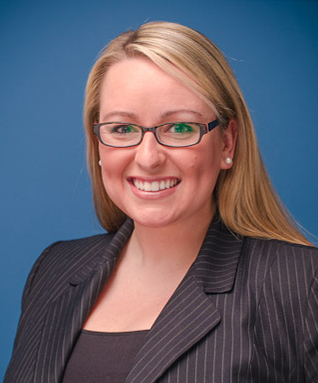 By Lauren Brubaker, Demand Gen Manager, NetProspex
Take a second and think about your lead conversion rate. Could you name it right now? Hopefully you can. Conversion rates from inquiry to MQL — and MQL to opportunity — are two crucial stats that demand gen marketers should always have at the ready. Why? Because they tell you how your lead nurturing programs are performing, and lead nurturing is a demand gen marketer's bread and butter.
Read more...
Bulletin Board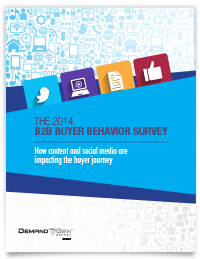 Demand Gen Report's 2014 B2B Buyer Behavior Survey provides insights into how B2B buyers make their decisions. Buyers are waiting longer to engage with sales, but they are more satisfied with the process than in years past. For an in-depth look at this research, download the report now!
Solution Spotlight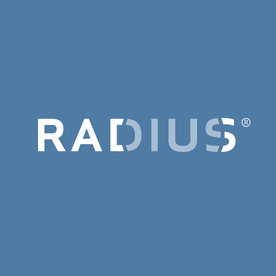 Radius is designed to help B2B marketers create targeted lead lists and measure campaign performance when marketing to SMB prospects.
Read more...
Follow Us
Industry Events
When: September 15 – 18, 2014
Where: Boston, MA
INBOUND's purpose is to provide the inspiration, education, and connections you need to transform your business. This September, we will host thousands of marketing and sales professionals from almost every industry imaginable and from all corners of the globe at the Boston Convention & Exhibition Center. In 2013, we had 5,500 attendees from 35 countries, and we're excited to be bigger than ever this year.
Read more...
When: October 8 – 10, 2014
Where: Boston, MA
Are you armed and ready to meet the marketing challenges of today, tomorrow, and beyond? With technology and the way we live changing rapidly, B2B marketers have so many options and tools that it can be overwhelming. At the 2014 B2B Marketing Forum we will have inspirational speakers presenting on the hottest, smartest topics—giving you the knowledge you need to thrive in 2014, 2015 and beyond. Get ready to bullet-proof your marketing for the future and come out a modern marketing rock star!
Read more...
When: October 13 – 16, 2014
Where: San Francisco, CA
Whether you're a company of five or a Fortune 500, you're going to learn a lot of innovative ways to improve your business at Dreamforce. With over 1,400 sessions and thousands of live solutions from the world's largest cloud ecosystem, Dreamforce has tailored content specific to your business size and type, for any role in your company.
Read more...