DemandGen Reports
Thursday, 27 October 2011 13:52

The Rock Annand Group, a BtoB marketing and sales consultancy, recently announced "The Ultimate 'Live in 45' Lead Nurturing Program," a "guided implementation" for a lead nurturing campaign focused on the specific, practical steps to construct effective programs, beginning Nov. 1, 2011.
As BtoB marketers migrate to interactive strategies — including blogs, social, videos and webcasts — many struggle to bridge the gap between these efforts and actual lead generation. The missing link, according to Rock Annand President Henry Bruce, is a systematic, measurable approach that reliably generates leads, qualifies them and follows up with them in an appealing and effective fashion.
"Scattershot marketing brings little or no results," Bruce said. "But if you line up all the right elements in a well-orchestrated program, you generate leads from the right audience, separate the unserious from the truly interested people and keep them engaged as you present them opportunities to buy. All along the way you're watching and measuring so you get the greatest results not only this time, but in the future as well." 
Read more...
DemandGen Reports
Tuesday, 25 October 2011 13:39
Brainshark, Inc, a provider of online and mobile video presentations technology, recently announced SlideShark, an application for showing PowerPoints on the iPad. Available for free in the App Store, the new platform is designed to streamline the importing and viewing of PowerPoints via the Apple device.
As iPad sales surge — increasing 183% year-over-year during Apple's fiscal third quarter — more companies are deploying them to support sales, marketing, training and other field operations. PowerPoint remains integral to these processes, with more than 30 million presentations created daily, according to Microsoft estimates.
Read more...
DemandGen Reports
Tuesday, 25 October 2011 13:36
Demandbase, Inc. announced that more than 30 new Eloqua customers have selected Demandbase Real-Time ID to optimize web experiences since the company announced the plug-in to Eloqua's marketing automation suite at the Eloqua Experience conference in October 2010.
The Demandbase Real-Time ID Service is designed to identify existing customers, target accounts, industries and other business attributes of the web visitor before web pages are served, to optimize interactions with personal engagements. The technology also can be plugged into existing Eloqua forms, requiring fewer questions to be asked of visitors (from an average of 12 to five fields).
Read more...
DemandGen Reports
Written by Amanda F. Batista
Friday, 21 October 2011 07:17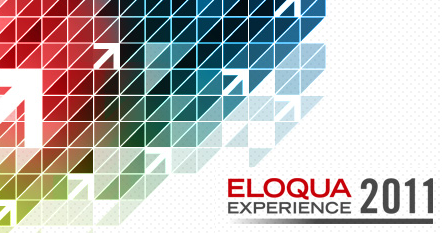 Eloqua is officially in a "quiet period" following its September 2011 IPO filing, but the company managed to make a lot of noise during its user event this week. Eloqua Experience drew more than 1,200 attendees to San Francisco, CA, an increase of 42% year-over-year, according to Eloqua's CEO Joe Payne.
Although Payne could not highlight specific forward-looking statements due to the filing, he did note the company's continued growth acceleration. Eloqua reported it is growing at nearly 40% year-over-year through Q3 2011. The company serves more than 80,000 individual users in more than 40 countries, and now supports more than 6 billion transactions a day.
During the kickoff keynote, Payne emphasized the company's strategy to address the shift to "SaaS 2.0" — where mobile, social and apps are driving the new models for delivery, engagement and integration.
Read more...
Feature Articles
Written by Amanda F. Batista
Tuesday, 18 October 2011 10:01
Marketing automation vendors reported another healthy quarter of growth in revenue and new customers in Q3 2011. Driven largely by the increased adoption among SMB organizations, the category continues to grow and industry analysts point to more telling developments in the space.
 "We're still seeing strength in the market; vendors are announcing Q3 quarter sales rates similar to second quarter," noted David Raab, Principal, Raab Associates, Inc. "The market is beginning to stratify more clearly by client segment: microbusiness vendors (Infusionsoft, OfficeAutoPilot, Genoo, MakesBridge) have more clearly separated themselves from SMB systems (Pardot, Act-On, Net Results, SalesFusion) and from Enterprise vendors (Eloqua, Aprimo, Neolane).  HubSpot and Marketo are straddling: still largely SMB but looking to penetrate the Enterprise. I'm not sure they can serve both."
Read more...
<< Start < Prev 141 142 143

144

145 146 147 148 149 150 Next > End >>


Page 144 of 233
Demanding Views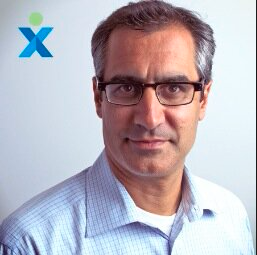 By Michael Idinopulos, CMO, PeopleLinx
We've seen social disrupt a lot of professions: Journalism, retail, telephony, encyclopedias, art photography, recorded music, classified advertising, transportation, real estate and hospitality.
Is professional marketing next?
Read more...
Bulletin Board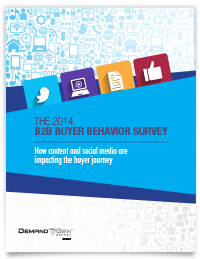 Demand Gen Report's 2014 B2B Buyer Behavior Survey provides insights into how B2B buyers make their decisions. Buyers are waiting longer to engage with sales, but they are more satisfied with the process than in years past. For an in-depth look at this research, download the report now!
Solution Spotlight

Bulldog Gameplan enables B2B enterprise marketing organizations to predict, optimize and model program outcomes and make data-driven planning decisions from a central location.
Read more...
Follow Us
Industry Events
When: March 18 – 20, 2014
Where: New Orleans, LA
Pubcon, the premier social media and optimization conference and expo, will hold its multi-track New Orleans event at the New Orleans Convention Center in the city they call The Big Easy. Pubcon New Orleans 2014, supported by the industry's leading businesses, speakers, exhibitors, and sponsors involved in social media, Internet marketing, search engines, and online advertising, will offer a week-long look at the future of technology presented by many of the world's top speakers.
Read more...
When: March 24 – 28, 2014
Where: Salt Lake City, UT
At Summit 2014, you'll learn how to find and make the most of every marketing opportunity. Hear from leading innovators, explore the latest tools and trends, and see how companies are using Adobe Marketing Cloud to give them the insights they need, faster and smarter than ever. Join us at Summit to discover how Adobe can help you get quantifiable marketing results to maximize your impact and revenue.
Read more...
When: March 25 & 26, 2014
Where: Mirage Hotel & Casino, Las Vegas, NV
LeadsCon showcases the best people and companies in vertical media and direct-response marketing. 5000+ people rely each year on LeadsCon for unparalleled insights and access to marketing leaders. Attend to understand the ever evolving landscape of vertical media and marketing and to get more business done.
Read more...