Revenue Strategies
Tuesday, 26 June 2012 00:00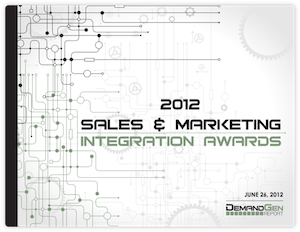 While B2B organizations have traditionally focused on mapping marketing automation to CRM systems, business success today hinges on the integration of many different tools and platforms. 
The 2012 Sales And Marketing Integration Awards highlight real-world organizational challenges, where companies dealt with extremely complex technology  integrations, such as: New marketing automation solutions with existing salesforce.com environments; migrating from legacy CRM and data sources; and rolling out additional integrations for everything from Microsoft Outlook to the latest web conferencing platforms.
The Awards report recognizes the winners' ability to establish systematic, repeatable processes for success with definitions and blueprints to optimize their internal operations; and to create improved conversion rates deeper in the funnel with targeted and relevant content.
Read more...
Revenue Strategies
Monday, 25 June 2012 09:21

Nearly 75% of companies consider their CRM solution to be their sales process, and as a result are not optimizing their sales execution, according to a new poll conducted by SAVO Group. In addition, 68% of those that have implemented a separate, formal sales process did report an increase in revenue.
The results are from a live poll of 176 participants conducted during one of SAVO's educational webinars, "The View Beyond CRM: Reimagining Your Sales Process."
The poll also revealed that more than 60% of respondents have not earned a positive ROI from their CRM systems. However, of the companies that have realized positive returns, those using technology as a means to reinforce and drive greater adoption of their sales process see greater impact.
Read more...
Data Management
Friday, 22 June 2012 10:32

NetProspex, a B2B data services provider, and B2B teleprospecting and marketing services firm AG Salesworks, recently announced a partnership and joint solution. Leveraging NetProspex's verified contact data services, AG Pipeline Connect will focus on delivering full service marketing and sales campaigns to garner fully qualified sales leads.
As data from marketing programs and sales efforts often exist in disparate locations, B2B companies can lose visibility into subtle changes in their target market. With 25% of the workforce changing each year, a business contact database is continually degrading in quality.
Read more...
Revenue Strategies
Thursday, 21 June 2012 00:00
Change is a fact of life for the modern enterprise. That includes change driven by the adoption of new technologies, such as marketing automation and CRM solutions, designed to revitalize sales and marketing organizations.
That's the promise of transformative technology. Yet the reality is often very different: According to some studies, more than one third of all major IT initiatives fail, and many others don't deliver their expected results.
Ryan Abreo, Vice President of Couch & Associates, is a seasoned veteran at helping enterprises navigate – and overcome – the challenges that derail transformative technology projects. As a preview of our upcoming webinar – The Sales & Marketing Transformation Triad: 3 Keys To Tying New Technology Rollouts To Business Results – Abreo sat down with DGR to answer some questions about this important topic.
Read more...
Rich Media
Wednesday, 20 June 2012 09:26

BrightTALK, a SaaS provider of webinar and video technology, recently released a new attachments feature that enables marketers to upload documents alongside their webinars and videos.
While content marketing might be king, effectively distributing content assets is creating a challenge for B2B marketers. The Internet has become increasingly fragmented: Professionals use an expanding array of social media networks, forums, blogs and online publications to find the latest knowledge and expertise. As web sites overflow with different types of content, including white papers, webinars and videos, marketers must engage the right people in the right place at the right time and track engagement to determine ROI.
Read more...
<< Start < Prev 161

162

163 164 165 166 167 168 169 170 Next > End >>


Page 162 of 280
Demanding Views
By Bonnie Crater, CEO, Full Circle CRM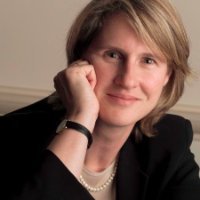 Measuring marketing and its impact on revenue is a hot topic these days but making an investment for change in organizations can sometimes be challenging. More specifically, there are usually three types of reasons we make changes in business — personal reasons, strategic reasons, and financial reasons.
Read more...
Bulletin Board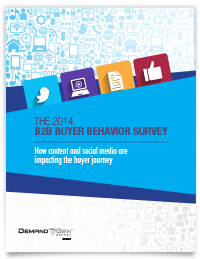 Demand Gen Report's 2014 B2B Buyer Behavior Survey provides insights into how B2B buyers make their decisions. Buyers are waiting longer to engage with sales, but they are more satisfied with the process than in years past. For an in-depth look at this research, download the report now!
Solution Spotlight

Ambition is the self-proclaimed "fantasy football for sales teams," designed to use gamification to benchmark sales reps within an organization, boost productivity and close more deals.
Read more...
Follow Us
Industry Events
When: November 11 – 13, 2014
Where: Raleigh, NC
Internet Summit is a premier digital strategies forum with a goal of educating and promoting forward thinking and thought leadership on topics related to internet business and marketing. Attendees come from a broad range of organizations including National Brands, Agencies, Technology Companies, Media, B2B Providers, Associations & Nonprofits and Startups.
Read more...
When: February 16 - 18, 2015
Where: Scottsdale, AZ
The B2B Content2Conversion Conference brings together the top thought leaders and practitioners in both content and demand generation. The combined agenda provides real-world case study examples, as well as actionable takeaways on how marketers can better target, engage and convert prospects into customers. Taking place in Scottsdale, Arizona, the B2B Content2Conversion Conference provides you with a playbook to optimize your 2015 marketing plans.
Read more...
When: February 23 – 26, 2015
Where: Las Vegas, NV
Discover how-to details and strategies for fast, measurable digital marketing success. All of it is real-world experience grounded in rigorous research and taught by successful marketers who face your same challenges. Learn how to make your email campaigns — and your career — more successful than ever and do it within a world-class venue. It's no wonder leading organizations consider Email Summit a priority investment year after year.
Read more...