DemandGen Reports
Thursday, 01 March 2012 00:00

DemandGen Report (DGR) has announced additional speakers for its first annual Content2Conversion Conference, to be held Tuesday, April 24, 2012, at the Times Center in New York City.

Executives added to the list of presenters include: Matthew Papertisan, Research Director, Demand Generation Strategies at SiriusDecisions; Elle Woulfe, Senior Marketing Manager at Eloqua; and Ruth Stevens, eMarketing expert and author. The C2C Conference was developed to provide marketers with optimal resources to strategize, develop and promote collateral that drives lead and demand generation.
Read more...
DemandGen Reports
Wednesday, 29 February 2012 10:14
By Matt McKenzie, Contributing Editor

What defines a successful marketing automation initiative? When it comes to lead generation, it's largely a matter of focusing on quality over quantity, according to a new study from Gleanster Research.
Gleanster's Gleansight Marketing Automation report surveyed more than 300 companies that have adopted marketing automation technology. Within that group, Gleanster analysts then identified top-performing companies, based on year-over-year improvements in three key areas: reductions in per-lead costs, increased customer acquisition rates, and increased return on marketing investments.
By comparing these top-performing organizations against others in the study, Gleanster analysts identified a number of differences in terms of why companies turn to marketing automation technology and what challenges they face along the way.
Read more...
Feature Articles
Written by Amanda F. Batista
Tuesday, 28 February 2012 09:49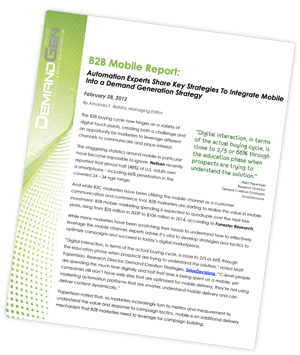 The B2B buying cycle now hinges on a variety of digital touch points, creating both a challenge and an opportunity for marketers to leverage different channels to communicate and pique interest.
The staggering statistics around mobile in particular have become impossible to ignore. Neilsen recently reported that almost half (48%) of U.S. adults own a smartphone – including 66% penetration in the coveted 24 – 34 age range.
While many marketers have been scratching their heads to understand how to effectively leverage the mobile channel, experts advise it's vital to develop strategies and tactics to optimize campaigns and succeed in today's digital marketplace.
Read more...
DemandGen Reports
Monday, 27 February 2012 11:32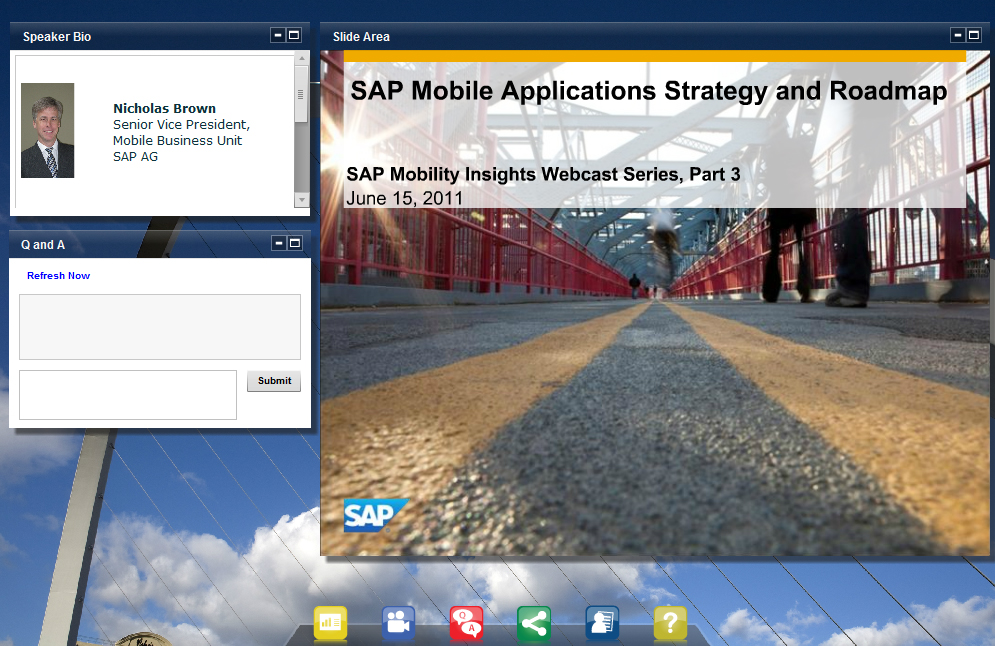 Webcasting is a familiar tool for many B2B marketers. When software giant SAP partnered with ON24 for a recent webcasting initiative, however, it got a powerful reminder of the impact this technology can have on customer conversion rates and bottom-line revenue.
SAP is widely recognized as a leading enterprise software provider. Since its founding in 1972, the German-based company had grown to include more than 54,000 employees in 50 countries, serving a worldwide customer base exceeding 183,000. For SAP customers, partners, employees and independent experts, the company's SAP Community Network (SCN) represents a unique and valuable business resource.
Read more...
DemandGen Reports
Friday, 24 February 2012 14:42

LoopFuse recently reported that Identified, Inc, a search engine designed to enable organizations to use Facebook to organize and rank prospective employees, has doubled its revenue since implementing the OneView marketing automation platform in July 2011.
"LoopFuse has been a game-changer for our inside sales organization," said Jen Picard, Product Marketing Director, Identified. "It has helped us identify sales-ready leads and nurture those that aren't yet ready to buy, effectively helping us double sales revenues month-over-month since October."
The company is utilizing LoopFuse OneView to accurately score leads based on buying interest and to execute automated email follow up campaigns.
Read more...
<< Start < Prev 161

162

163 164 165 166 167 168 169 170 Next > End >>


Page 162 of 263
Demanding Views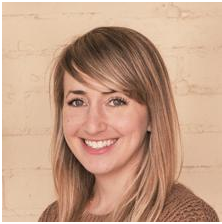 By Hayley Mullen, Content and Community Manager, Uberflip
I'm tempted to start by calling marketing automation the "hot new trend," but "trend" implies something fleeting — and believe me, marketing automation isn't going anywhere. Rather, more companies are realizing the need for marketing automation as part of their strategy, especially as content/inbound marketing replaces traditional in-your-face marketing.
If you're new to marketing automation, the term can be misleading — automated means less work, right? Well, yes and no. A marketing automation platform will handle much of the grunt work, streamline existing processes, and provide the kind of insight into your audience that would take hours to dig up if done manually. But it's not meant to take over your marketing for you. It's meant to cut down on production time and lay the foundation for better marketing. Making the most of that is up to you.
Read more...
Bulletin Board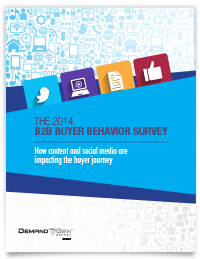 Demand Gen Report's 2014 B2B Buyer Behavior Survey provides insights into how B2B buyers make their decisions. Buyers are waiting longer to engage with sales, but they are more satisfied with the process than in years past. For an in-depth look at this research, download the report now!
Solution Spotlight

Terminus is a platform that provides B2B marketers with a more holistic approach to targeting leads by incorporating display advertising into their marketing strategy.
Read more...
Follow Us
Industry Events
When: August 10 – 12, 2014
Where: New York, NY
This three day conference includes an exhibit hall with affiliates, merchants, vendors, and networks, as well as multiple tracks of educational sessions covering the latest trends and information from affiliate marketing experts.
Read more...
When: September 15 – 18, 2014
Where: Boston, MA
INBOUND's purpose is to provide the inspiration, education, and connections you need to transform your business. This September, we will host thousands of marketing and sales professionals from almost every industry imaginable and from all corners of the globe at the Boston Convention & Exhibition Center. In 2013, we had 5,500 attendees from 35 countries, and we're excited to be bigger than ever this year.
Read more...
When: October 8 – 10, 2014
Where: Boston, MA
Are you armed and ready to meet the marketing challenges of today, tomorrow, and beyond? With technology and the way we live changing rapidly, B2B marketers have so many options and tools that it can be overwhelming. At the 2014 B2B Marketing Forum we will have inspirational speakers presenting on the hottest, smartest topics—giving you the knowledge you need to thrive in 2014, 2015 and beyond. Get ready to bullet-proof your marketing for the future and come out a modern marketing rock star!
Read more...