DemandGen Reports
Thursday, 19 April 2012 08:22
By Matt McKenzie, Senior Editor
A new study from MarketingSherpa shows that B2B email marketing is often an exercise in contradictions. That's especially true for marketing organizations that increasingly demand hard ROI from their email campaigns – even though most of them aren't actually able to measure ROI.
MarketingSherpa surveyed more than 2,700 marketing organizations to compile its 2012 Email Marketing Benchmark Report. It found that 68% of the marketers polled say they do not have a method for quantifying their email marketing ROI.
"It's difficult to determine the financial contributions of an email marketing program to the C-suite unless you have a reliable method to quantify email's impact," wrote W. Jeffrey Rice, Senior Research Analyst for MarketingSherpa, in an article detailing the finding.
Read more...
DemandGen Reports
Wednesday, 18 April 2012 09:01

Marketo today announced its acquisition of Crowd Factory, Inc., a social campaign management platform. In the company's first acquisition, Marketo aims to provide integrated social marketing functionality within marketing automation. The combined solution is designed to enable marketers to amplify and measure social-enabled campaigns.
The Crowd Factory platform helps marketers accelerate social and word-of-mouth marketing, grow marketing databases and attract new customers via social profiles. The platform allows marketers to add social applications and messages to every channel, including Facebook, Twitter and LinkedIn feeds, as well as landing pages, web sites, banner ads and emails. Crowd Factory automatically tracks the reach and impact of social sharing, and it provides feedback on social marketing ROI. The platform has been implemented by companies such as Molson Coors, Sony Music, Jive Software, Quickoffice and British Telecom.
Read more...
Feature Articles
Tuesday, 17 April 2012 13:22

More than 250 B2B marketers will come together next week in New York City for the inaugural Content2Conversion Conference, Tuesday, April 24 at The Times Center in Midtown Manhattan.
The sold out conference is an educational daylong event focused on empowering B2B marketers with strategies for mapping, developing and utilizing content marketing to nurture the buyer relationship and enhance conversions.
Read more...
Infographics
Written by DG Report
Tuesday, 17 April 2012 08:41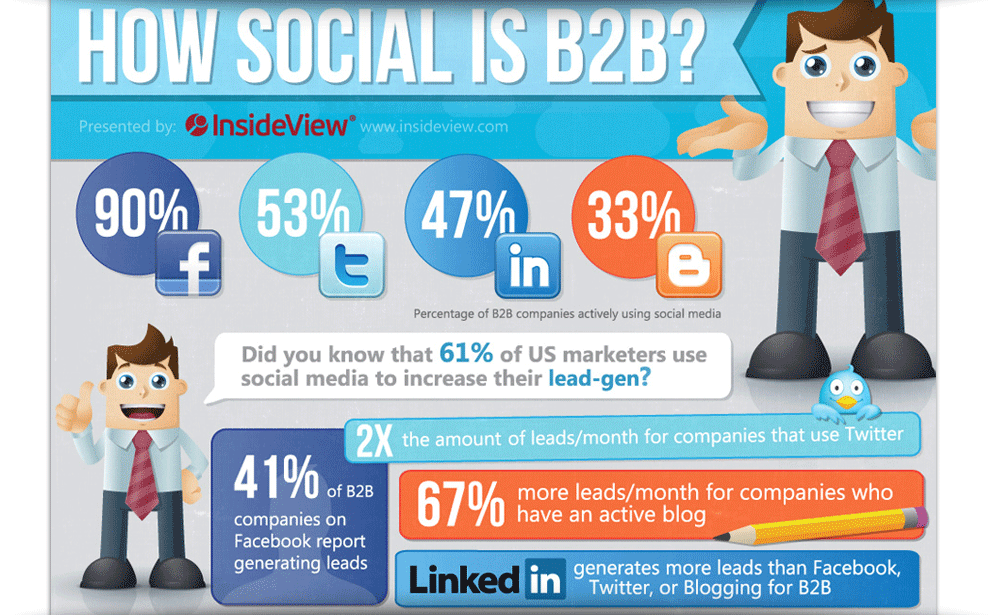 This InsideView infographic highlights the growing usage of social media among B2B marketers. A majority (61%) of B2B marketers use social media to increase lead generation, while organizations with a blog report a whopping 67% more leads per month than those who do not have one. This is in line with preliminary findings from DemandGen Report's Content Preferences Survey, which found that blogs are an increasingly significant source for business executives considering a purchase.
Read more...
DemandGen Reports
Monday, 16 April 2012 10:30
This June, DemandGen Report will once again honor leading organizations as part of its newly branded Fourth Annual Sales & Marketing Integration Awards.
B2B organizations have traditionally focused on mapping marketing automation to CRM systems, but today's business success hinges on the integration of various tools and platforms. 
Given the increased market pressure to develop strategies based on orchestrated, integrated demand generation tactics, this special report will profile organizations that have achieved success in driving revenue by developing common goals and processes to collaboratively drive efficiency across all channels.
Click here to access the 2011 Sales & Marketing Alignment Awards Report.
Read more...
<< Start < Prev 161

162

163 164 165 166 167 168 169 170 Next > End >>


Page 162 of 270
Demanding Views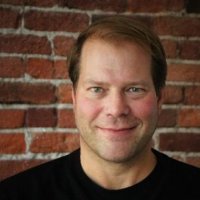 By John Bara, CMO, Mintigo
I have been through multiple mergers and acquisitions in the software industry. In each case, business models depend on successful cross-selling of new products and services to respective customer bases of the newly combined companies.
Have you been a part of a merger or acquisition? Was the newly combined company pleased with the results, or did they disappoint? What was the success rate of finding existing customers to cross-sell the newly acquired products or services? How were those targets selected?
Read more...
Bulletin Board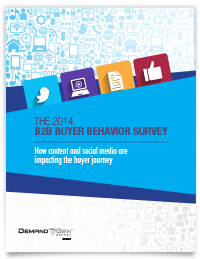 Demand Gen Report's 2014 B2B Buyer Behavior Survey provides insights into how B2B buyers make their decisions. Buyers are waiting longer to engage with sales, but they are more satisfied with the process than in years past. For an in-depth look at this research, download the report now!
Solution Spotlight

ChimpSync is designed to provide MailChimp users with Salesforce integration, allowing users to sync contacts, leads and other campaign data between the two platforms.
Read more...
Follow Us
Industry Events
When: September 15 – 18, 2014
Where: Boston, MA
INBOUND's purpose is to provide the inspiration, education, and connections you need to transform your business. This September, we will host thousands of marketing and sales professionals from almost every industry imaginable and from all corners of the globe at the Boston Convention & Exhibition Center. In 2013, we had 5,500 attendees from 35 countries, and we're excited to be bigger than ever this year.
Read more...
When: October 8 – 10, 2014
Where: Boston, MA
Are you armed and ready to meet the marketing challenges of today, tomorrow, and beyond? With technology and the way we live changing rapidly, B2B marketers have so many options and tools that it can be overwhelming. At the 2014 B2B Marketing Forum we will have inspirational speakers presenting on the hottest, smartest topics—giving you the knowledge you need to thrive in 2014, 2015 and beyond. Get ready to bullet-proof your marketing for the future and come out a modern marketing rock star!
Read more...
When: October 13 – 16, 2014
Where: San Francisco, CA
Whether you're a company of five or a Fortune 500, you're going to learn a lot of innovative ways to improve your business at Dreamforce. With over 1,400 sessions and thousands of live solutions from the world's largest cloud ecosystem, Dreamforce has tailored content specific to your business size and type, for any role in your company.
Read more...