DemandGen Reports
Monday, 29 August 2011 11:52

DemandGen International, Inc., a global team of marketing automation and lead management consultants, has ranked number 363 in Inc. Magazine's 30th annual Inc. 500, with a three-year growth of 940%.
Danville, CA-based DemandGen International currently boasts more than 200 customers across 12 countries worldwide, including mega brands Apple, American Express, Citrix, Dell, DuPont, FICO, Informatica, Adobe, eBay and Taleo, among others. Key partners include Eloqua, Salesforce.com, Oracle, Microsoft, Marketo and Demandbase. In addition to its Bay Area headquarters, the company currently maintains offices across the United States and Canada, as well as in Germany, Austria, France, Singapore and the UK.
Read more...
DemandGen Reports
Friday, 26 August 2011 10:29

Eloqua announced Wednesday that it has filed a registration statement with the U.S. Securities and Exchange Commission relating to a proposed initial public offering of shares of its common stock. The company plans to list on the Nasdaq Global Market under the symbol ELOQ.
The number of shares to be offered and the price range for the offering have not been determined. However, an article on The Wall Street Journal's web site estimated the company planned to sell up to an estimated $100 million of common stock in the offering.
J.P. Morgan Securities LLC and Deutsche Bank Securities Inc. will serve as joint book-runners for the offering, with JMP Securities LLC, Needham & Company, LLC, and Pacific Crest Securities LLC acting as co-managers. 
Read more...
Feature Articles
Written by DG Report
Tuesday, 23 August 2011 15:03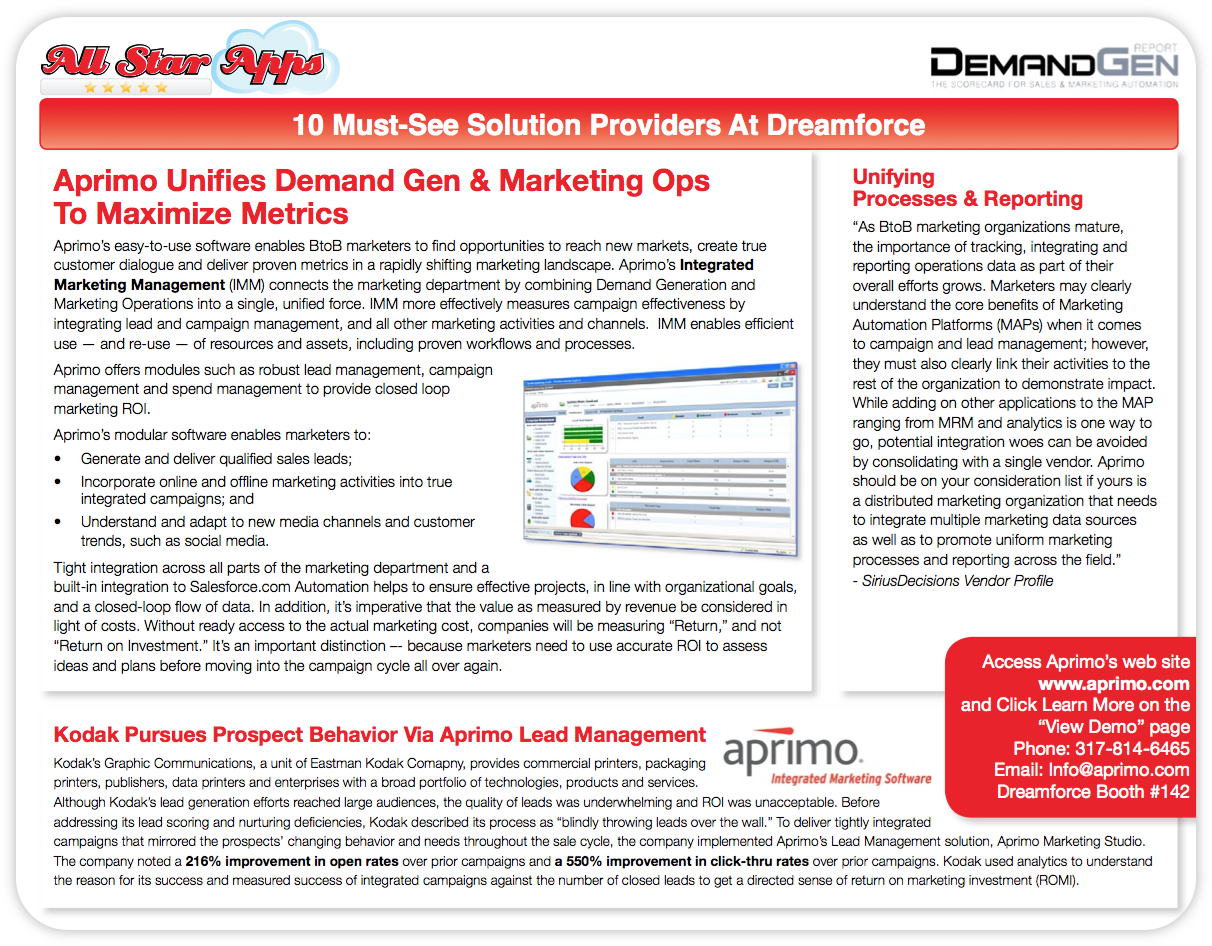 More than 275 organizations will showcase applications and solutions focused on helping sales and marketing professionals leverage the Cloud for increased efficiency at Salesforce.com's annual Dreamforce Conference, August 30-September 2 in San Francisco.
Now in its ninth year, there are nearly a dozen marketing automation vendors staking their claim in the space with sponsorships. Further validating the growing influence of automation tools, Marketo and Eloqua both are both Titanium level sponsors; HubSpot, Silverpop and Pardot are Platinum sponsors; Act-On is a Gold sponsor; and Aprimo, eTrigue, Neolane and Genius are Bronze sponsors.
Read more...
DemandGen Reports
Written by DG Report
Tuesday, 23 August 2011 14:15

Silverpop recently announced the launch of Social Sign In, a new feature designed to help site visitors leverage social identities during the sign-in process. Through a partnership with Janrain, a provider of social identity management solutions, Silverpop customers can now offer their site visitors an alternative to web form completion. Entering a one-year exclusive agreement, Janrain selected Silverpop as its premier marketing automation provider.
Read more...
DemandGen Reports
Friday, 19 August 2011 13:38

HubSpot announced yesterday its acquisition of Oneforty, a social media marketing company based in Cambridge, MA. Oneforty developed a directory of social media applications that will be merged into the HubSpot App Marketplace. Additionally, Oneforty's social media marketing tool called SocialBase also  will be incorporated into the HubSpot product.
News of the acquisition comes just two months after HubSpot acquired marketing automation provider Performable. In March 2011, HubSpot received $32 million in Series D funding from Sequoia Capital, Google Ventures, and Salesforce.com. "Having Oneforty join our team and working with them on transforming marketing is exciting," said HubSpot CEO Brian Halligan. "The combined social media expertise of HubSpot and Oneforty will benefit all of our customers."
Read more...
<< Start < Prev 161

162

163 164 165 166 167 168 169 170 Next > End >>


Page 162 of 244
Demanding Views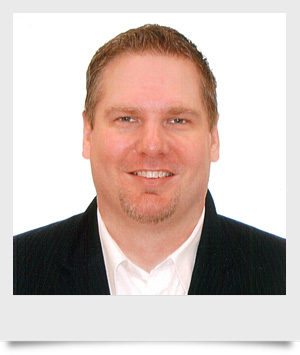 By Loren Padelford, EVP of Sales, Skura Corporation
Companies are now required to hone their sales and marketing efforts to the individual needs and interests of each prospect in order to provide positive customer experiences amid the cacophony of today's marketing-soaked landscape. After all, 81% of companies with strong customer experience competencies outperform their competition, according to Peppers & Rogers Group.
Getting the right content to the right people remains a challenge for B2B marketers, and yet, there are a number of best practices that can be applied to sales efforts and marketing content creation that, even if a prospect hasn't told you what their exact needs are, can improve your chances of delivering a responsive, and timely sales pitch that aligns with your prospect's needs.
Read more...
Bulletin Board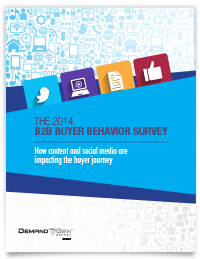 Demand Gen Report's 2014 B2B Buyer Behavior Survey provides insights into how B2B buyers make their decisions. Buyers are waiting longer to engage with sales, but they are more satisfied with the process than in years past. For an in-depth look at this research, download the report now!
Solution Spotlight

The KnowledgeTree content marketing app for Salesforce matches relevant content to leads and opportunities. The tool is designed to identify the most germane, current and effective content for each sales interaction with prospects.
Read more...
Follow Us
Industry Events
When: April 7 – 9, 2014
Where: San Francisco, CA
Join the Marketing Nation as over 3,500 of your peers, colleagues and thought leaders gather to celebrate Innovation in the Nation. Summit 2014 will provide an engaging experience to grow your expertise and network over two and a half days. Connect with ideas, marketers, and resources to help YOU achieve success faster!
Read more...
When: April 23 – 25, 2014
Where: Phoenix, AZ
#ICON14 is the eighth annual conference for small business, hosted by Infusionsoft. This 3-day event brings together the brightest minds in small business from around the world to learn, network and share best practices for success. The event provides everything from inspiring keynote speakers to hands-on Infusionsoft training, plus tips on lead generation, conversion and customer delight. Breakout sessions cover a range of topics like Infusionsoft product training, marketing strategy, social media, business management, automation, branding, copywriting, affiliate marketing and more.
Read more...
When: May 21 – 23, 2014
Where: Orlando, FL
The SiriusDecisions' annual Summit is a unique three-day conference where SiriusDecisions analysts and top sales and marketing leaders from Fortune 500 companies and major SMBs share how b-to-b organizations are solving critical issues that hinder predictable growth. Each year, the theme focuses on aspects of how sales and marketing can, and should, intersect.
Read more...