DemandGen Reports
Wednesday, 22 February 2012 20:26

Pardot today announced new product features as part of its Winter 2012 release, including an enhanced visual editor and form builder, designed to enable marketers to streamline the creation of lead management campaigns.
"Many marketers today don't have an expert-level knowledge of web design, so we're always trying to make Pardot as user-friendly as possible for our clients," said Adam Blitzer, COO at Pardot. "That is where the wizards and pre-fabricated templates come in handy. We want to empower our users to create rockstar email templates and forms that will drive conversions, all in a few clicks. The new email and form editors are extremely flexible and, most importantly, make it easy to create marketing materials. It's important for marketers to be able to quickly produce very custom assets so that each audience segment or campaign can be targeted appropriately."
Read more...
DemandGen Reports
Tuesday, 21 February 2012 15:47

The Marketing Operations Cross Company Alliance (MOCCA) today will host nearly 50 marketing operations executives at Autodesk in San Francisco, for its third annual Executive Forum, an invitation-only event that bring together marketing operations VPs and directors for market trend discussions.
MOCCA, which presently has more than 950 members representing about 350 companies, is comprised of two chapters across the East and West coasts.
Read more...
Feature Articles
Tuesday, 21 February 2012 12:17

By Matt, McKenzie, Contributing Editor
B2B marketers already know that content is king. Now, a growing number of them are getting acquainted with a new member of the royal family: the infographic.
As more marketers get acquainted with infographics, the experts agree that it's important to understand the role they should play within a B2B marketing strategy. Infographics tend to be very effective when they're served at the top of the marketing funnel; they're ideal for building awareness and establishing thought leadership. The format is also very well-suited for sharing, as opposed to being gated or relied upon to generate leads.
Read more...
Feature Articles
Thursday, 16 February 2012 11:54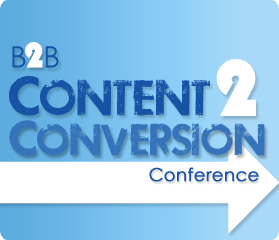 Progressive B2B organizations have realized that the traditional approach to marketing products and services requires a ramp-up in value-add and buyer insight.
As content marketing becomes an increasingly critical tool for B2B companies, DemandGen Report (DGR) has announced the launch and preliminary agenda for the first annual Content2Conversion Conference, to be held Tuesday, April 24th at the Times Center in Manhattan.
Conference sessions will cater to a growing need for progressive marketing — centered on using thought leadership as a connecting point for solution providers to effectively engage with prospective buyers.
Read more...
DemandGen Reports
Wednesday, 15 February 2012 11:23

Left Brain DGA, a Silicon Valley-based demand generation agency, has acquired the marketing technology practice of Raab Associates for an undisclosed equity stake. As part of the acquisition, Raab Associate principal David Raab will take on the new title of VP Program Optimization at Left Brain DGA. In this role, Raab will assist in client relations and help maximize program effectiveness.
The acquisition of Raab Associates' marketing technology practice is the latest step in an aggressive expansion of high profile market experts in the marketing automation space for Left Brain. Last year, Left Brain added three experienced executives to its leadership team from Rubicon Marketing Group, including former CEO April Brown, as well as Kevin Provost and David Ward.
Read more...
<< Start < Prev 161

162

163 164 165 166 167 168 169 170 Next > End >>


Page 162 of 262
Demanding Views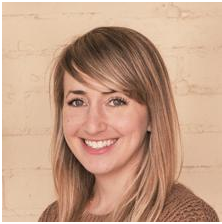 By Hayley Mullen, Content and Community Manager, Uberflip
I'm tempted to start by calling marketing automation the "hot new trend," but "trend" implies something fleeting — and believe me, marketing automation isn't going anywhere. Rather, more companies are realizing the need for marketing automation as part of their strategy, especially as content/inbound marketing replaces traditional in-your-face marketing.
If you're new to marketing automation, the term can be misleading — automated means less work, right? Well, yes and no. A marketing automation platform will handle much of the grunt work, streamline existing processes, and provide the kind of insight into your audience that would take hours to dig up if done manually. But it's not meant to take over your marketing for you. It's meant to cut down on production time and lay the foundation for better marketing. Making the most of that is up to you.
Read more...
Bulletin Board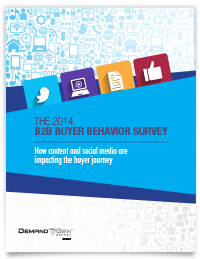 Demand Gen Report's 2014 B2B Buyer Behavior Survey provides insights into how B2B buyers make their decisions. Buyers are waiting longer to engage with sales, but they are more satisfied with the process than in years past. For an in-depth look at this research, download the report now!
Solution Spotlight

Terminus is a platform that provides B2B marketers with a more holistic approach to targeting leads by incorporating display advertising into their marketing strategy.
Read more...
Follow Us
Industry Events
When: August 10 – 12, 2014
Where: New York, NY
This three day conference includes an exhibit hall with affiliates, merchants, vendors, and networks, as well as multiple tracks of educational sessions covering the latest trends and information from affiliate marketing experts.
Read more...
When: September 15 – 18, 2014
Where: Boston, MA
INBOUND's purpose is to provide the inspiration, education, and connections you need to transform your business. This September, we will host thousands of marketing and sales professionals from almost every industry imaginable and from all corners of the globe at the Boston Convention & Exhibition Center. In 2013, we had 5,500 attendees from 35 countries, and we're excited to be bigger than ever this year.
Read more...
When: October 8 – 10, 2014
Where: Boston, MA
Are you armed and ready to meet the marketing challenges of today, tomorrow, and beyond? With technology and the way we live changing rapidly, B2B marketers have so many options and tools that it can be overwhelming. At the 2014 B2B Marketing Forum we will have inspirational speakers presenting on the hottest, smartest topics—giving you the knowledge you need to thrive in 2014, 2015 and beyond. Get ready to bullet-proof your marketing for the future and come out a modern marketing rock star!
Read more...