Industry News
Wednesday, 29 August 2012 00:00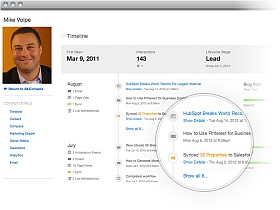 HubSpot today announced the release of HubSpot 3, the latest version of the company's flagship marketing automation platform. The update was officially unveiled during HubSpot's Inbound Marketing event, being held this week in Boston.
According to HubSpot Product Marketing Director Rick Burnes, the HubSpot 3 release includes 10 completely new or rebuilt components. These additions will be fully integrated with the platform's existing blogging software, CMS, SEO and marketing analytics tools, in addition to third-party tools available through the HubSpot marketplace.
Burnes stated that closer integration between components was a key goal of the new design. "Many of these [tasks] required hopping around between multiple applications," Burnes said during a HubSpot product announcement call held last Monday. "HubSpot has now pulled all of these tools together into a single, integrated suite."
Read more...
Rich Media
Written by DG Report
Tuesday, 28 August 2012 13:38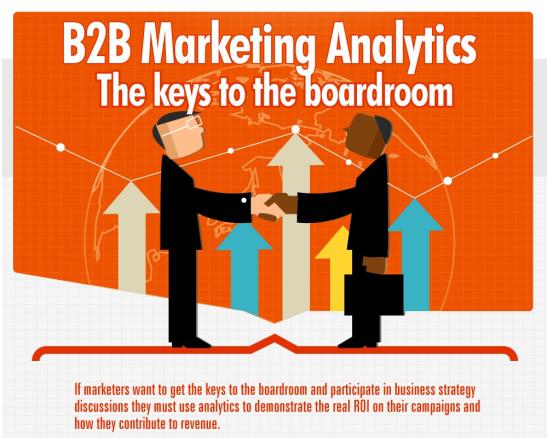 Marketing analytics is a high-growth industry right now. According to the CMO Survey, the typical enterprise marketing organization expects to boost its analytics spending by 60% over the next three years – or an increase from 5.7% to 9.1% of the average marketing budget.
Read more...
Social & Mobile
Written by Fatima D. Lora, Assistant Editor
Tuesday, 28 August 2012 10:31

Most B2B organizations already know that mobile technology can have a significant impact on sales enablement. According to a recent Aberdeen Research study, however, mobility now plays a critical role in separating best-in-class field sales teams from their competitors.
The Aberdeen study – Sales Mobility: How Best-in-Class Remote Sellers Are Replacing "See" With "Do" – found that 40% of the best-in-class (BIC) companies surveyed said their sales reps regularly use mobile devices during client meetings. As a result, these reps are able to support their client-engagement activities with real-time access to the web and to corporate data.
Read more...
Industry News
Monday, 27 August 2012 13:30

A recent survey of chief marketing officers (CMOs) offers a mixed bag of predictions for the U.S. economy in general – and for the B2B market in particular.
First, the bad news: According to the Duke University Fuqua School of Business CMO Survey of 528 marketing executives, just 29% said they were optimistic about the state of the U.S. economy. That's down more than 34% percentage points from the previous survey in February, 2012.
The number of respondents who said they were pessimistic about the economy grew from 8.5% in February to 36% in the current survey, taken during July and August 2012.
Read more...
Industry News
Friday, 24 August 2012 09:46

Brainshark, a provider of online and mobile video presentations, recently announced a partnership with enterprise software vendor Blackboard Inc. The deal will integrate the Brainshark content creation tools with Blackboard Learn for Sales, the company's cloud-based learning management solution.
The Brainshark integration will allow Blackboard Learn for Sales users to add voiceovers, along with video clips, survey and test questions, and document attachments to PowerPoint decks and other attachments. Blackboard Learn for Sales users can use the integrated offering to create interactive online and mobile video presentations for corporate e-learning courses.
Read more...
<< Start < Prev 161

162

163 164 165 166 167 168 169 170 Next > End >>


Page 162 of 287
Demanding Views
By Sean Crowley, Director of Marketing, NetProspex

Chances are you're using content marketing to supplement your other marketing strategies. After all, content marketing costs 62% less than traditional marketing and generates about three times as many leads, according to an infographic from Demand Metric. Pretty impressive, I know.
But are you doing it right? Are you creating enough content and using the right distribution channels? Whether you're new to the game or just in need of little a refresher, below are some critical content marketing dos and don'ts, and links to other content marketing thought leaders on the topic:
Read more...
Bulletin Board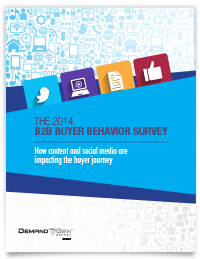 Demand Gen Report's 2014 B2B Buyer Behavior Survey provides insights into how B2B buyers make their decisions. Buyers are waiting longer to engage with sales, but they are more satisfied with the process than in years past. For an in-depth look at this research, download the report now!
Solution Spotlight

RingLead is a tool designed to analyze, remove, merge and prevent Salesforce duplicates, including leads, contacts and accounts.
Read more...
Follow Us
Industry Events
When: February 16 - 18, 2015
Where: Scottsdale, AZ
The B2B Content2Conversion Conference brings together the top thought leaders and practitioners in both content and demand generation. The combined agenda provides real-world case study examples, as well as actionable takeaways on how marketers can better target, engage and convert prospects into customers. Taking place in Scottsdale, Arizona, the B2B Content2Conversion Conference provides you with a playbook to optimize your 2015 marketing plans.
Read more...
When: February 23 – 26, 2015
Where: Las Vegas, NV
Discover how-to details and strategies for fast, measurable digital marketing success. All of it is real-world experience grounded in rigorous research and taught by successful marketers who face your same challenges. Learn how to make your email campaigns — and your career — more successful than ever and do it within a world-class venue. It's no wonder leading organizations consider Email Summit a priority investment year after year.
Read more...