Industry Resources
Thursday, 03 November 2011 14:40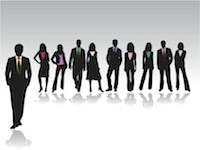 Tuesday, November 15, 2011 2:00 PM - 3:00 PM EST - Register Today
If a well-defined strategy is the foundation for any successful marketing campaign, why do so many organizations fail to apply the same level of attention to the single most crucial element of that strategy?
From acquisition programs to retention efforts, long-term campaigns to time-sensitive offers, establishing a contact data strategy is the essential first step to ensure your marketing activities deliver meaningful, measurable results. This webinar will examine the key elements needed for a successful 2012 data strategy, and how that strategy enables you to deliver on four critical market imperatives:
Revenue growth and better GTM ROI
Alignment between sales and marketing
Better, faster pipeline conversions
Relevance with buyers
Register now for this can't-miss event, presented by ReachForce VP of Customer Success, RJ Brideau, and Televerde's SVP of Global Sales, Marketing & Services, Donna Kent. All attendees will receive the complimentary E-book, 12 Steps To Ensure You're Marketing To The Right B2B Prospect Lead Database.
Tuesday, 01 November 2011 14:16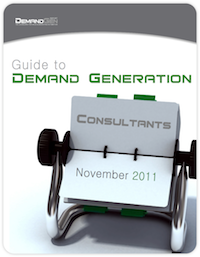 This complimentary download profiles more than a dozen of the top demand generation consultants. Learn more about each organization's vendor partnerships, area of focus, customer landscape and growth metrics.
Read more...
Wednesday, 26 October 2011 12:43
Wednesday, November 16, 2011 1:00 PM EST - Register Today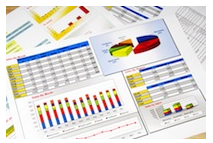 Join Andrew Gaffney, Editor of DemandGen Report, and Business Communications Expert, and Best-Selling Author, Dr. Tom Sant, as they share insights into the latest tools and tactics progressive companies are implementing to keep pace with today's changing buyers – and win more business.
In this live webinar, you'll learn the most impactful steps companies can take to improve pipeline performance and increase win rates, including:
Keeping Sales in Lock-Step with Changing Buyer Behavior 
Selling on Value Instead of Price 
Automating the Proposal/Engagement Process 
Developing Sales Playbooks for Unique Selling Situations 
Adding Metrics and Analytics to Key Engagement Points in the Pipeline
 
Speakers:
-----------------------------------------
Dr. Tom Sant
Business Communications Expert, and Best-Selling Author
Andrew Gaffney
Editor
DemandGen Report
Thursday, 13 October 2011 16:01
B2B marketing is evolving rapidly, with new channels, analytical approaches, and business demands emerging on what seems like a daily basis. At the same time, spurred by market maturation and higher adoption, marketing automation vendors continue to broaden their product and service offerings. Despite these advancements—or perhaps because of them—there's still great confusion about what marketing automation is.
Featuring David Raab, Principal of Raab Associates, and Kristin Hambelton, Vice President of Marketing at Neolane, this webinar will help B2B marketers navigate the changing marketing automation landscape and how to successfully future-proof their technology section in 2012.

Speakers:
----------------------------------
David Raab
Raab Associates
Kristin Hambelton
Vice President of Marketing
Neolane
Andrew Gaffney
Editor
DemandGen Report  
<< Start < Prev 41

42

43 44 45 46 47 48 49 50 Next > End >>


Page 42 of 76
Demand Gen Report is CAN-SPAM Compliant
Your information will be used for Demand Gen Report marketing emails. This also includes targeted partners of Demand Gen Reprt. To read more about our privacy policy, click here, or to learn about the CAN-SPAM Act of 2003, click here.
If you would like to unsubscribe from future Demand Gen Report marketing emails, please click here.