Monday, 13 December 2010 12:01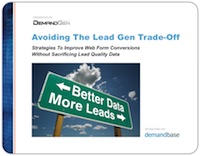 Strategies To Improve Web Form Conversions Without Sacrificing Lead Quality Data for Your Company
Your guide to increasing conversions with shorter forms...without losing valuable data
Learn about Real-Time ID of your B2B web traffic
Increase conversions with enhanced, standardized data quality at point of entry
Better data in Salesforce.com and other CRM systems
Improved lead distribution and lead scoring
Tuesday, 07 December 2010 16:51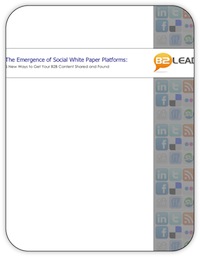 For the past 15 years there has been no innovation in the way white papers for business‐to‐business (B2B) sales lead generation have been delivered. The purpose of this paper is to introduce a revolutionary new way to place white papers at the center of social marketing programs for the purpose of lead generation—Programs that will generate more high quality leads per paper at a lower cost per lead than any previous delivery methods. In 3 years virtually all white papers will be delivered as social documents. This paper will show you how to get started.
Read more...
Tuesday, 07 December 2010 11:59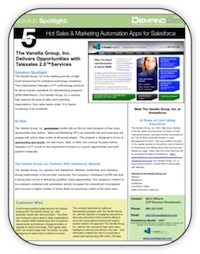 If you are one of the 20,000 + heading out to Dreamforce this week, we wanted to point out a few hot new sales and marketing solutions you may want to check out. Even if you aren't attending the event this year, we encourage you to check out these 5 Hot New Sales & Marketing Apps, which will help you automate your demand generation efforts in 2011.
Read more...
Wednesday, 01 December 2010 13:55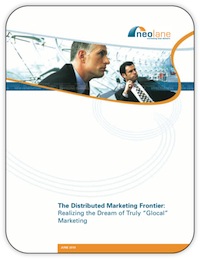 For large distributed marketing functions that support localized marketing efforts, managing brand consistency, communication, and customer engagement is an ongoing challenge. But, managing communication and brand compliance in this environment can be extremely challenging. There are often conflicting goals between corporate marketing and local entities, such as agents, branches, or field offices. Corporate marketing is tasked with developing a consistent brand across marketing channels, regions and local audiences, while local field marketers need autonomy and flexibility to customize the brand and marketing message. As a result, local marketers often view corporate or headquarters marketing as a compliance mechanism.
Read more...