Friday, 04 December 2009 15:45
Many of the world's largest corporations are now utilizing automation tools to analyze and track all of their online marketing activities. Contrary to popular belief, these tools are not limited to the Fortune 500 – download this complimentary white paper to learn how your company can take advantage of the same strategies that the top companies employ.
Wednesday, 02 December 2009 00:00
When:
Webinar Slide Deck:
Monday, 26 October 2009 22:21
The biggest hurdle for companies expanding their demand generation programs is building the content and processes necessary to fuel the more powerful engine.
Speakers:

Andrew Gaffney, Editor of DemandGen Report
Joe Pulizzi, Co-author of "Get Content Get Customers" / Founder of Junta42.
When:
Webinar Slide Deck:
Monday, 26 October 2009 22:07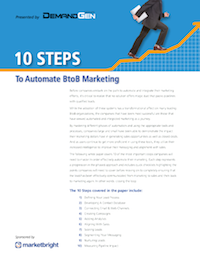 The following white paper covers 10 of the most important steps companies will need to master in order effectively automate their marketing. Each step represents a progression in the phased approach and includes quick checklists for nurturing, scoring and other key automation functions.