Industry Resources
Tuesday, 17 July 2012 14:22
Live Date: Wednesday, August 15, 2012 1:00 PM - 2:00 PM EDT - Register Today
The state of data quality is improving for many companies. For others, moving the state of their data from good to great continues to be a challenge. The data quality delta means the difference between high-performing lead generation and lead development programs and those that never seem to yield impressive results. When data is optimized, demand creation strategies succeed, marketing program ROI improves, and top-line sales revenue increases. Moving your data from good to great requires knowing how to find the quality gaps, what to do about them, and then executing an ongoing improvement strategy. This webinar will explore the actionable, affordable and sustainable possibilities along with some case study proof points and some innovative ideas for applying data to custom demand gen programs.
The Value of a Data Diagnostic and Gap Analysis
Solving Data Issues at the Front End with Real-Time Data Remediation
Building a Sustainable Data Quality Approach
Applying a Data Strategy to Account-Based Marketing Programs
The Data App for Competitive and Complementary Install Marketing Campaigns
The Data Implications of M&A Frenzy

Speakers:
-----------------------------------
Shawn Dyer, Director of Data Strategies, Televerde
Cody Young, Regional Vice President, Televerde
Thursday, 05 July 2012 11:12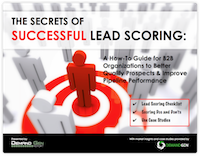 Most B2B organizations understand the basic premise of lead scoring. Yet most companies – including those that have already deployed a marketing automation system – still don't take advantage of lead scoring.
What's holding them back? How can these companies turn lead scoring into a competitive advantage?
Demand Gen Report recently partnered with DemandGen International to get answers to these questions. In this 15 page E-book, you'll get an exclusive, all-access pass to DemandGen International's proprietary sales discovery process that it uses to build scoring systems for some of the world's top sales and marketing organizations.
You'll also get a clear, step-by-step blueprint for using the same techniques to build a powerful, highly effective lead scoring system for your own company.
This is a rare opportunity to get an inside look at an award-winning company's lead scoring secrets, and to apply those insights to build your own lead scoring process. Take advantage of these insights -- and take your sales and marketing teams to the next level of efficiency and performance.
*Note Demand Gen Report and DemandGen International are not affiliated.
Thursday, 14 June 2012 16:10
Live Date: Tuesday, June 26, 2012 1:00 PM - 2:00 PM EDT - Register Today
Today's cloud-based marketing automation, CRM and other technology solutions can revitalize a sales and marketing organization. But the stakes are high: Transformative technology projects are expensive and complex, and according to some studies more than a third of them ultimately fail.
How can enterprise executives bridge the gap between what they expect from their IT investments and what they actually get? This webcast will explore the five most common pitfalls and introduce a new model for technology-driven transformation that rests on three key elements:
• A holistic, 360 degree view of an organization's business processes;
• A strategic roadmap that offers a high-value, low-risk implementation process;
• Supporting change and project management methodologies that address the human factor in transformative change.
Join Ryan Abreo, Vice President of Strategy at Couch & Associates, and Matthew McKenzie, Senior Editor of DemandGen Report, as they explain how enterprises can apply the Transformation Triad model to their own IT initiatives – and how the results can drive substantial bottom-line benefits.
Wednesday, 06 June 2012 14:39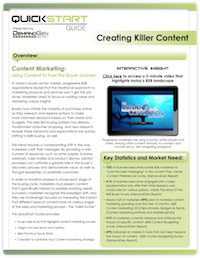 Today's marketers need to focus on adding value and delivering unique insights — it's all about supporting the buyer's decision-making process. A recent DemandGen Report survey found that 75% of business executives would encourage solution providers creating content to "curb the sales messages" and focus more the business. Check out the QuickStart Guide to Creating Killer Content, an easy read that highlights market research, a use case study and insight into key terms and metrics to track to optimize content marketing success. The Guide also features interactive tools, resource and recommended reading.
Read more...
<< Start < Prev 1 2 3 4 5 6 7 8 9

10

Next > End >>


Page 10 of 53
Demand Gen Report is CAN-SPAM Compliant
Your information will be used for Demand Gen Report marketing emails. This also includes targeted partners of Demand Gen Reprt. To read more about our privacy policy, click here, or to learn about the CAN-SPAM Act of 2003, click here.
If you would like to unsubscribe from future Demand Gen Report marketing emails, please click here.
Follow Us
DGR TV
Jim Meyer, Vice President, eTrigue Corp