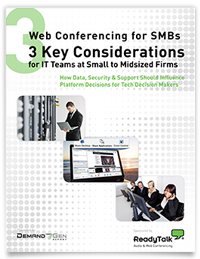 Web conferencing is now a mission-critical business tool for small and midsized firms. That's why more SMBs are taking a long, hard look at their current providers and asking whether they're really up to the task.
This white paper will help IT decision-makers at midsized firms make informed decisions when selecting a business-class Web conferencing platform, and show them how to evaluate potential conferencing solutions. Learn what distinguishes top-tier solutions in terms of security, management and administrative features, and service and support – and get detailed guidance on which questions to ask your next provider.

Complete the form below to download this white paper:
---
Demand Gen Report is CAN-SPAM Compliant
Your information will be used for Demand Gen Report marketing emails. This also includes targeted partners of Demand Gen Reprt. To read more about our privacy policy, click here, or to learn about the CAN-SPAM Act of 2003, click here.
If you would like to unsubscribe from future Demand Gen Report marketing emails, please click here.