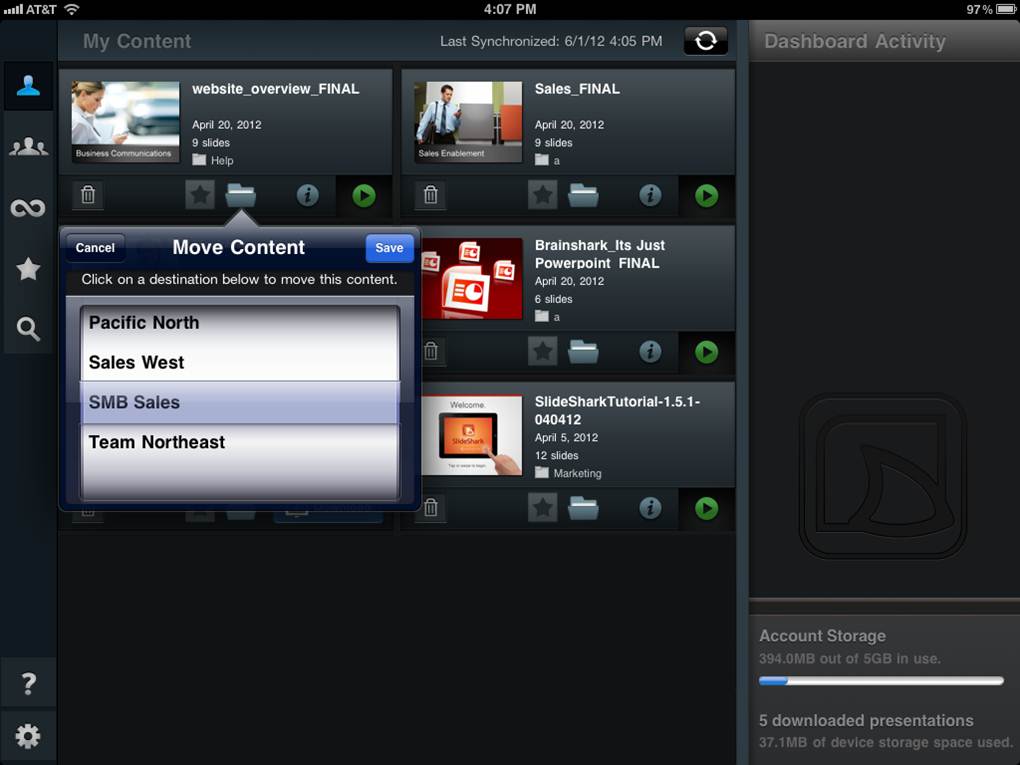 Brainshark, Inc., a provider of online and mobile presentations, announced a set of new features for SlideShark Team Edition, a multi-user version of the company's SlideShark mobile app for viewing and sharing PowerPoints on the iPad.
SlideShark Team Edition is designed to securely distribute PowerPoint presentations to teams of mobile business professionals, such as sales teams, so they can view, show and share presentations on their iPads. Organizations can take advantage of multi-user access to team content and storage; content access and management; and valuable content usage analytics and viewer tracking capabilities. Added features designed to enable larger teams include folder management to categorize materials by topic; content management and permission based access.
Since SlideShark Team Edition's launch in February, Brainshark has continued to introduce new features and enhancements, and the company says it has seen strong traction in verticals including pharmaceuticals, technology, insurance and financial services.
Guerbet LLC, U.S. subsidiary of the Guerbet Group, a leading multinational diagnostic imaging company, uses SlideShark Team Edition as its primary vehicle for disseminating product marketing materials and messaging. The company leverages the Brainshark platform to facilitate one-on-one discussions, as well as larger group presentations. Implementing SlideShark Team Edition serves as a key component of Guerbet's "green" initiatives – bringing the subsidiary closer to its goal of being 100% paper-free in its promotional materials.
"In addition to providing environmental benefits, SlideShark Team Edition gives our representatives on-the-go access to our most current collateral – increasing our effectiveness while reducing our production expenses dramatically," said Melissa Buchanan, Guerbet XRAY brand manager. "We are very pleased with the success of our initial implementation and look forward to expanding our use of SlideShark."
blog comments powered by