Beyond The Hype: Why ABM Is An Irreversible Change For B2B Marketers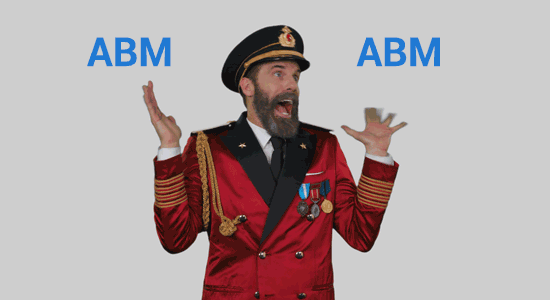 I've had more than a few conversations with B2B marketers lately who are starting to question the amount of hype that account-based marketing (ABM) has generated over the past year. That is not surprising when you consider that nearly every MarTech vendor is now spinning a story around ABM.
What has been a little more eye-opening to me is that some of the folks openly debating the "hype factor" are among the power users and pioneers of ABM. Although none of the insiders I've talked to have said they are thinking of changing course or bailing out on their account strategies, they have admitted that the ROI on some of their high-touch programs hasn't been much stronger than other campaigns.
My take on this early "crisis in confidence," is that expectations for ABM may already be out of hand. Rather than viewing ABM programs as a pipeline superhero, companies should view this transition to account-focused campaigns as a required transition to remain relevant.
Instead of expecting that investments in direct mail, events or other more targeted initiatives are going to immediately result in better conversions or closed deals, marketing executives should position ABM as the new normal in B2B. It doesn't replace traditional branding, demand gen, inbound or outbound, but it will very likely transform the strategic approach to each of those areas.
Based on the extensive list of case studies we have completed in our ABM in Action publication, I would encourage marketing teams to make the case that more tailored messaging for key accounts is now the cost of doing business in this climate where relevancy trumps frequency.
Once those expectations are properly set, B2B organizations will see such foundational benefits of investing in ABM, including:
Alignment: Yes, it's an old conversation that sales and marketing need to work more closely together, but we've consistently heard that the adoption of ABM has made marketing more relevant and strategic in working side-by-side with sales.
Insights: Because many organizations are kicking off their programs by researching and learning more about their account base, it is creating a culture of intelligence and insights. Marketing is now going deeper into organizations and learning about decision makers, influencers, processes and providing their sales counterparts with information that not only helps create conversations, but ultimately adds long-term value in the relationship.
Efficiency: Most marketers have felt that even digital advertising has had a lot of wasted reach, but new ABM solutions are helping companies invest in reaching only those companies that have been previously prioritized. So even if click-through rates are in the single digits, they are now at least converting people that are going to matter to your sales team.
Context and Coordination: A lot of B2B marketers are still guilty of creating "random acts of content," where the focus of messaging changes frequently. In addition, there are often disconnects between the content that marketing is sending and the conversations of sales development reps (SDRs) and account teams. With the focus on "coordinated plays" that ABM solutions are helping to deliver, we are consistently hearing more organizations talk about increased relevance and engagement at all levels with new prospects and existing customers.
Meaningful Metrics: Marketing automation may have helped bring accountability to marketing, but the default measurement became the MQL, which quickly lost credibility with sales teams and the C-suite when qualified leads didn't turn into real revenue. ABM is ushering in a deeper focus on measurement and metrics that closely align to the data that sales and finance are tracking. Ultimately, ABM is helping to show what marketing programs are helping to drive new deals, but also address the long-term needs of customers after the onboarding process.
Before any backlash builds that ABM may be just another overhyped acronym, keep in mind that many of these transformations are going to be required in B2B marketing just to stay relevant with today's buyers. So as you look at potential new solutions or investments in ABM initiatives, make sure to prepare your team and your broader organization not to base the impact simply on your first targeted campaign.
Factor in elements such as customer feedback, average deal size, as well as marketing and sales efficiency. The reality is, now that this precision approach has taken hold, it will be nearly impossible to put the genie back in the bottle and revert back to "traditional" broad-based marketing.