ABM: What It Really Means And How To Make It Pay Off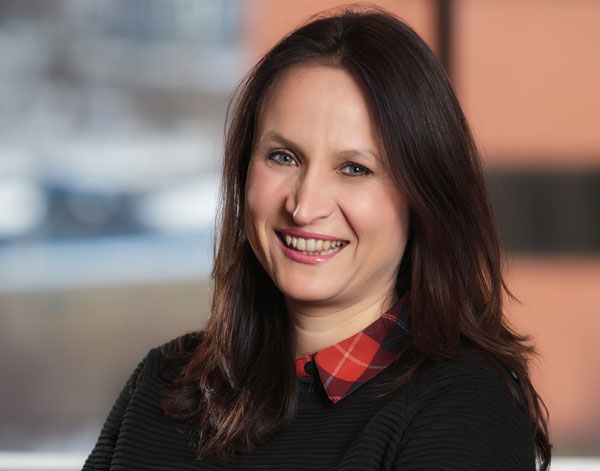 Among B2B communities, 2016 will be remembered for several new concepts, trends and technologies. But perhaps none have captured more attention than the re-emergence of account-based marketing as a viable growth strategy.
"One organization has told us that since implementing ABM, they've seen their pipeline grow by 200%. Another said the strategy has led to a 20% increase in average deal size," Bob Peterson, Research Director in the Account-Based Marketing category at SiriusDecisions, said in a recent Q&A with my company, ZoomInfo.
Make no mistake, these success stories are not outliers. I can say from personal experience that ABM can yield incredible results. At ZoomInfo, we implemented an ABM program that
increased the pipeline for a product by 114% and its customer base by 30%
. And these metrics were achieved in just 90 days.
But the hype around the renaissance and arrival of ABM 2.0 is matched only by confusion over its meaning. According to a Forrester Research report titled Vendor Landscape: Account-Based Marketing, Q4 2016, 73% of surveyed B2B marketers say, "ABM is a term that lacks specific meaning and is used inconsistently today."
The ambiguity is understandable. ABM doesn't fit into a singular box; it's not a channel, nor can it be packaged into a piece of software or a service. ABM is a strategy, carried out through a concerted collaboration between sales and marketing. It can be developed and executed in a number of ways (named accounts, verticals, etc.), through a number of channels (email, phone, website, etc.).
That agility results in an enormous technology and service landscape, ranging from solutions for sales enablement and content management all the way to web personalization and retargeting advertising platforms. In other words, there is no shortage of options on which to spend your sales and marketing dollars.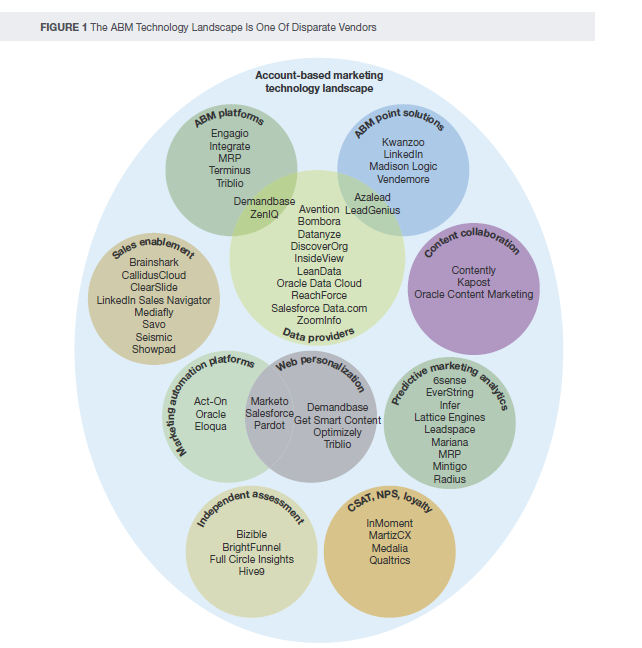 Source: Forrester, Vendor Landscape: Account-Based Marketing, Q4 2016
"Many B2B marketers mistake ABM as a distinct marketing technology category, which it isn't," the Forrester report says. "It is, however, a powerful marketing methodology that demands its own set of goals and objectives. Without specifying and agreeing to specific outcomes, supporting technology is just a diversion."
Yikes. So, this raises a key question: What type of investments should you make to develop a pilot ABM program that's both pragmatic and profitable?
Leveraging Market Intelligence For Account Selection
Account planning is, by far, the most pivotal component of an ABM strategy. Whether your team implements a large, named, vertical, or other firmographic-based (company size, revenue, location or technology infrastructure) account selection processes, you need to understand and establish triggers that serve as the criteria for entry into your program.
After establishing an Ideal Customer Profile (ICP) for your ABM program, you can use a market intelligence provider to identify an account universe that matches these insights.
According to the September 2016 Forrester report, Brief: Find The Right Sales Efficiency-Effectiveness Balance, market intelligence technologies are tools that "transform raw data about individuals, companies and markets into meaningful information that sales reps can use to drive tactical and strategic sales activities."
Beyond establishing your program's Total Addressable Market (TAM), superior market intelligence solutions offer profiles replete with contact data (email addresses and direct phone numbers), as well as prospecting information about buyer personas within your target accounts, including academic and employment history, industry accolades, professional certifications and mentions in the news.
Technology Recommendations: Look Inward, Not Outward
ABM success stories have engendered FOMO among sales and marketing professionals, which, I suspect, has led to a new line item within plenty of sales and marketing budgets in 2017. And without question, the diverse ABM landscape of technologies outlined above probably gives a few readers "shiny new toy syndrome."
You could certainly add retargeting advertising to your strategy to stay top of mind with your target accounts, or invest in predictive analytics to identify more accounts. But from an investment standpoint, your sales and marketing technology stack should have a CRM for tracking and reporting, marketing automation software and sales automation tools (email and dialing tools) to drive personalized engagement and outreach, as well as the previously mentioned market intelligence solution (from a data provider) to help identify and connect with buyer personas and target accounts.
As Forrester points out, the good news is that solution providers are listening to the marketplace and adding ABM-centric features to their portfolios. The Forrester report Vendor Landscape: Account-Based Marketing, Q4 2016 states: "Many B2B marketers are already using a data provider to augment lead and account profiles or an ad retargeting solution to engage prospects with personalized experiences before they fill out a lead-capture form. And most B2B marketers are certainly using a marketing automation platform. All of these solutions — and many others in your current MarTech stack — are adding new ABM-specific capabilities every day."
While there is no gold standard for "how to do ABM," by simplifying investments at the outset of the program, sales and marketing can focus on delivering the right message without fear of managing sunk costs.
---
Hila Nir is Vice President of Marketing & Product at ZoomInfo, an Inc. 5000 company whose Growth Acceleration Platform combines business intelligence with integrated tools to help B2B companies optimize sales and marketing effectiveness, jump-start growth and maximize profitability.