Facebook Exec Discusses Social Enterprise Marketing Strategies At NYC Cloudforce Event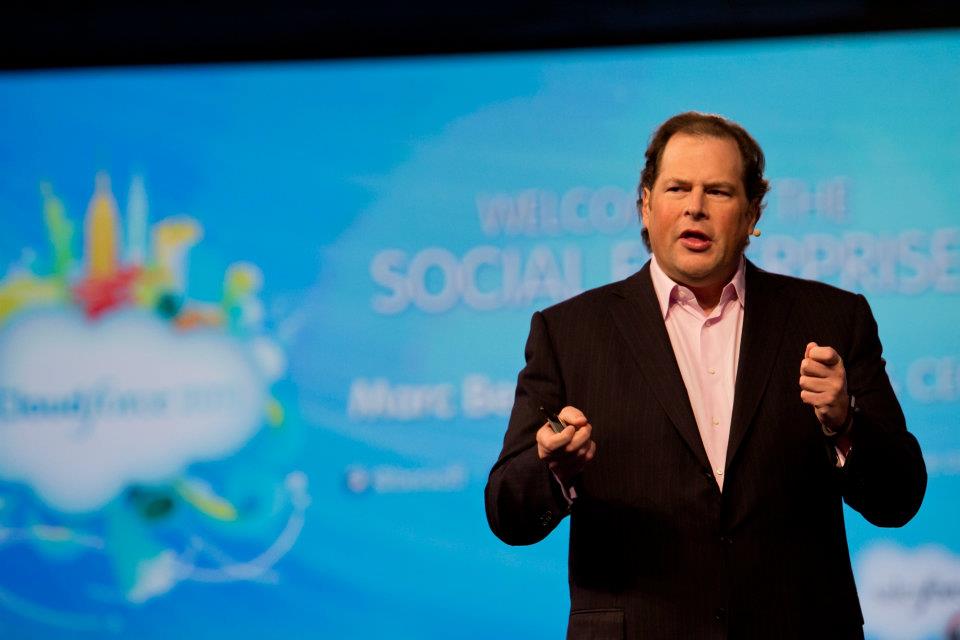 As the phenomenon that is Facebook continues to blossom as a revolutionary communication platform, so does the opportunity for businesses to drive growth by cultivating an engaging presence with prospects and customers. Facebook currently has more than 800 users, 500 of whom log on daily.
In his keynote address at the company's Cloudforce Conference November 30 at the Javits Convention Center in New York City, Salesforce.com CEO Marc Benioff pointed to Facebook as leading the revolution toward the Social Enterprise. "Facebook has unleashed a power and energy of social networking that we just haven't seen before," he said.
Conference speaker Rich Liu, Manager of Global Marketing Solutions at Facebook, explored the opportunities within Facebook marketing, and how businesses will operate better and more efficiently in a connected world.
"This is the social enterprise — the idea that businesses, the Internet and the world are pivoting around social, and this is what it means to be connected," Liu said. "The activities that we engage in on Facebook are the essential parts of what make us who we are. Now with technology in recent years, we're able to connect and bring people together to share much more efficiently at a higher rate, doing so in a much richer fashion than ever before. Facebook is here to help people bring together all the things they've been doing online."
And while Liu noted the rapid sharing that brings families together, this engulfing community is a goldmine for brands and products. The news feed feature, for instance, is where users are spending their time, and opt in to receive information. "Content on our news feeds is not just chosen by an editor and curated for us," Liu noted. "We have the opportunity to dictate that."
Facebook Daily Sharing By The Numbers:
·         100 million likes on pages (Users are choosing to accept businesses into their lives and have that intimate relationship)
·         350 million users access Facebook on a mobile device
·         2 billion posts liked or commented on
·         250 million photos shared
The coveted viral nature of Facebook is, according to Liu, what helps marketers extend their outreach so rapidly. This encourages and enables word-of-mouth sharing. When people hear about things from friends they are twice as likely to engage with a brand, and four times as likely to make a purchase from that brand, according to Nielsen Ratings.
"People are spending a lot of time using this resource to stay connected and express themselves," Liu said. "Now that we can connect with millions of people at an intimate level, what kind of value will you provide?"
Liu posed questions for marketers to consider when crafting their Facebook strategy:
ü  What can you create to add value that will foster word-of-mouth and get people to engage with your company?
ü  How do you ignite people to share with friends what they are passionate about?
ü  What levels of engagement are you looking for and how can you optimize the tools on Facebook to do so?
"To take full advantage of the Facebook platform, it really begins with a page," he advised. "Engagement starts with putting your picture up, engaging people with good content, things they care about and encouraging them to share with friends. This helps build and grow connections, and enables companies to connect with influencers by doing that steadily — asking questions and providing content."
Liu said that global brands typically aim to have at least 10% of their customer base on Facebook because it enables the measurement of loyalty, through the basis of which marketers can spawn viral growth.         
Liu encouraged companies and brands to post frequently to their Facebook pages, and then amplify that through a sponsored page post. Then the social context can be layered on. "That's the key value proposition," he said. "Being able to help friends when they see the page or connect to their page. Magnify the engagement. It's really using the idea of amplifying the content that they can see to create that advertising experience without throwing messaging at them."
Studies show that about 16% of page posts will reach users that can see it. Posting regularly (2 to 5 times a day), brands are 3 to 5 times more likely to reach users, Liu said.
Facebook Action Items
Liu advised Facebook marketers to begin with a brand page, and run stories and ads that reach fans and friends of fans via the news feed. By growing the community, organizations create a "virtuous cycle of fans, engagement, more fans and more conversations."
But it's important to consider that any successful marketing strategy hinges on the understanding and nurturing of conversations and connection.
"Before you're thinking about applications, remember that it's all about building these essential connections and participating as a voice in this conversation," he said. "Think about how you want to do that in terms of building up a page."
Additionally, there's a concise progression that Liu advised marketers adhere to, which helps ensure success. "Before you go down the [app] road, make sure you're mastering the ads and pages piece of it and engaging with users because that's core to what Facebook does and it doesn't require the interest and investment of developing."
Marketers also must consider developing costs, keeping in mind that to be successful, probably about 2/3 or ¾ of the applications budget will be allocated to promotion.