Google Begins Withholding Certain Search Data, Citing Privacy Concerns
By Owen McDonald, Senior Editor
On Oct.18, 2011, Google very quietly announced it would stop sharing specific keywords clicked and search term queries made by logged-in Google users with third-party marketers and advertisers. The search giant called the move part of an ongoing process to protect the privacy of Google users. The change will have an immediate impact on the effectiveness of SEO tools. Estimates of the impact of this change range from less than 10% of searches to as much as 30% or more.
It's too early to tell if and how the change will impact BtoB content marketers. But the new policy has already met with displeasure from a number of key industry segments and players. Meanwhile, some industry watchers seemed unconcerned, and others even voice support for this adjustment to Google's content ranking algorithm.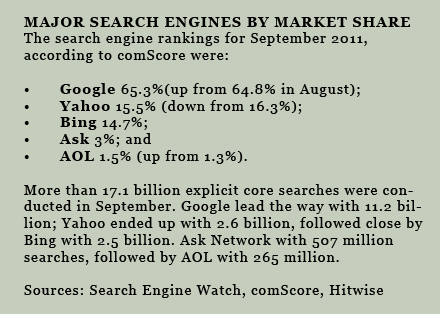 "Individual marketers are paying a heavy price in the transparency of their data," said Brian Whalley, Internal SEO Manager for inbound marketing firm,
HubSpot
. "This is a hard reaction for us as marketers or SEO professionals. We invest so much effort, work and time into creating great content and helping Google index it and send us traffic that we feel like we've earned this data and we have the right to know about how people are finding our sites. Unfortunately, it turns out that Google was granting us a privilege, not a right."
Google's official response on the change was attributed to an anonymous Google spokesperson: "We're continuing to iterate on our Panda algorithm as part of our commitment to returning high-quality sites to Google users. This most recent update is one of the roughly 500 changes we make to our ranking algorithms each year."
Industry insiders point out that Google's various algorithms can be exceedingly complex. The "Panda" algorithm was reportedly created to weed out content farms and other keyword-heavy, low-quality web sites and penalize them in Google search rankings. The result is meant to reward web sites that produce steady streams of high-quality original content by pushing them higher up in Google search results.
In a post on Google's official blog dated Oct. 18, Product Manager Evelyn Kao wrote, "As search becomes an increasingly customized experience, we recognize the growing importance of protecting the personalized search results we deliver. As a result, we're enhancing our default search experience for signed-in users."
The post continues, "What does this mean for sites that receive clicks from Google search results? When you search from Google.com, web sites you visit from our organic search listings will still know that you came from Google, but won't receive information about each individual query."
Under this new algorithm tweak, browsers who perform Google searches while logged-in to their Google accounts will not have any specific keywords or search phrases they click shared with third-parties – or even with Google Analytics – according to multiple sources.
Organic search reports will identify the referring source simply as "Google" with no keywords or search terms given. However, those using Google Adwords for their paid search engine marketing (SEM) will continue to have full access to Google keyword and search phrase information. Other SEM companies will not be given this data.
Google hasn't specified if or how the change will affect distribution of search data of users not logged-in to Google accounts. But the fact that details of paid search data will be withheld – except from Google Adwords customers – has provoked both anger and praise.
"The original idea behind [Panda] was to stop content farms from being ranked disproportionately high by re-purposing content or excessively abusing keywords," said Ian Michiels, Principal Analyst of research firm Gleanster. "As a consumer and a BtoB buyer, my tolerance for fluffy time-wasting garbage content has grown thinner each year. I value Google because they recognize that and consistently challenge the way content is delivered when I search for it."
"It won't impact BtoB as much as BtoC because we don't rely on keyword tracking to proactively shape the web experience of our visitors, but there will be an impact," said Jason Stewart, Director of Marketing for web traffic solution specialist, DemandBase. "The keywords people use to find us are typically based on brand or content, rather than specific products, but we still use keyword reporting to shape our content creation strategies and to see which messages are resonating with our prospects. I'm actually somewhat shocked that Google doesn't consider this to be a major change to their analytics engine, as the removal of the organic keyword reports significantly impacts the value of Google Analytics." 
In fact, some of the most vehement reaction has been to the fact that Google is downplaying the impact of its new search data policy.
Writing for search industry web site,
Search Engine Roundtable
, a few days after the policy change, category expert Barry Schwartz said that in a poll of executives that received "well over 400 responses," 66% of respondents considered the new Google policy "very significant."
Some solution providers see a clear threat in Google's latest move. Rand Fishkin, CEO & Co-Founder of SEO software provider,
SEOmoz
told DemandGen Report (DGR), "Google's long held to the core value of doing 'no evil,' but this move is intentionally leveraging their near-monopoly in an anti-competitive way that will make the web a worse place for users, site owners and marketers."
"If the pattern continues, we'll have to hope the broader market turns against Google and gives rise to the competition, or face an analytics landscape where the 900-pound gorilla can rage without consequence," Fishkind said.
Danny Sullivan, Editor-in-Chief of
Search Engine Land
took a less apocalyptic view, telling DGR, "I think the impact will slightly lessen the ability to do conversion tracking and custom landing pages in the short term. In the long term, if the blocking expands, it will make that type of activity even harder."