LinkedIn and B2B Marketing: A Perfect Pair? Marketing Experts Highlight Tactics To Leverage The Business Social Network - Part 2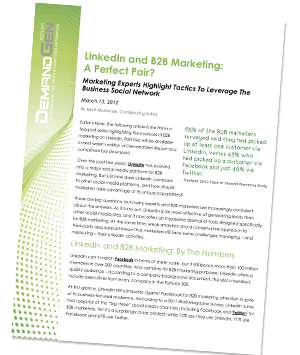 By Matt McKenzie, Contributing Editor
Editor's Note: The following article is the second in a two-part series highlighting the nuances of B2B marketing on LinkedIn. To read part one visit this link to access the complimentary download.
Over the past few years, LinkedIn has evolved into a major social media platform for B2B marketing. But just how does LinkedIn compare to other social media platforms, and how should marketers take advantage of its unique capabilities? 
In part one of this report, we focused on how LinkedIn actually compares to other social media platforms, and we looked at how company profiles, LinkedIn Groups, and individual user profiles all fit into the B2B marketing picture. This week, we'll look at how marketers are using content to succeed on LinkedIn – and we'll also examine some criticism of the site's analytics and third-party app offerings.