#LLCSeries: Lattice Engine's Brian Kardon On Preparing For Predictive Lead Scoring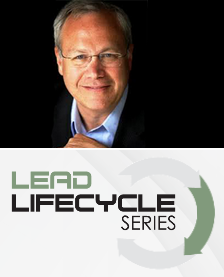 Demand Gen Report will be holding the inaugural Lead Lifecycle Series #LLCSeries, a week-long series of webinars offering case study examples and best practices covering each stage the buying cycle.
DGR caught up with Brian Kardon, CMO of Lattice Engines, as he prepared for his webinar, The Evolution of Lead Scoring: From Rules Based to Predictive.
Check out the agenda and register once for access to the entire series.
Demand Gen Report: What do marketers need to know to get started with predictive lead scoring?
Kardon: Big data and predictive analytics are not the future. They are here today. Predictive analytics is not about some fantastic idea that is 10 or 12 years down the road. What we're seeing is that a lot of marketing organizations who are early adopters of new technologies, like marketing automation six or seven years ago, want to take things to the next level by applying data science.
To be successful with predictive lead scoring, marketers have to look beyond the data that is readily available in their CRM and marketing automation systems. There are thousands of other pieces of data — such as which companies are getting funding, hiring and filing for new patents — that can be used to build a predictive model of which customers that will buy from you.
I ask people to think about the one specific thing that, if they knew about a prospect, would be a trigger for someone to buy their product. For a company like Staples, it may be companies that are hiring more people. For an organization like American Express, it may be if a customer opened up an office in another country. The key is that these are all knowable things.
DGR: How can traditional, rules-based lead scoring work together with predictive scoring to drive better results?
Kardon: The first generation of lead scoring was all intuitive. A prospect visited your web site, so you give them five points. If they opened an email, give them 10 points. Where predictive lead scoring comes in is discovering which of those activities really matter when it comes predicting which prospects will become customers. This helps tremendously when it comes to ensuring that the sales team is spending time with the right prospects. The biggest time waster for a sales person is spending time with the wrong prospect.
DGR: What are some of the key takeaways for attendees of your webinar?
Kardon: The goal is to demystify lead scoring. DocuSign will provide some examples of how lead scoring is used in their organization and some of the results they've achieved. Attendees will also take away steps on how to get started with their own predictive lead scoring initiatives.