New Report Shows SMBs Stepping Up Inbound Lead Gen, Social Strategies
As lead generation continues its momentum even in a tough economy, some differences between large companies and their small-to-medium sized counterparts are starting to take shape. Case in point: A new survey from Cambridge, MA-based marketing services agency HubSpot shows that SMBs spend three times more money on social media for lead generation than larger companies do. SMBs, according to the survey, spend 14% of their lead gen budget on the newest blogs and social media as compared to 5% for larger companies.
The survey of 167 marketing executives responsible for lead generation titled "The State of Inbound Marketing" found an emphasis on inbound marketing techniques that invite dialogue with prospects. "Realizing that inbound marketing techniques 'level the playing field' with the bigger budgets of larger competitors, small businesses are spending a 180% greater portion of their budgets on blogging/social media and 36% greater portion of their budgets on search engine optimization than businesses with 50 employees or more," said HubSpot CEO Brian Halligan.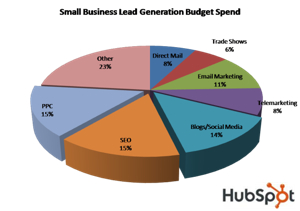 SMBs are spending on paid and organic search (30% of budget) email (11%) telemarketing (8%) direct mail (8%) and trade shows (6%). The "other" category took 23% of budgets. HubSpot's estimation of "other" includes outbound lead gen methods such as public relations. It also interprets the results to mean that inbound marketing, led by social media, is far more effective for companies of any size when compared to outbound methods.
Inbound marketing, according to the report, results in a decidedly lower cost per lead than outbound methods. For all 167 companies responding, inbound marketing averaged an $84 cost per lead, whereas outbound marketing averaged more than double that number at $220 cost per lead. Inbound marketing lowers the cost per lead for three reasons, according to HubSpot. First, it focuses on low-cost digital methods (Web, e-mail, etc.). Second, it is more targeted because prospects are looking to find your business and third it is more measurable, allowing businesses to analyze performance and optimize over time.
"Imagine a search engine that could bring back results to the consumer based upon where they live, where they lived in the past, where they went to college, who their friends are, who they have in their network that have used the product/services they are looking for," said HubSpot inbound marketing specialist Katherine Derum. "Turns out there's a search engine that's almost there. It's not Google, it's Facebook. If accuracy has won the game for Google, social connections may win the game for Facebook. Imagine a consumer is in their buying research phase and they search for 'Inbound Marketing' and the search results are delivered based upon the company in which people from their network have used or submitted to as a group member."
Other notable results from the report include:
•    Blogs scored high on the survey with 75% of respondents rating blogs as "useful," "important" or critical to their business.
•    Trade shows rated the highest cost per lead (55% above average lead cost per company) and blogs were lowest (55% below average).
•    There's room for more blog content. Only 11% of respondents posted to their blog daily. More than 30% posted weekly, and 18% only posted at a monthly frequency or less.