New Research Suggests Rewards Tied To Increasing Customer Marketing
With less money on the table for marketing and communications, there is no shortage of opinions on how budgets should be prioritized. Several recent reports point to increasing shifting funds to get closer to the voice of the customer.

One of the more dramatic surveys from the CMO Council, revealed that 59% of the over 400 executives surveyed said their companies do not compensate any employees or executives based on customer loyalty, satisfaction improvements or analytics. In other words,
customer retention
and customer experience are not key performance indicators for employees. Over 56% said their companies have no programs in place to track or propagate
positive word of mouth
among customers. In addition, only 30% said their companies rate highly in their ability handle and resolve customer problems or complaints, according to the report,
"Giving Customer Voice More Volume."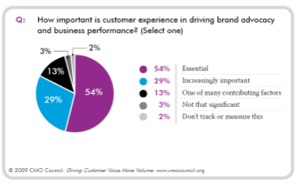 According to the CMO Council report, "a huge gap" exists between customers willing to provide information about companies, products and services and the ability to harvest it. Only 12.9% of companies have deployed real-time systems to collect, analyze and
distribute customer feedback
. While 74.6% say they receive customer feedback via e-mail, only 23% say they track and measure the volume and nature of these messages. Customer voice has gone online, but only 14.4% track word of mouth on the Internet. Only 11.5% are using a word-of-mouth marketing platform to drive online
customer advocacy
.
While the CMO Council survey spanned both BtoC and BtoB respondents, other recent benchmark data from SiriusDecisions reinforced the opportunity BtoB organizations have to get closer to customers. In the January edition of the
SiriusDecisions Perspectives
newsletter, the analyst firm highlighted recent benchmark data showing that an anticipated 4% rise in field marketing investment would go towards
client retention
(from 5% to 10%). "We have always believed that the amount of effort focused on the demand waterfall was much too high; it has taken a major economic shift to move spend into better alignment," the SiriusDecisions report stated.
The paybacks from customer marketing may be subtle for BtoB organizations, but the benefits of customer advocacy and positive word of mouth are much more pronounced for consumer focused companies. Another new report from loyalty consultancy Colloquy illustrates a direct connection between loyalty program members, customer satisfaction, and the willingness to be a customer advocate.
The report titled, "The New Champion Customers: Measuring Word-of-Mouth Activity Among Reward Program Members," found reward program members are 70% more likely to be word-of-mouth "champions" (defined as customers who are "actively recommending" a product, service or brand) than the general population. Only 32% of non-reward program members are self-described word-of-mouth champions. 68% of word-of-mouth champions in reward programs will
recommend a program
sponsor's brand within a year and actively participating reward program members are over three times more likely to be word-of-mouth champions.