Oracle Unveils New AI Applications, Cloud Enhancements, Security Offerings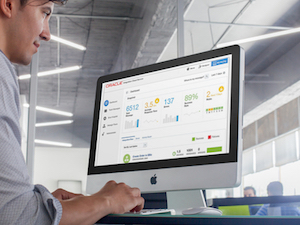 Oracle announced its take on artificial intelligence with the launch of Adaptive Intelligent Applications, which will incorporate third-party data with real-time behavioral analytics to help users streamline business tasks and provide them with individualized recommendations for engaging with prospective customers.
Unveiled during Oracle's annual OpenWorld Conference, the new Adaptive Intelligent Applications will enable marketing managers to drive higher conversion rates and lift repeat purchases and revenue with contextual offers and recommended actions for prospective buyers and stakeholders within target accounts, according to the company. The company states that these applications can help users make informed decisions across multiple departments, including finance, human resources and supply chain management.
"To remain competitive today, companies must access their information in real time to intelligently forecast and grow," said Steve Miranda, EVP of Applications Development at Oracle, in a statement. "Oracle Adaptive Intelligent Applications leverage anonymized information from our extensive Data Cloud to optimize existing Cloud Application functionality. When this is combined with a company's own data, we are able to provide unparalleled customized insights to help enhance business performance."
The news comes shortly after one of Oracle's top competitors — Salesforce —
unveiled its Einstein project
, which will incorporate artificial intelligence into each of its core cloud offerings. Both moves highlight the growing importance of
marketing analytics
within B2B organizations, and advancements in technology position users to maximize the data they are gathering from target accounts and buyers.
Oracle also unveiled its new Engagement Cloud, which will be a part of the company's Customer Experience Cloud portfolio. The new offering combines Oracle's sales and service capabilities to provide a unique combination of sales automation, service request management, knowledge management and customer self-service, according to the company.
Oracle Engagement Cloud is designed to help "improve customer satisfaction and loyalty, while increasing up-sell opportunities," the company said in a press release.
A variety of enhancements to Oracle's analytics capabilities were also highlighted, which the company states will help users generate insights from buyers, algorithms and processes within the company. These tools can then help provide concise data visualizations and predictive outcomes to help users adapt their business initiatives.
Other features include the ability to:
Take in, profile and cleanse data using a variety of algorithms;
Prepare, transform and aggregate data to run machine-learning models at scale;
Discover data and insights to help subject matter experts collaborate with data science teams;
Visualize data sets and analyze that insight on any device, on premises and in the cloud; and
Develop data-driven interfaces to extend, customize and embed rich analytic experiences in their application flow.
Palerra Acquisition Aims To Enhance Data Security
Among various announcements, Oracle also noted that it has signed an agreement to acquire Palerra, which will add a Cloud Access Security Broker (CASB) to the company's Identity Cloud Service (IDaaS) offerings. The companies have not disclosed the price of the deal.
Palerra's LORIC product is designed to assure compliance, workloads and sensitive data stored across cloud services, according to Oracle. It can provide insight into cloud usage, data security, user behavior analytics and security configuration.
"Together, Oracle and Palerra will help accelerate cloud adoption securely by providing comprehensive identity and security cloud services," Oracle said in a statement. "The combination of Oracle Identity Cloud Service (IDaaS) and Palerra's CASB solution plan to deliver comprehensive protection for users, applications and APIs, data, and infrastructure to secure customer adoption of cloud."
The acquisition will boost Oracle's data protection, which was brought into question when MICROS (a division of Oracle) suffered a data breach that compromised a customer support portal for its point-of-sale (POS) credit card payment systems. While the company said Oracle's own systems, corporate network, cloud and other services were not affected, the MICROS data breach put more than 200,000 stores, hotels and outlets at risk.