B2B Companies Embrace Purpose-Driven Initiatives But Struggle With Impact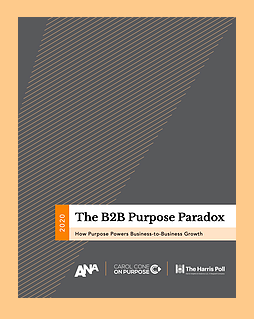 B2B companies are increasingly embracing purpose-oriented initiatives as potential drivers of business growth, contrary to the common belief that they lag their B2C counterparts. An overwhelming majority (86%) of B2B companies believe it is essential to bring a sense of purpose to their organizations. However, most have not experienced growth as a result of their focus on culture, operations and societal engagement.
Those are key findings of a new report, The B2B Purpose Paradox, which was conducted by the ANA, The Harris Poll and Carol Cone ON PURPOSE. The report defines purpose as "a company's reason for being beyond profits that guides its business growth and impact on society."
"This report shows that the fundamental strategic business challenge is to activate purpose programs that permeate the entire organization and effectively reach their customer communities," said ANA CEO Bob Liodice in a statement.
Carol Cone, CEO of Carol Cone ON PURPOSE, added: "B2B companies are far more advanced in their purpose journeys than we expected. Yet, there is a significant gap between companies with a 'stated purpose' — their reason for being, beyond profits — and their 'activated purpose,' one that is fully embedded in the organization to influence culture, innovation, operations and engagement in society."
The role of purpose in guiding a company's strategy varies by industry. The financial services, insurance and professional services sectors lead in purpose, while manufacturing and telecommunications lag, among the eight industries surveyed.
The report revealed significant support for the role of purpose in B2B organizations, with 87% noting that purpose protects their company's reputation. Three quarters (75%) say purpose supports recruiting efforts.
Some of the challenges to fully integrated purpose:
Purpose feeling more like a PR exercise than an authentic effort (56%);
Purpose not playing a role within the competitive set (51%); and
Lacking the ability to operate with purpose at the center of the business (50%).
"Establish benchmarks and embed KPIs into organizational strategy, measure progress and pitfalls and keep pursuing a bold vision for business and social impact," said Wendy Salomon, Managing Director, Reputation and Corporate Strategy at The Harris Poll, in a statement.