Captora Updates Platform To Maximize Digital Top-Of-The-Funnel Efforts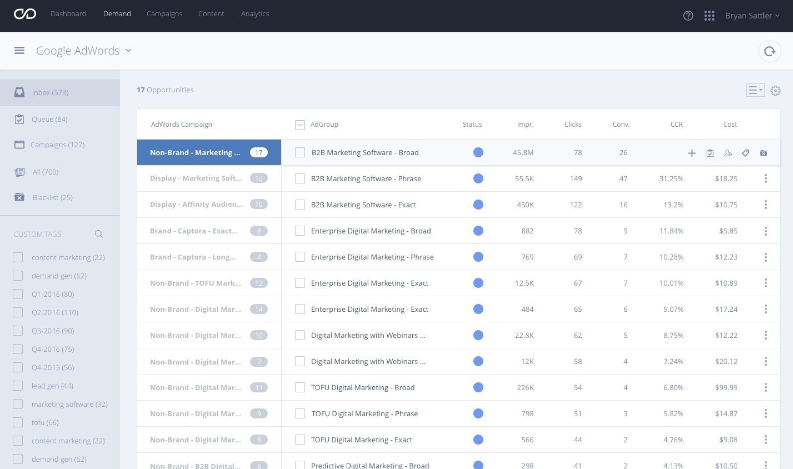 Captora has introduced several new additions to its Top-of-Funnel (ToFu) digital marketing platform. The updates aim to help marketers prioritize, launch and optimize a portfolio of campaigns across search, advertising and social media channels.
With the updates, digital marketers can automate their top-of-the-funnel campaign efforts using Captora's ability to identify and prioritize demand, launch and optimize campaigns and view real-time performance insights at scale across channels.
The new releases aim to provide marketers with:
Continuous demand intelligence. The platform leverages data science to provide a nonstop flow of buyer intent and competitor intelligence so users can prioritize investments and execution. A new demand manager function gives marketers a holistic, cross-channel view of demand intent and includes custom tagging tools so they can identify and prioritize growth opportunities, and report results across paid and organic channels.
Google AdWords integration. This enables marketers to identify campaign optimization opportunities and create hyper-targeted campaigns across ad groups, ads, templates, personas and CTAs, to boost campaign conversion rates.
Enterprise-grade functionality & integration. A highly-scalable new architecture now supports Captora applications, as well as third-party marketing tools and platforms from companies such as Marketo, Oracle/Eloqua, Act-On, Salesforce/Pardot and Hubspot.
Cross-channel campaign management. A new campaign editor tool allows marketers to build, launch and continuously optimize campaigns at scale across paid and organic channels.
"This release marks a critical milestone in Captora's history — delivering on our vision to make cross-channel digital marketing easier and more productive at scale," said CEO Paul Albright, CEO and Co-Founder of Captora, in a statement. "This platform release gives marketers confidence about which opportunities, content, and campaigns to prioritize for enterprise digital marketing at scale."