Idio To Offer Live Demos At B2B Content2Conversion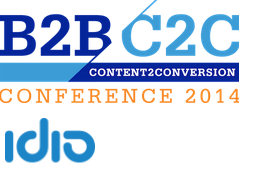 Idio will be inviting prospects to experience live, customized demos of its Content Intelligence Platform at this year's B2B Content2Conversion Conference on May 6.
The platform is designed to help marketers analyze their consumer's content consumption, which allows them to deliver more relevant and personalized content across all channels and boost customer engagement. The solution also automates the content delivery process to make sure relevant content is presented to the right consumer at the right time.
The solution is comprised of two stages:
Idio Insight, which allows users to exploretheir existing content quickly and easily. Data collected is then leveraged to produce more effective content and enhance their content marketing strategy.


Idio Engage, which analyzes any interactions consumers have with a brand's content, then uses that data to serve them the most relevant content in the company's wheelhouse. The data is also stored for each individual consumer, allowing B2B marketers to have a better understanding of their leads.

"Simply putting great content out there won't drive lead identification, lead scoring, and conversion," said Damon Ragusa, President of Idio. "Marketers who want to use content to drive business performance must be able to learn from each interaction the prospect makes. Armed with that intelligence, we're truly solving the 'who gets what' problem in content delivery for lead gen to gain real, tangible value."
The event — hosted by Demand Gen Report — will assemble thought leaders and top executives from the B2B industry, and offer the latest tools and insight for B2B marketers to hone their craft.
Click here to register for the B2B Content2Conversion Conference.