Innovative Marketers Recognized At Marketing Nation Summit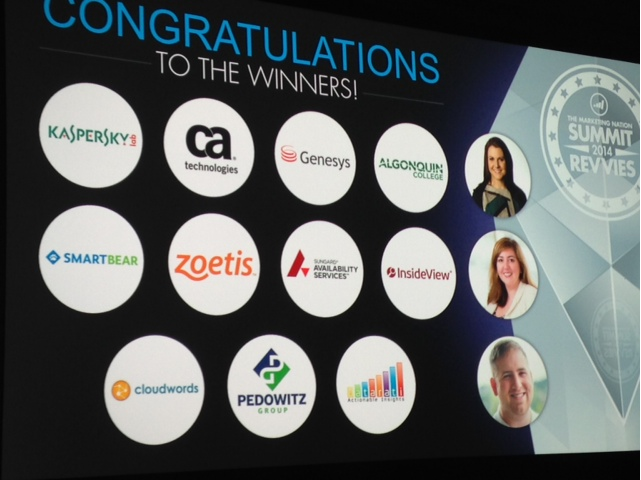 Marketo handed out its annual Revvie Awards to highlight user achievements, including a 100% increase in web site conversions and $23 million in marketing-sourced revenue.
"I am inspired by our customers' innovative use of technology to build marketing programs that create personal relationships," said Phil Fernandez, president and chief executive officer of Marketo. "The transformation of marketing is just starting and this year's Revvie winners are great examples of that transformation."
Three Marketo customers — Acquia, Kaiser Permanente of Colorado and Curves — were recognized in the category of "Most Dramatic Business Impact" and have significantly transformed their businesses by partnering with Marketo:
Curves International, Inc., implemented a broad and cohesive digital strategy to grow its business and turned to Marketo to act as its central hub for marketing. Since implementing Marketo, Curves has seen a 100% increase in website conversion.
Kaiser Permanente of Colorado, a subsidiary of Kaiser Permanente, needed a way to more deeply engage customers trying to navigate the complex process of health care buying. Kaiser Permanente partnered with Marketo to drive over $23 million in marketing sourced revenue in the first 18 months and create a direct link between its marketing spend and revenue impact.
Acquia selected Marketo to fuel its growth and meet its business objectives for providing enterprise solutions that integrate content, community and commerce. Acquia's marketing team has increased its sales pipeline contribution by 129 percent, driving more than 63 percent of the company's net new growth.
Marketo also recognized partners and individual marketers who have used Marketo to drive results for their clients and companies:
International Partner Excellence: Datarati, an Asian-Pacific full-service marketing agency, delivers implementation and training of marketing automation technologies, campaign planning and execution, analytics, creative, UX and development capabilities.
North America Partner Excellence: The Pedowitz Group, winner of the Partner Excellence Award for the past three years, has been a Marketo partner since 2009 and has worked with more than 500 Marketo customers. The company helps clients improve marketing performance with services in strategy, consulting, best practices, marketing technology, content production, search, social and campaign execution.
The Visionary: Christine Nurnberger of Sungard Availability Services, recognized the company needed to more closely align its marketing and sales goals and leveraged the power of Marketo to transform SunGard Availability Services' marketing. This increased alignment resulted in a 19% increase in leads converted to sales opportunities in 2013.
The Hot Rod: Sarah Shelnutwas instrumental in helping NanoLumens, a manufacturer and marketer of indoor LED displays, make the switch from its previous automation platform to Marketo and is certified as a Marketo Expert. Under her management, marketing acquired leads increased by almost 900% and total acquired leads increased almost 320 percent.
The Champion of the Year: Jeff Shearer, acquisition marketing manager at Egencia, was selected from the 2013 class of Marketo Champions. Shearer is a certified Marketo Expert and instrumental in using Marketo to shorten sales cycles, dramatically improve marketing program ROI and grow customer lifetime value.