InsideView Integrates With Marketo To Automate Lead Enrichment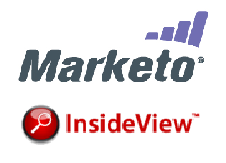 InsideView, the provider of a platform that enriches lead records, announced that it will integrate with Marketo. The combination will allow the CRM platform provided by InsideView to match accurate company and contact data with any lead created in the Marketo database, according to official for both companies.
"As much as 61% of B2B marketers send all leads directly to sales, even though only 27% of those leads will be qualified*," said Brian Kelly, CMO of InsideView. "InsideView for Marketing ensures that every lead in the Marketo system will have complete, accurate firmographic data for faster, more accurate scoring and routing."
InsideView will enhance leads with 28 fields of information, even if the only information provided was a company name or email address. The fields include: address; web site; number of employees; revenue; industry; SIC code; and social URLs.
InsideView for Marketing is available immediately for Marketo, and can be installed within existing Marketo systems.