Marchex Adds New Adobe Analytics Cloud Integrations To Enhance Mobile Ad Insights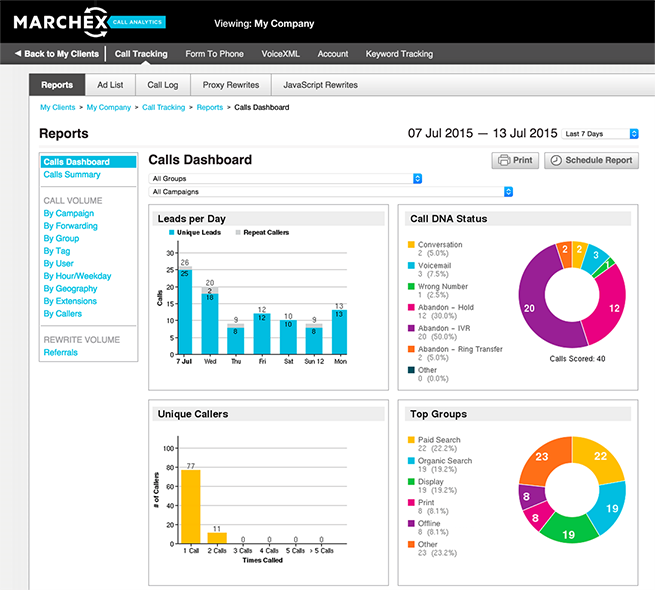 Mobile advertising analytics company Marchex has announced both new integrations with Adobe Analytics Cloud. The new integrations aim to enable marketers to increase sales and retain customers by better understanding how customers and prospects interact with mobile ad offerings.
Using Marchex's products and its resolution service—Marchex Audience Graph—marketers can collect real-time, offline buyer intent and use that data in Adobe Experience Cloud.
The integrations aim to help users with:
Personalization: Marketers can use Marchex's integrations with Adobe Analytics Cloud to personalize website offers to drive incremental revenue.
Remarketing: Marketers can build audience segments based on specific products or offers mentioned during a phone call to orchestrate cross-channel hyper-targeted campaigns using Adobe Campaign, including the ability to remarket to callers who showed interest for a product or offer over the phone.
Retention: Marketers can add caller sentiment data to Adobe Analytics Cloud to understand the potential for customer churn and drive brand loyalty by resolving service complaints over the phone.
"Marchex's new integrations in Adobe Analytics Cloud provides brands with a holistic view of customer interactions, which enables marketers to engage and influence consumer purchase behavior with targeted content," said Sundi Raman, Director of Product and Engineering at Marchex in a statement. "By leveraging Marchex and Adobe, brands can connect digital behaviors with offline transactions from calls and stores in order to produce highly personalized and impactful campaigns."