Marketo Streams Release Of Marketo Next; Unveils Research Quantifying Impact of RPM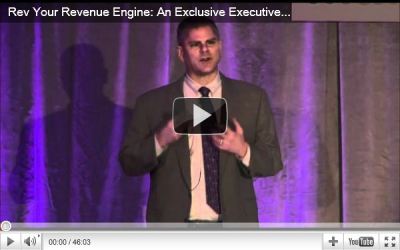 Tapping into the latest streaming technologies, Marketo took to the web yesterday for the unveiling of what CEO Phil Fernandez described as the company's "largest release to date," dubbed Marketo Next.
The new release boasts enhancements across the company's Revenue Performance Management (RPM) Suite, with new functionality designed to enable companies to be "more social, more intelligent and more agile" than ever before. Specific new features have been added in the areas of event tracking, program management and social media monitoring and analytics.
Marketo also used the webcast of the live event reinforce the impact RPM solutions are producing for leading companies. The company unveiled The Marketo Revenue Quotient, a study of customer results intended to quantify the global economic impact of RPM.=
Marketo's global study of its customers found that RPM increases revenues by an average of 40 percent. This is driven by increased lead quantity, improved lead-to-opportunity conversion, improved opportunity-to-win ratio, increased average contract value and reduced cost per customer.
On average, the survey showed Marketo customers reported:
46% improvement in the number of sales opportunities;
11% improvement in average contract value;
17% improvement in sales win rates; and
15% reduction in customer acquisition costs.


"There's nothing more important or thrilling to a CEO, marketing executive or sales leader than the ability to directly impact the revenue trajectory of their business," said Fernandez. "Revenue Performance Management gives businesses the ideal roadmap to help leaders capitalize on the changes taking place in today's social, mobile and web-driven marketplace. By optimizing interactions across every touch point, and aligning sales and marketing to operate at high velocity, our customers have achieved impressive results. And, as the findings of the Revenue Quotient reveal, the long-term global economic impact of RPM can be profound."
Based on the findings of The Revenue Quotient, Marketo predicted RPM will have a $2.5 trillion impact across its global customer base by 2015.
The Marketo Revenue Quotient was calculated by identifying the key drivers to revenue generation and the quantitative impact of RPM over time, then correlating results with the size and growth trajectory of Marketo's customer base. Full details on the methodology behind the Marketo Revenue Quotient are available at http://www.marketo.com/revenue-quotient.
In terms of the new features and functionality of Marketo Next, Fernandez highlighted the following areas:
Event Management: Marketo's new Smart Events application enables users to send personalized invitations and reminders, and then increase conversions on those event leads by moving them into post-event lead nurturing campaigns.
Program Management: Moving beyond email and single channel campaigns, the new functionality in Marketo Next promises to manage complex programs including video, mobile and social channels.
Social Integration: Marketo now integrates with the Radian6 social listening platform, enabling companies to trigger actions or elevate lead scoring based on the social activity of prospects in their database.
Deeper Analytics: Marketo has added several new analyzers and out-of-the-box reports, dashboards, and metrics to provide deeper intelligence around investments and validation for decisions around programs and events.
Marketo Next is scheduled for general release starting June 25, 2011.