Oracle Marketing Cloud Unveils New Mobile, Data And Content Capabilities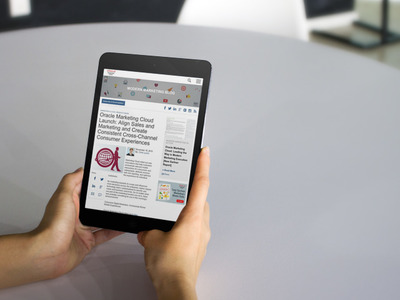 Oracle Marketing Cloud has launched new capabilities designed to help marketers deliver a consistent customer experience. The updates also position marketers to better attribute revenue to marketing initiatives and boost engagement with mobile tools.
New interactive dashboards can also help marketers analyze campaign performance and determine the content and cross-channel interactions that are driving conversions.
"Now, users can tailor dashboards and reports to ask and answer the pertinent questions about their campaigns and individual assets," said John Stetic, Group VP of Products for the Oracle Marketing Cloud, in an interview with Demand Gen Report. "Now they have access to more relevant data that has a positive impact on their business decisions."
Stetic also noted a new integration with Cloudwords, a content localization solution provider, which positions Oracle Marketing Cloud users to coordinate translation workflows for individual pieces of content. This enables users to maximize their overall reach without burning resources on manually translating assets.
Other new features include:
Enhancements to Engage and Profiler, Oracle Marketing Cloud's sales tools, designed to improve productivity and accelerate sales cycles by making pre-loaded campaigns and content accessible on mobile devices;
Improved cross-channel management between email, social, push, SMS, MMS and more to boost messaging consistency and relevancy; and
A new self-service tool for audience data integration between the Oracle Data Management Platform and other digital advertising and media platforms, positioning users to maximize the effectiveness of their ad targeting capabilities.
"As we look ahead to 2016, marketing's ability to modernize existing processes and embrace data, technology and content will increasingly define the success of organizations across all industries," said Kevin Akeroyd, SVP and GM at Oracle Marketing Cloud. "For many marketers, this will require a significant transformation and that is why we are so focused on making marketing technology more integrated, more holistic and, frankly, easier to use."