Silverpop Exceeds 1,500 Customers; Partner Program Drives 20% Of New Business in 2011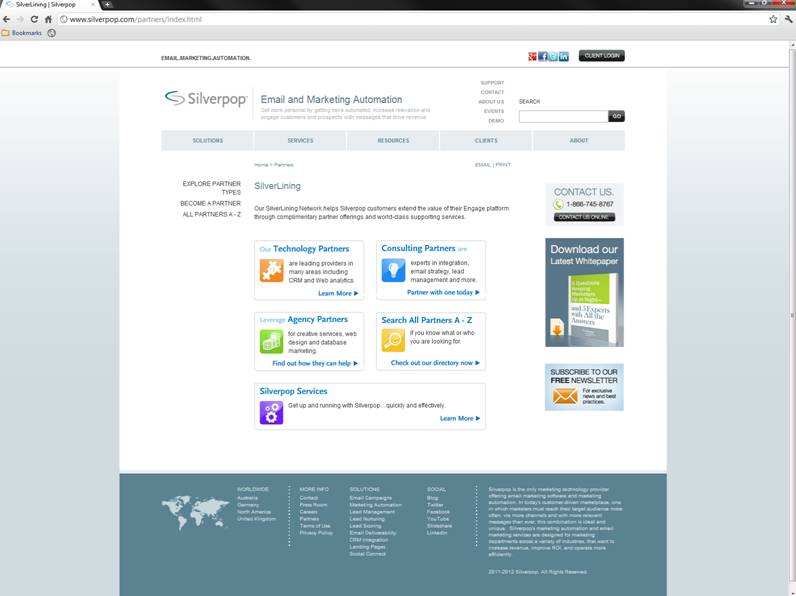 Silverpop, a provider of email marketing and automation solutions, recently reported that 20% of its new business in 2011 wasdriven by partner relationships. Additionally, a third of current Silverpop customers are now using at least one Silverpop partner to complement their marketing efforts through Engage. The company launched the SilverLining Partner Network in August 2011.
At the close of Q3 2011, Atlanta, GA-based Silverpop reported its customer base grew to more than 1,500, with 100 new customers added in Q3. New customers include: Adecco, nTelos Wireless, Yamaha WaterCraft Group , Wayne State University and Park 'N Fly. Additionally, Silverpop has recently recognized 115 customers as "Engage Certified," after demonstrating they have successfully mastered the Engage product through a two-part assessment test.
"Companies that select Silverpop realize that as customers become more self-reliant and self-directed, marketers must evolve their programs to meet the ever-increasing expectations for highly relevant and helpful information via more channels and in a more personal way than ever before," said Bill Nussey, CEO of Silverpop. "Our vision is help marketers achieve and exceed the expectations of their customers by offering the industry's most powerful product platform combined seamlessly with the most leading edge and easy to consume best practices and thought capital."
The increasing need to deliver highly personalized information to customers that demand a greater degree of relevancy has led to a dramatic increase in the usage of Silverpop features designed to make marketing efforts more automated and marketers more efficient. For example, in Q4 2011, Silverpop reported the following trends:
36% increase in the number of customers integrating Silverpop Engage with their CRM system;
32% increase in the number of customers using web tracking functionality to make decisions based on customer behavior;
29% increase in the number of customers using programs to design multi-step campaigns; and
25% increase in the number of customers taking advantage of lead scoring capabilities.
Focused on catering to the changing needs of marketers, Silverpop also recently expanded its social offerings by offering Social Sign-in, designed to allow customers to offer web site visitors a simple alternative to web form completion. The company also launched Publish-to-Social, which enables customers to schedule posts via social networks that coincide with their email sends, and introduced two new mobile applications. In Q4, Silverpop also announced its acquisition of location-based marketing platform PlacePunch, enabling clients to engage customers via location check-ins incorporated into multi-channel campaigns.
"We couldn't be more excited about what our future looks like in 2012," Nussey added. "To effectively drive revenue in today's complicated marketplace you must be everywhere your target audience is, all the time — listening to what they tell you, paying close attention to their behaviors and then automatically delivering content that corresponds to their individual needs. Silverpop is in a unique position to make this vision a reality, and we look forward to doing so with such a great group of forward-thinking clients."