Starshot Saves 96 Person Hours Per Month With Act-On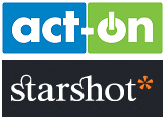 Starshot, a marketing agency focused on customer experience design and demand generation, has implemented Act-On for Agencies from Act-On Software to create and sustain demand for its clients' products and services.
On average, Act-On saves Starshot 96 person hours a month, according to agency officials. Act-On for Agencies has reduced the amount of time and resources Starshot requires to create custom emails and landing pages, and manage and report on client marketing programs. Act-On's intuitive user interface, robust feature set, and comprehensive template library makes it easy for Starshot to create campaigns, without involving the design team.
Starshot is also able to manage multiple client campaigns, create client specific reports and share best practices across multiple clients using the Act-On for Agencies management dashboard.
Starshot's sales and marketing teams both benefit from Act-On's integration with Microsoft Dynamics CRM. The seamless integration between the two systems allow Starshot's sales reps to view detailed marketing data — such as emails opened, links clicked, pages visited, and assets engaged, all in real-time. In addition, Act-On's triggered alerts let sales know when a lead takes a specific action, which allows the reps to respond within the window of opportunity.
"Having a tool like Act-On enables our sales team to view the prospect's history, score, and timeline. This makes the sales rep fully aware of each step along the way so they can be targeted and timely with their sales process," said Angie Anderson, Demand Generation Practice Lead at Starshot.