'State of Salesforce' Report Shows CRM Moving Beyond Sales Function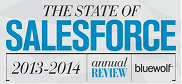 Consulting firm Bluewolf recently released its annual The State of Salesforce report that revealed CRM has become an enterprise-wide platform that can unite sales, service, marketing and the back office.
The report, produced in partnership with the MIT Sloan School of Management, surveyed more than 450 Salesforce users throughout North America, Europe and Australia.
Key findings in the survey include:
60% of customers rank customer engagement as their top priority. This mindset makes every department responsible for serving the customer;
47% of customers have a comprehensive adoption strategy for their employees, providing end-user training and cloud governance boost overall improvement;
52% of customers already have or are planning to build a custom mobile application that integrates with their CRM platform; and
29% of customers currently have five or more AppExchange applications installed.

"Customer-obsessed organizations are winning, and they are spending on more flexible customer engagement cloud solutions that reach into all parts of their business," said Eric Berridge, co-founder and CEO of Bluewolf. "Bluewolf helps companies get closer to their customers because businesses have the potential to double revenue if they double customer engagement."