Strategy & Planning Series Day 3: Driving Full-Funnel Demand With Data-Driven Content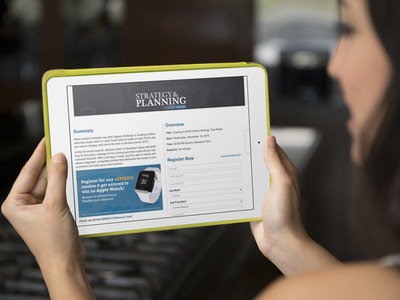 The Strategy & Planning Series went into full gear on Wednesday, hosting a variety of sessions focusing on the role data plays in driving demand and enhancing content marketing initiatives within B2B organizations.
The session Using Predictive Analytics in 2016 To Drive Full-Funnel Demand, hosted by Lattice Engines, gave webinar participants a lesson on how to turn predictive analytics data into a plan of action.
"Predictive analytics is the opposite of a guessing game," said presenter Heather Foeh, Head of Culture and Customer Advocacy at Lattice Engines. "It's all about data."
One of the greatest benefits of predictive is it enables marketers to look ahead and optimize the funnel earlier in the process. "Who among us doesn't need to hit the ground running in 2016," she said.
In addition to describing the processes for prioritizing leads and prioritizing accounts, Foeh outlined six use cases for predictive analytics as part of a full-funnel demand strategy. Marketers can leverage it to:
Prioritize sales follow-up;
Optimize content marketing;
Plan events more intelligently;
Tailor nurturing and follow-up;
Drive more targeted ads; and
Improve search and SEO.
Content metrics and measurement play a crucial role in maximizing content initiatives, according to Matthew T. Grant, Director of Content Strategy at the Aberdeen Group. During his webinar session, Creating a 2016 Content Strategy That Works, he described in detail how marketers can create order and plan content strategy in a way that is customer-focused, useful to your audience and driven by data.
"No matter what you do with your content, you need to track how it's working," Grant noted.
He also advised making sure to measure all content in order to figure out what is working.
That includes tracking:
How specific content assets perform in terms of clicks and downloads;
How a content campaign (more than 2 pieces) is performing;
Lead sources tied to specific content assets;
Interactions with content (for lead scoring); and
Multichannel performance (i.e., mobile, social, email).
Grant noted that one of the most important questions marketers should answer before embarking on a strategy is, "How is this content going to be useful for my business specifically" in order to determine how to use content as part of the marketing plan.
He also outlined the most common content uses that marketers deploy:
Driving site traffic: It helps prospects find you because good content drives SEO and drives people to website.
Customer support: Addresses common pain points and customer service questions in a more efficient way
Educational purposes: Demonstrates ways to use the product, derive more value from it and can drive customer upgrades.
Branding purposes: Raises brand awareness and profile of a marketer's product or service.
Lead/Demand Generation: Generate demand or leads for a marketer.
Ultimately, it's important for marketers to not lose sight of the reason they should develop a content strategy, according to Grant. "Your content strategy must ladder up to your business strategy. Your goal isn't to have a blog. Your goal is to drive interest and leads for a product," he said.
Video Engagement Provides Holistic View Of Buying Intent
B2B marketers are turning to video as a way to effectively measure buyer engagement. During the presentation The Top 5 Video Trends That Will Boost Demand Gen In 2016, Vidyard's Head of Demand Gen Joe Gelata noted that 72% of B2B buyers watch videos throughout their entire path to purchase.
"Buyers are looking to gain a holistic view of their prospective vendors, whether it's watching company culture videos or product demos," Gelata said. "Video has evolved from being a nice thing to have, to an expected form of content buyers are looking for at each stage of the buying journey."
Vidyard data shows that B2B marketers who are leveraging video have:
Doubled their click-through rates;
Increased page conversions by 80%; and
Saw a 41% higher click-through rate for search.
Measuring engagement with pieces of video content provides marketers insight into what buyers are looking for and what they need to make their purchase decision. Automation, fueled by this data, positions marketers with an effective way to keep their brand at the top of prospects' minds.
"As marketers we're always looking to guide prospects through the buying cycle," Gelata said. "Automation now allows users to do this with video content in a scalable way."