The Salesforce.com-ExactTarget Mega-Deal: The End Of The Road For Stand-Alone Marketing Automation?
Written by Kim Ann Zimmermann, Managing Editor

Published in

News Briefs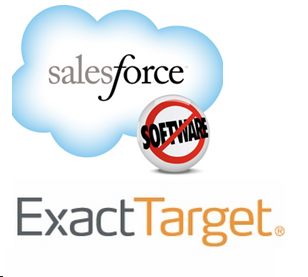 Will Salesforce.com's acquisition of ExactTarget fuel interest in marketing automation, or does it mean that the marketing automation function is going to get gobbled up by CRMs, the way Oracle swallowed Eloqua? While it is still early in the game, most experts who spoke with Demand Gen Report said the ExactTarget deal was a positive move for the marketing automation space. However, independent vendors will have to address other marketing functions such as budgeting, content planning and financial applications to remain viable in the long term.
"It is a brilliant move for [Salesforce.com] that gives entry into B2C markets, addresses a critical functional weakness in their own system, and gives them Pardot marketing automation for free," said David M. Raab, Principal, Raab Associates. "Marketing automation sits right between email and CRM, so once you control those two, then marketing automation pretty much comes along for the ride. But I don't think SFDC will shut out competitors, so it's not an immediate death sentence for independent marketing automation vendors."
CRM Vendors: Sizing Up The Rest Of The Pack
Which CRM and enterprise resource planning vendors now offer marketing automation, and which might still be looking to acquire marketing automation technology? Now that Oracle has acquired Eloqua and Salesforce.com plans to buy ExactTarget, here is a quick breakdown of how other leading CRM solutions stack up in terms of marketing functionality:
Microsoft Dynamics CRM incorporates some marketing functions, including campaign management, spend management, and media buying and planning, but Microsoft is rumored to be looking to acquire a marketing automation company.
SAP can handle marketing resource management, segment and list management, lead management and marketing analytics, among other functions, and the vendor is said to be completing an integration with Marketo.
NetSuite's CRM+ offers lead management, campaign management and SEO marketing. They are not frequently mentioned among the CRMs in market for a marketing automation vendor.
While Raab doesn't envision a huge impact on marketing automation systems in the near term, he adds that the acquisition could make it tougher for stand-alone marketing automation technology in the future. "Salesforce has effectively surrounded the marketing automation vendors with its purchase," he noted.
Others argue that independent market leaders such as Marketo will most likely continue to develop a suite of offerings that go beyond the native solutions. "Since there will be an acceleration in mass market adoption of what I call 'next-gen CRM,' the independent best-of-breed solutions will thrive if they maintain clear differentiation and added value," said David Lewis, Founder and CEO of DemandGen International. "Is this the death of marketing automation as a separate category? Potentially over time, but time will tell."
Lewis said that marketing automation companies such as Marketo and Silverpop will have to broaden their functionality to remain independent. "Marketo shouldn't lose sleep over this; just the opposite. It provides more market momentum for the industry, and they need to continue to develop more robust solutions and fine-tune their offerings to meet the needs of modern marketers. They need to be thinking about a suite of technologies for the marketing department and tools in terms of content management, budgeting/planning, social and analytics."
It is a matter of choosing the right technology to support the demand process, whether that is CRM, marketing automation or another platform, observers noted. "It is not a done deal that this is now a CRM-centric world," said Adam Needles, Chief Strategy Officer and Principal at ANNUITAS. "Different companies need to architect their systems in different ways based on their business models and growth strategies, among other factors. We see some companies that are CRM-centric, but we also see plenty of clients where marketing automation has an opportunity to be, or is already serving as, a real centralized system. Only one platform can track the entire customer lifecycle, and that is marketing automation."
ExactTarget's Surprise Suitor
While industry observers were not surprised at Salesforce.com's announcement that it planned to purchase a marketing automation platform, few expected the acquisition to be ExactTarget, and the size of the deal ($2.5 billion) certainly caught most analysts off guard.
While many anticipated a Salesforce takeover of Marketo, which recently had a successful IPO, Salesforce.com had been rumored to be eyeing ExactTarget a few years ago, along with Silverpop and others in the space.
Looking ahead, Salesforce.com must also address the fact that ExactTarget has traditionally been aimed at the SMB marketplace, while Salesforce is an enterprise solution.
On the other hand, according to Cari Baldwin, Partner and Founder of BlueBird Strategies, Marketo probably wasn't the right fit for Salesforce.com. "If you look at Marketo, a large percentage of their customers are already Salesforce customers, so if they were making the deal to expand their potential customer base, it didn't make sense. This is a huge growth potential for them. Salesforce's numbers are growing, but not as quickly as some think they should be."
Observers said this potential to migrate customers to Salesforce.com was one of the main drivers of the $2.5 billion price tag, which was the most that the company has ever for an acquisition. In the press release, Salesforce.com projects a net revenue impact of $120 million to $125 million.
Raab points out that ExactTarget had $300 million in revenue in 2012, so the $2.5 billion price is 8.3 times trailing revenue. Marketo's market capitalization is $800 million on $58 million 2012 revenue, or nearly 14 times trailing revenue. Oracle paid $800 million for Eloqua, which had around $100 million, or eight times trailing revenue.