Vidyard Develops App For ExactTarget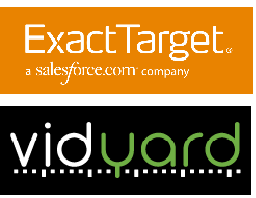 Vidyard, a video marketing platform provider, have announced the launch of the Vidyard app for ExactTarget, which is designed to provide marketers with an effective way to share video through email.
The Vidyard app for ExactTarget adds deeper functionality and interactivity to email campaigns, as well as detailed analytics data to measure your return-on-investment (ROI), company officials noted. After an individual leads open an email, Vidyard analytics identifies who watch the associated video content and for how long.
The app has various features that enable marketers to:
Drag and drop visual video links into ExactTarget email templates

to create an interactive email experience;

Measure and optimize your email video campaigns

with real-time analytics on a video's performance including views, click through rates, viewer attention span, and geography;

Generate leads directly through video marketing content;

Build customizable calls to action

ensure viewers take action at strategic points in playback with calls to action. These generate leads, allow marketers to run contests, and can link to more relevant content;and

Track and analyze video ROI

measure user-level engagement data, including what video each viewer has watched, and for how long. Users can pull this data into the contact records of their marketing automation and/or CRM to drive segmentation, nurturing, and effective lead scoring.

"Together our companies are working to transform digital marketing, provide ways to make email content increasingly compelling, and create customer experiences that build loyalty and drive results," said Ian Murdock, Vice President of Platform and Developer Community at ExactTarget.