Grapevine6 Offers Social Engagement Platform Aimed At Turning Sales Teams Into Influencers
Grapevine6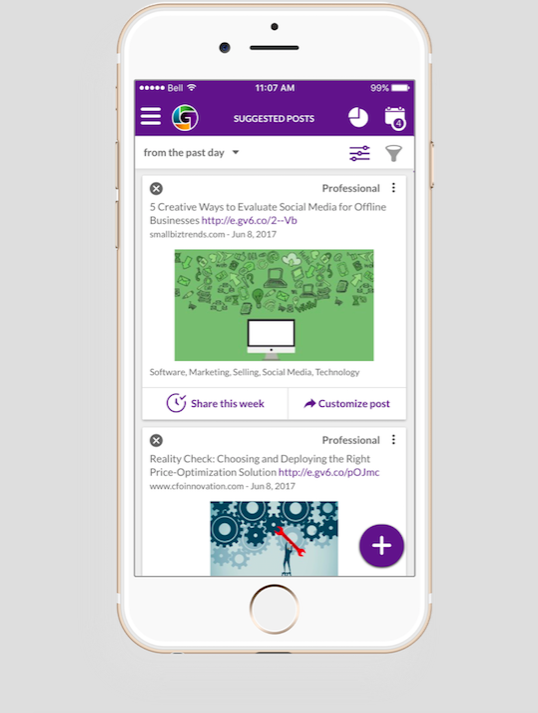 is an enterprise social and digital sales engagement platform. It is designed to provide sales teams with personalized content to engage buyers throughout the customer lifecycle.
FEATURES/FUNCTIONALITY
The platform is positioned to use AI to analyze the interests and digital posts of your sales team and generate a unique stream of relevant third-party content for each sales person. They can then schedule the content to post on their social and digital channels or choose to share it one-to-one with a customer or prospect.
TARGETED USERS
Grapevine6 is designed for sales, marketing, services and customer success professionals. Key verticals include financial services, B2B technology and professional services.
COMPATIBILITY
The solution is positioned to integrate with CRM systems such as Salesforce and NexJ, so salespeople can schedule content from directly within their CRM.
DELIVERY/PRICING MODELS
Grapevine6 is a SaaS solution. Pricing is based per month on an annual commitment.
CURRENT CLIENTS/USERS
Customers include SAP, The Pedowitz Group and Guardian Life.
COMPETITIVE POSITIONING
Grapevine6 believes that salespeople are more than advocates for the corporate brand, they're also influencers. As such, the platform aims to provide content that's as unique as each salesperson and enable them to start conversations with customers and prospects on social and digital channels.
CONTACT INFO
Grapevine6
1.833.477.5877
Request a demo