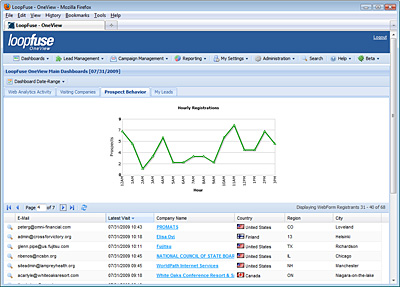 Solution Snapshot:
LoopFuse OneView redefines how marketing and sales organizations work together to improve the yield of your pipeline. Offered as an easy-to-use on-demand service, OneView helps companies to focus sales reps on the best leads, dramatically accelerating lead conversion and increasing revenue. Its real-time analytics also gives marketers key insight into the performance of their campaigns in order to validate strategy and improve marketing effectiveness.  See how Zimbra, a division of Yahoo!, improved sales conversion efficiency by 50%, download the case study today.

Features/Functionality:
LoopFuse OneView™ sales and marketing automation includes powerful support for all your sales and marketing demands, including demand generation, email marketing, lead management, lead nurturing, lead scoring, campaign management, website analytics, closed-loop reporting, and CRM integration with Salesforce.com or Su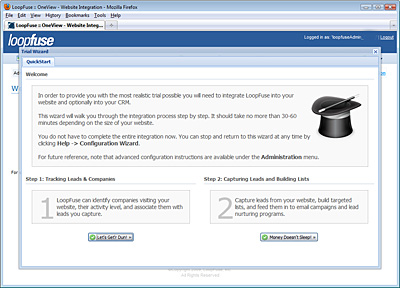 gar CRM.
Get up and running in minutes with the world's most advanced marketing automation solution. Our intuitive design and on-demand model make it easy to get started quickly, with no extra hassles or charges for set-up or CRM integration. Try LoopFuse OneView™ today and see how easy it is to increase marketing effectiveness, lower cost of sales and improve your pipeline productivity.
Targeted Users:
Loopfuse OneView is ideal for the marketing team with a limited staff yet has heavy internal demands.  Typical users include the VP of Marketing, Marketing Manager, VP of Sales and Sales Reps.
Compatibilty:
LoopFuse OneView's CRM integration feature allows organizations to automate the process of routing segmented (or all) potential leads to your sales professionals. LoopFuse can export as much, or as little information as a marketing organization would like, providing sales professionals with all the information they need on a qualified prospect.  Currently, LoopFuse has end-to-end support for SalesForce.com®, and SugarCRM.
Delivery/Pricing Models:
Free 15 day trial is available at www.loopfuse.com. Compelling pricing plans start at just $750 a month including support.  BIG Value, NO Hidden Fees:
o    $0 Customer Set-up Fees
o    $0 Marketing User Seat Fees
o    $0 Sales User Seat Fees
o    $0 Lead DB Size Fees
Current Clients/Users:
LoopFuse marquee customers include Zimbra (a Yahoo company), Acquia, Mindtouch, Mulesource, OpenSpan, Zenoss, Xaware (Sparxent), Sonatype, Infobright, Objectivity, Cumulus Radio, and Unison.
Competitive Positioning:
Loopfuse OneView is easy to implement, easy to use and cost-effective.
Contact Info:
sales@loopfuse.com
770-956-8286
www.loopfuse.com