Oceanos Debuts Data Health Check To Analyze Quality Of Contact Data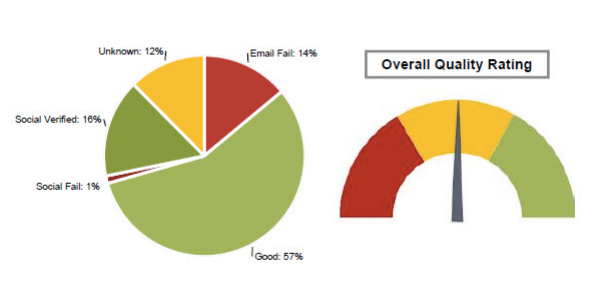 Data management firm Oceanos offers a Data Health Check within a user's cloud portal, which is designed to shine a spotlight on the quality and completeness of contact data. Users are able to see what's wrong and/or missing, and take action to improve data quality and realize improvements in lead scoring, content alignment and campaign performance.
FEATURES/FUNCTIONALITY
The Oceanos Data Health Check includes a multi-step process to grade the accuracy of contact data, including the ability to cross-verify contacts with social media profiles. With better insight into the condition of contact data, the marketer can make fiscally sound decisions on how to improve data quality. The user can then initiate the live cleanse, which launches a 27-point email screen. This process not only categorizes email addresses as valid or invalid, but it also pinpoints "high risk" ones such as SPAM traps, frequent complainers and emails residing on the DMA Do Not Email and FCC Wireless files.
The Health Check also includes a "completeness" section, which highlights the current rate of completeness for 21 data points at the contact and account level. It features the percent of improvement that can be achieved by appending, or filling-in, where incomplete. The enrichment includes multiple social attributes to improve persona-driven communications and engagement.
The report concludes with a contact and account level profile. The contact profile provides a snapshot across job level, job function and sub function. The account profile looks at contacts across employee size, revenue, top industries and geography.
COMPATIBLITY
The Data Health Check can be run by registering with the Oceanos Cloud Portal and uploading an Excel spreadsheet. Currently, the cloud portal includes a Marketo and Eloqua integration. Clients can also opt to work direct with an Oceanos data technologist.
DELIVERY/PRICING MODELS
The Data Health Check is free and can be run 24/7. If the user opts to proceed with a data cleanse, price ranges are as follows:
Starter: $350/month for up to 200,000 contacts;
Growth: $850/month for up to 500,000 contacts; and
Enterprise: $1,875 for up to 1.5 million contacts.
For users who opt for the data append in addition to the data cleanse, monthly pricing ranges from $1,500 to $9,500, depending on the number of contacts appended.
COMPETITIVE POSITIONING
Oceanos' position as a contact data hub that partners with multiple providers provides a wide-ranging data check. The data is then cross-verified and augmented with social data intelligence.
CONTACT
892 Plain Street
Marshfield, MA 02050
Phone: 781-804-1010