Uberflip Offers Hub To Organize Content By Channel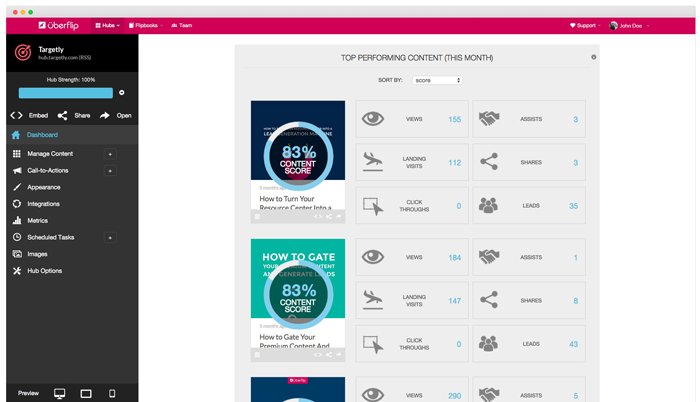 Uberflip is designed to help create, manage and optimize content experiences to help marketers accomplish their goals, whether that is lead generation or brand engagement.
FEATURES/FUNCTIONALITY
Uberflip creates Content Hubs, which can be used for resource centers, knowledge bases or sales libraries. The Uberflip Hub enables users to organize their content into channels and segment their content by type, topic, vertical, persona or custom groupings. Uberflip is also designed for sales enablement, allowing sales reps to send content to leads and prospects.
TARGETED USERS
Uberflip is targeted towards members of the marketing team, such as content and demand gen managers working in B2B tech companies.
COMPATIBLITY
Uberflip integrates with marketing automation platforms such as Marketo, HubSpot, Eloqua, Pardot and Act-On. Form CTAs built on Uberflip are designed to connect to these platforms to pass on lead information.
DELIVERY/PRICING MODELS
Uberflip offers a range of functionalities, including basic or advanced marketing automation integration, additional streams and Hubs and customized options. Packages start at $750.
CURRENT CLIENTS/USERS
Uberflip's clients range from startups to major enterprises, such as Blackbaud, Insight, Microsoft, Amity, Cloudwords, Everstring and General Electric.
COMPETITIVE POSITIONING
Uberflip focuses on the third pillar of content marketing: experience. The company is positioned to allow customers to create a better experience around their content and integrate with the tools they are already using.
CONTACT INFO
135 Liberty Street, Suite 401
Toronto, ON M6K 1A7
Canada
Phone: 1 (888) 694-2946