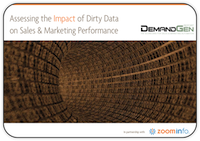 Data hygiene issues have been the dirty little secret for organizations for years. However, once companies take the time to refresh their contact database, they payoffs are significant. To learn just how much dirty data is costing your organization, we encourage you to download a new E-book featuring exclusive new research which quantifies bad data's impact on sales & marketing and addresses what to do about it.
Sample findings:
* Many organizations rely on marketing/
prospect data that is 20%-40% inaccurate
* 30% of companies currently have no strategy to
update inaccurate or incomplete data
* 8 out of 10 companies indicated that dirty data is
hindering their lead generation
campaigns.