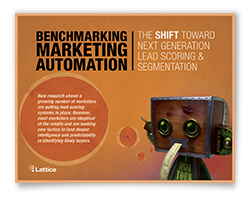 Lead scoring is more widely adopted than it was even just a year ago and many B2B marketers are already planning for the next major shift — predictive lead scoring.
These were a few of the key findings in a survey titled: Benchmarking Marketing Automation: The Shift Toward Next Generation Lead Scoring & Segmentation, conducted by Decision Tree Labs and commissioned by Lattice Engines.
Many marketers have already found lead scoring to be a valuable tool, with 44% of the survey respondents currently using lead scoring and 16% planning to implement a lead scoring solution within the next 12 months.
Some marketers are looking even further ahead, with nearly 60% putting predictive lead scoring on their wish list of capabilities going forward.
"Marketers are innovative," said Rob Bois, Director of Product Marketing at Lattice Engines. "They're always looking for the next competitive advantage. Marketers are looking for new ways to optimize lead management and, by making lead scoring predictive, they can give their organizations the biggest advantage of all: knowing their next customer."
For those respondents who are not yet doing lead scoring, there were a number of reasons given for holding off:
32% lack good tools or an education;
24% indicated it was hard to define what constitutes a good lead;
24% said it was too expensive; and
19% said it was too complex.

As the technology continues to advance, observers noted that it will become easier for B2B marketers to overcome these hurdles.
Predictive Lead Scoring Is A Common Desire
Predictive modeling was the most commonly sought-after capability, with 57.9% putting it on their wish list of future enhancements.
"Marketing is clearly becoming a much stronger blend of both art and science as evidenced by large investments in marketing technology and a renewed focus on metrics," said Bois. "With the application of predictive lead scoring, marketers can acquire an unprecedented level of insight into the buying behaviors of prospects and customers, and for the first time scientifically answer the question: Who is ready to buy?"
Jim Lenskold, President of Lenskold Group and author of Marketing ROI, added: "Modeling can be used to predict different outcomes, including segment-level needs for specific content or marketing contacts. Guiding the marketing actions should improve overall effectiveness with higher conversion rates."
Some other capabilities that respondents stated they would like to see in their lead scoring programs include:
More account-level data: More than half (55.1%) of the respondents wanted their future scoring systems to have the ability to gather and analyze more data, leading to a better view of their customers.

Analytics to help determine which attributes to include in the model: More than half (53.3%) of the respondents wished their scoring programs were capable of analyzing data to determine which attributes to include in their model.

Data augmentation from third-party sources: The ability to incorporate third-party data in the next generation of lead scoring systems was cited by 40.2% of respondents.
Although 78.2% of the survey respondents state that they use their lead scoring insights to identify which leads are ready to pass to sales, marketing and sales organizations are finding other uses for this data as well. Half of respondents use this data to prioritize leads within telequalification or sales, while 46.4% assign lead nurture stages based on lead scores.
Another interesting use of lead scoring data was to segment marketing campaigns, which 45.5% of those surveyed stated they practiced. Making the most out of your behavioral data, whether it is predictive or not, can lead to an increase in efficiency and effectiveness for other areas of your business.
The Data That Matters Most
There are three forms of data that survey respondents state are commonly factored into lead scoring models to prioritize leads:
Activity/responses to campaigns (87.3%);
Demographics, such as title and role (75.5%); and
Firmographics, such as industry and company revenue (61.8%).


Analysts suggest that having the ability to use this data to understand which past behaviors will potentially trigger a sale and then applying that data to current leads with similar profiles is at the heart of predictive lead scoring.
"Clean, external data can help by connecting separate identifiers to the same person, by providing pre-existing profile information so clients can gather less of it directly, and looking at data outside the marketer's own system for hints that there's a buying opportunity," said David M. Raab, Principal, Raab Associates.
As lead scoring becomes more accurate at predicting buyers, marketing and sales will have better insights to help prioritize leads and move them through the funnel, observers concluded. Forward-thinking marketers are recognizing the potential for lead scoring programs to support new initiatives around segmentation and lead nurturing.