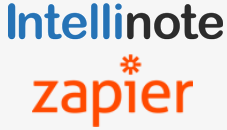 Intellinote, an enterprise collaboration tool for B2B marketing and sales teams, is now integrated with Zapier, a tool designed to automate tasks such as tracking social media mentions and when new opportunities are added to the database.
The integration positions Intellinote to provide users with new integrated web applications that can help simplify B2B workflow management and collaboration — ultimately increasing productivity and efficiency within marketing and sales teams of all sizes.
Twitter, Zendesk; and SurveyMonkey are among the new apps included in the integration.
In addition, Intellinote announce enhancements to its application, including:
Calendar Integration: Task assignments that are accompanied by due dates will automatically send out calendar invites.
Unassigned Tasks: When large teams work on complex workflows, tasks transition between "unassigned" and "assigned" states before they are completed; Intellinote now supports "unassigned" as a new state.
Global Tag View: If users have a tag that they used across Workspaces, they can now filter for all the Notes or Tasks associated with that tag, across different Workspaces, in a single dashboard.
Advanced Filtering: Users can now add complex filtering criteria including AND, OR and other Boolean logic. Managing these filters and visualizing the results of these filters is now more intuitive.
"Our users wanted an easy way to automate workflow between Intellinote and other widely-used business apps. Intellinote's Zapier integration lets them do just this," said Tony Lopresti, CEO of Intellinote. "These enhancements, many of which were driven by customer requests, will enhance the workflow experience for teams."