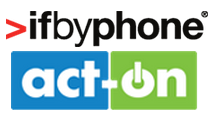 Act-On Software and Ifbyphone, a voice-based marketing automation platform provider, announced a partnership intended to add call tracking to Act-On's list of metrics.
The integration is designed to Ifbyphone's call conversion analytics to Act-On's marketing automation platform, which can then be leveraged to enhance lead generation and scoring.
"Search inquiries and digital marketing generate billions of inbound calls to businesses in the U.S. alone every month,"said Josh Mallamud, VP of Strategic Partnerships at Ifbyphone."Data-driven marketers must be able to leverage that call data in lead analysis, scoring and nurturing if they wish to truly optimize marketing's impact on revenue."
The Ifbyphone and Act-On integration enhances a marketer's ability to tailor campaigns based on prospect interest while also offering ways to personalize the buying experience, according to Gal Josefsberg, VP of Product Management at Act-On Software.
Josefsberg added: "The partnership with Ifbyphone augments phone leads with marketing automation benefits, enabling customers to more effectively measure the impact of their multi-channel marketing programs."