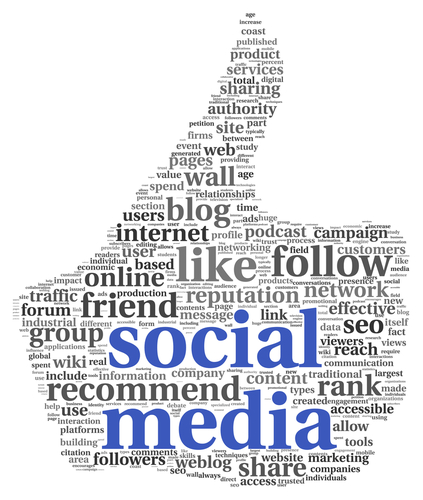 While B2B marketers say they are mining their social networks for leads and opportunities to engage with customers, they continue to lag behind their B2C cohorts in this regard. That said, more B2B marketers are incorporating social media into their messaging mix as it becomes easier to track results and attribute leads to social media outreach.
"Social media is becoming less of a side game," said Meghan Keaney Anderson, Product Marketing Manager for HubSpot. "Social media grew up alongside other marketing channels, and with the exception of social sharing/follow buttons on web sites and in emails, it has largely remained an isolated channel. With the maturation of integrated marketing software, marketers are starting to be able to bring social data much further into the fold of the rest of their marketing channel."
Keaney Anderson said HubSpot's 2012 State of Inbound Marketing Survey found that 65% of B2B companies have acquired customers through LinkedIn, 43% through Facebook and 40% through Twitter. "Those are not insignificant numbers," she stated.
While social media is getting more attention from B2B marketers, however, these channels contribute an average of less than 5% of all traffic and leads, according to the recently released 2012 B2B Marketing Benchmark Report from Optify.
When B2B marketers do turn to the social networks, Twitter is the strongest social media channel for generating leads —outperforming Facebook and LinkedIn— with 82% of social media leads coming from Twitter, according to the report.
Social Playing A Bigger Role In SEO
One development that spurs B2B marketers to get involved in social media is the fact that search engines — from Bing to Google to Facebook's new Social Graph feature that allows you to search for people with similar interests — are factoring social network activity into the results of their search queries. This provides two lessons for B2B marketers, according to Keaney Anderson. "First, authorship tags are important in your content," she explained. "Second, it's more important than ever to identify and nurture your biggest social influencers."
The best social media outlet for B2B marketers depends on where a company's prospects are engaged and their stage in the buying process, experts told Demand Gen Report.
"You have to think about your buyer's habitat, and follow your buyers and influencers to the social media outlets that they use," said Erin Elizabeth Estep, Service Director and Strategic Communications Management for SiriusDecisions. "B2B marketers have to gain a better understanding of how to balance and supplement what the organization is already doing and make it more social. That's the only way social media becomes a valuable lead generation tool. I'm not likely to sell a complex solution with one tweeted link, but marketers have to think about how the whole suite of social tools can advance what they are doing."
LinkedIn has long been a favorite of B2B marketers because of its business-heavy user base. Successful B2B marketers are using LinkedIn to distribute content and drive engagement among like-minded members and send targeted emails using the company's InMail feature.
It has been less than a year since LinkedIn purchased SlideShare, a platform for sharing presentations and other content, but B2B marketers are finding that the site is a quick and easy way to share content that was originally produced in other forms, such as white papers. They also like its business-oriented viewership, solid return on investment and strong analytical tools.
Joining The Conversation
Social media engagements have to be interactive, not just a one-way sales pitch, said Koka Sexton, Senior Social Marketing Manager for LinkedIn. "It is important to be part of the conversation if you are a B2B marketer who wants to successfully drive leads with social media," he said. "Social media has to be more than just a broadcast channel. B2B marketers shouldn't be afraid to get in the mix and debate and share ideas. People are on social media to be social."
Don't use social media just to advance your company's own marketing message, Sexton said. "You want to drive people to your company page with blog posts, white papers and other content, but it has to be relevant and engaging content," he said. "Of course, you want some of it to be company-specific, but make some of it interesting things about the industry in general."
Twitter On The Vine
Twitter, the social media site most known for its 140-character pithy comments from celebrities, recently added a video sharing feature called Vine. While it is too early to tell how this will impact B2B marketers, some say it could be useful for getting potential buyers to link to videos to learn more about a product.
"Twitter Vine and anything video will be huge this year," said Justin Gray, CEO of LeadMD. "We are doing more with Video than any other medium."
The social network is also reportedly testing a system to automatically capture leads when a Twitter user downloads a piece of content without having to ask for email or phone number, which could be relevant for B2B marketers.
"Vine is still fairly new, but there is some potential there for B2B marketers," said HubSpot's Keaney Anderson. "We've seen some marketers jump into it, but it has primarily been B2C," she said.
One issue, she noted, is that many B2B users are "device and channel jumpers," who may see a Twitter message on their mobile device and email a link to read later on their tablet. "That's why analytics are so important," she said. "B2B buyers are not typically going to buy on the first interaction with your company, so if you don't have the ability to track their entire history of interactions with your company, you don't have the necessary understanding of what is driving leads."
Facebook Tests Paid Messaging, Promoted Posts
Facebook has reportedly been testing several new features — including paid messaging and promoted posts — that could have an impact on B2B marketing. Facebook also recently purchased advertising technology company Atlas Advertiser Suite from Microsoft Corp. In a statement, Facebook officials noted that they expect the acquisition to enhance the social media site's display advertising efforts and improve ad performance metrics.
Jason Miller, Social Media Strategist with Marketo, does not think Facebook's paid messaging or promoted post features will have much implication for B2B marketers, as it could position them as spammers. However, he said that Facebook still has much to offer B2B marketers. "For paid messaging, LinkedIn's InMail is a much better option," he said. "But anyone who tells me that a site like Facebook with a billion active monthly users is not valuable for B2B marketers is all wrong. The targeting capabilities in Facebook are mind-blowing. For us, Facebook is our No. 1 prospect generator, more than our own web site."
Gray said some of the up-and-coming social media sites have been a mixed bag. "Google's Hangout has made the roundtable interesting and fun," he said. "We have not experimented with Pinterest and Instagram and I haven't seen any B2B do so successfully yet, but would love to see someone do so."