Getting Marketing Automation Right The First Time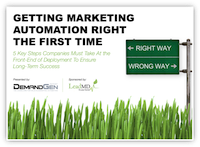 5 Key Steps Companies Must Take At the Front-End of Deployment
To Ensure Long-Term Success
The following E-book highlights 5 key steps companies must take at the front-end of a system rollout in order to greatly increase their chances of long-term success.
The primary goals for most marketing automation deployments are to increase efficiency and drive revenue. However, the unfortunate reality is many companies have had to go "back to the drawing board" with marketing automation rollouts, after realizing they didn't have the proper training, skills and processes in place to use the tools properly.
According to a survey of early adopters of marketing automation conducted by DemandGen Report, 76% of respondents said they would better prepare their organization by building better processes and content offers if they were to "re- do" the rollout.
Phase 1:
PREPARING TO LAUNCH
Phase 2:
PLANNING FOR LEAD PROGRESSION
Phase 3:
DEVELOPING A MAINTENANCE PLAN
Phase 4:
DIGGING INTO DEEPER INTELLIGENCE
Phase 5:
KEEPING YOUR EYES ON THE PRIZE