Demandbase Builds Sales Lead Intelligence In To New Version Of Professional 2.0
With its Demandbase Stream Web tracking widget now in use by over 1,000 BtoB companies, Demandbase is releasing a new version of its Professional application with added functionality designed to enable sales teams to identify and act on sales opportunities in real time.
Demandbase Professional 2.0, the next generation of the company's software-as-a-service (SaaS) offering, is designed to deliver actionable sales leads from existing Web site traffic. The new integration of Demandbase Stream is designed to foster better communication between sales and marketing to align their efforts. The launch comes several mont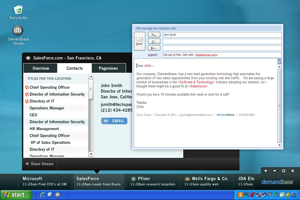 hs after the release of Demandbase Professional, which targeted the void of unconverted Web traffic. "Companies are continuing to shift marketing budgets online, but still ignore 96% of the clicks they get from their investment - whether from search, display advertising, public relations or social media strategies," said Chris Golec, CEO of Demandbase. "Demandbase Professional eliminates the 'sunk cost' mentality and turns previously untouched Web traffic into actionable sales opportunities."
The new functionality of version 2.0 is designed to facilitate sales teams to easily identify qualified opportunities from within their territories, automatically personalize one-to-one email communications to the right prospects, and then get instant results.  This real-time intelligence is designed to enable more targeted sales pitches and allow sales professionals to increase the overall bottom line. The new service is also designed to automatically build a qualified marketing list based on target audiences identified within actual site traffic.
"Demandbase Professional allows us to effectively and efficiently identify the highest value visitors to our website," said Cheryl Engelaer, Senior Director of Online Marketing for Onvia, a leading provider of business-to-government solutions and a Demandbase Pro user. "The Demandbase high quality business contact data has greatly increased our ability to successfully target and reach our most profitable customer segments and turn them into actionable sales leads."
Some of the new key functionalities offered by Professional 2.0 include:  
Deeper integration with Demandbase Stream. Sales teams can respond instantly via a personalized email to the qualified businesses visiting a company Web site; contacts can be prioritized by their actions, including pages viewed and referring domains.
CRM compatibility. Salesforce.com AppExchange users have access to an automated removal of duplicate leads in the database, and can load selected contacts into the Salesforce database automatically or into a csv file.
One-click access. Marketing and sales teams can track Web traffic behavior, including the exact Web pages viewed and time spent on the site
Faster checkout with no lead limits. A new "Cash Credit" model provides automated lead selections, which are directly placed into the shopping cart.  Users can add and delete leads, and can apply the cash credit towards buying contacts.  
5 Star Ratings for Business Contacts. New rating system for each business contact adapts to each user's unique demographic and target audience preferences.