2012 B2B Marketing Automation Vendor Selection Tool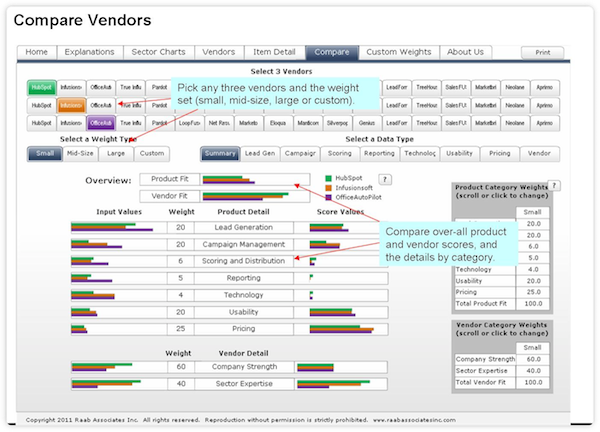 Raab Associates' 2012 B2B Marketing Automation Vendor Selection Tool (VEST) draws on nearly 200 data points for 22 B2B marketing automation vendors. It uses these to build product and vendor fitness scores that show which vendors are most suitable for small, mid-size and large organizations. Results are displayed on easy-to-understand charts that make it simple to see which products are best suited to the different situations.

Once you've identified the leaders in your category, you can dig deeper by reading vendor profiles that describe each product's strengths, weaknesses and special features. This lets you move beyond generic rankings to find systems with the precise features you need. The profiles also offer basic information on pricing, company size, and installation count by client type.
But there's more. You also get:
Side-by-side comparison for a detailed, item-by-item view of your top candidates, highlighting the critical differences that matter most to you.
Set your own scoring weights to create custom rankings tailored to your specific needs — and watch the vendor charts adjust in real time as the weights change.
Background information including an explanation of marketing automation basics, industry overview, and detailed selection methodology.
Detailed definitions for each item used in the vendor scoring, along with explanations for why and when they matter.
Still not convinced?  We offer a NO RISK GUARANTEE: If you're not completely satisfied, tell us in 30 days and receive a full refund.